Podcasters Buying Fake Downloads Through Gaming Apps?
As podcasters, we're always looking for new ways to promote our shows, reach new audiences and tot up listener numbers. But there's always going to be the odd marketing tactic that emerges that leaves a bad taste in everyone's mouth.
The latest in these not-quite-unethical-but-seriously-questionable tactics is the concept of 'rewarded traffic' in podcasting. Bloomberg has reported that some major podcast publishers have been using this strategy to amass millions of new show downloads that shouldn't technically contribute to their listener numbers.
But what exactly is rewarded traffic, who's using this strategy and what does it mean for independent podcasters? Here's what you need to know.
What's 'Rewarded Traffic' in Podcasting?
The concept of rewarded traffic isn't entirely new, but it's not a strategy we've seen associated with podcasting until now.
Rewarded traffic is a marketing tactic that works through online gaming apps. Players win reward points purely for consuming ads in the middle of a game. Click the ad and you'll be redirected to a promotional web page and earn tokens in exchange for your attention. Close the ad and you'll miss out on those points. So essentially, brands are 'paying' gamers to view their ads.
How podcasters benefit from rewarded traffic is all about auto-downloads. When a player clicks the ad, this auto-downloads a podcast episode to their device and they earn reward points if they listen for longer than 20 seconds. But because they also download more than one minute of the episode, each click counts towards the publisher's listening stats too.
So the podcast publisher grows their listening stats through these clicks even though, realistically, the chances of the player ever actually listening to the podcast episode is slim-to-none. Naturally, they're just in it for the points.
A couple of months ago, DeepSee ran a report that explains rewarded traffic in detail. To see it in action, you can watch this video clip.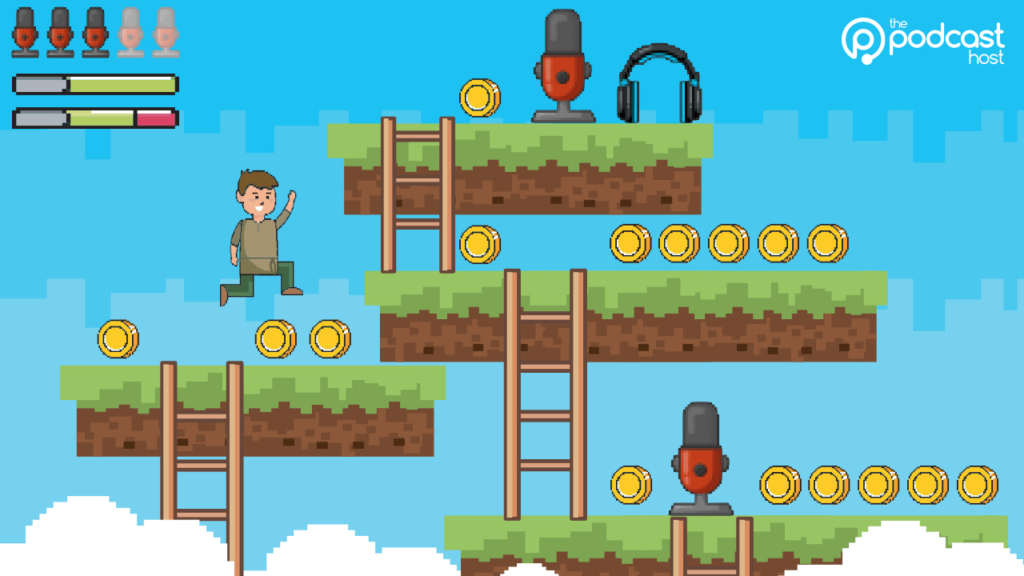 Which Podcasters Are Using This Tactic?
Bloomberg's Ashley Carman did some digging into the game Subway Surfers – the most-downloaded mobile game of the last decade. She found that a number of reputable publishers, including the New York Post and iHeartMedia, were using this game to increase their download numbers.
And what's really interesting is that she notes that during the last week of August, iHeart podcasts represented more than half of the top 10 shows in the podcast charts, even though none of these shows had published any new content. One show hadn't released new material for over a year.
What This Means For Independent Podcasters
While this tactic of reward traffic doesn't technically break any rules, it's quite literally gaming the system that podcast advertising is currently based on – and this is bad news for everyone.
If podcasts continue to inflate their numbers and sell ads based on those numbers, sponsors will eventually stop working with them when they realise they're not getting a good return on their spend. When they see their campaign isn't working because the audience they've been promised isn't actually there, these sponsors might pull out of podcast advertising altogether, believing the medium doesn't work.
And if they've run ads on a top show and it flopped, why would they even bother working with smaller niche shows? In the long term, dodgy marketing tactics like this could impact us all.
The Podcast Host CEO, Colin Gray, says this calls into question a few things about how advertising currently works in the podcast industry. "It brings up the same old question around listener stats," he says "How can we more accurately measure whether someone has actually listened to an episode? From ad clicks like this, to listening apps auto downloading episodes, it's a tricky problem."
He continues: "Auto-downloads in listening apps aren't likely to stop any time soon – I use it, it's a useful feature! And I can't see listening apps all coming together to create their own standard around listening measurement. But with ad revenue so heavily based on download numbers, we need to get better clarity on actual consumption, not just downloads. Otherwise, where there are ways to… massage… your numbers, you'll find people doing it!"
So, What Can You Do With This Info?
As an independent podcaster, stories like this can make you feel a bit powerless, or, even, disillusioned.
But what we can do is educate our sponsors on the fact that download numbers alone don't tell the full story. A small but super-engaged audience can actually be more profitable than a large but only half-interested one. It'll certainly be more profitable than a large fictitious one.
When you're working with sponsors, it's important to show you want to provide them a return on their money by working with you. This could involve setting clear targets of how many clicks they can expect to get for their budget, or using an affiliate link that will provide you with data that you can report back to them on your listener activity.
Essentially, anything you can do to make it clear to sponsors that they'll have complete transparency over the numbers will help counter dodgy marketing tactics like this moving forward.
Be sure to check out our full Guide to Podcast Sponsorship which will help set you on your way without the need to artificially inflate your numbers.
On top of that, in How to Advertise on Podcasts we break down sponsorship costs and best practices from an advertiser's point of view. This is ideal for sending to anyone you're in discussion with, on this front.
Finally, check out our Podcast Promotion Guide for more info on how to organically grow your podcast.
After all, nothing beats having actual real listeners who WANT to hear your show. Right?