Focusrite Scarlett 2i2 Review: The Best Selling USB Audio Interface
Focusrite Scarlett 2i2 Review: At-a-glance
The Focusrite Scarlett 2i2 is a USB audio interface
You can use it to plug one or two XLR mics and run them into your computer
It's ideal for recording solo or locally co-hosted conversations
It can be paired with an online call recording tool to capture remote conversations, too
You can pick one up brand new for about $160/£150
Read on to get the full lowdown with pictures and sound samples
Oh, and we use some affiliate links in this post, and may earn a small commission should you decide to buy through them!
In this Focusrite Scarlett 2i2 review I'll be talking through why it's one of my favourite pieces of podcasting kit – and why you might want one yourself.
It's what's known as an audio interface. But what does that actually mean, and why would you use one?
Let's start there, before delving into the 2i2 itself.
What is an Audio Interface, & Why Might a Podcaster Need One?
An audio interface is a piece of hardware, which can be used to give you greater control over your recording setup. This one – the Focusrite Scarlett 2i2 – plugs in to your computer or laptop via the USB port, and allows you to record with two separate microphones.
This might be a good option for you if you:
Want to improve your audio quality
Want to record locally with a co-host
Want to record professional sounding interviews or podcasts on location
I've been using one of these handy little interfaces for about eight years now.
On top of the great audio quality you can get by recording through one of these, one of its most endearing qualities is that you'll find it in the audio arsenal of experienced professionals and complete beginners alike.
How Does it Work, and What Else Will I Need?
Podcasting with a USB mic is a great way to get your show off the ground, but after a while, you might start to think about striving for a more 'studio quality' setup. This is where a move towards buying an interface like the Scarlett 2i2 is worth considering.
In order to use the Focusrite Scarlett 2i2 you will need:
An XLR cable, or two if you have a co-host or are conducting interviews.
An XLR microphone, or two if you have a co-host or are conducting interviews.
An XLR cable (or microphone cable) is the standard type of cable you'll see used by musicians and other live performers. This simply connects at one end into your 2i2, and at the other end into your microphone.
As good as the Focusrite Scarlett 2i2 is, your choice of XLR cable and microphone will still play a big role in your overall audio quality, and though it isn't necessary to fork out big money for these, be wary of the very cheap options.
See our best podcast microphones roundup if you're in the market for a quality mic to partner with your 2i2.
What Does it Cost?
As I mentioned earlier, it's rare for a microphone, audio interface, or mixer to be an excellent choice for both the podcasting veteran and novice.
At roughly $160/£150 the Focusrite Scarlett 2i2 certainly isn't unaffordable though. It's a good choice for someone who is looking to improve their setup and give them greater control and options in how they record their podcast.
Buy the Focusrite Scarlett 2i2 today
How Does the Focusrite Scarlett 2i2 Sound?
Sound samples recorded with Rode Procaster, Shure SM58, and Samson Q2U mics. No post-processing has been applied.
Simple Setup
If you've ever plugged in a USB device before then you'll be able to set up the 2i2, and have it ready to record in less than a minute.
It's a very small, simplistic looking model, free from the barrage of knobs and faders that can make mixers look intimidating to beginners and novices.
To get set up, connect the Scarlett 2i2 to your computer or laptop via the USB cable provided, then connect your microphone (or microphones) to the interface using your XLR cable(s).
Next, you'll want to set your recording software up. If you're using Audacity to record, simply click the Input dropdown menu (see screenshot) and select Scarlett 2i2 USB.
Similarly, if you want to use the 2i2 for your online conversations, you'd just select it as your input and output in your call recording app of choice.
Focusrite Scarlett 2i2: Portability
The small, light nature of the Scarlett 2i2 means that you can basically pack a mobile studio into an average-sized shoulder bag. For example, you might be attending an event or a conference where you wanted to do some interviews, or you may even want to record a podcast episode there and then.
You could easily pack the Focusrite along with a laptop, headphones, USB cable, 2 XLR cables, and 2 microphones and still have room in your bag to spare.
Are There Any Negatives?
As you can probably tell, I'm a huge fan of this piece of equipment, and really struggle to find any fault with it. But, any gear review would be incomplete without at least considering a couple of possible cautions and limitations.
For each microphone, you have a gain dial to control the input volume level you're recording at. One thing to watch is that if you're only recording with one mic, be sure to turn the other gain dial all the way down. Even though nothing is connected to that port, having the gain up on that one can still bring your background noise up, and give your recording more of a background hiss.
And although I predominantly use my 2i2 with dynamic mics like the Shure SM58, this can also result in some hiss underneath the vocals.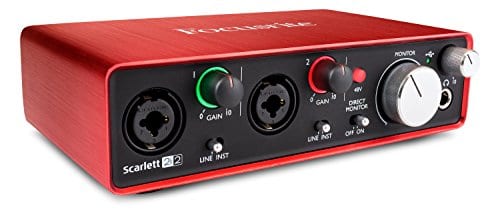 Focusrite Scarlett 2i2 Review: Sum-Up
Pros
Can improve your audio quality
Gives you flexibility
Freedom to upgrade mics further down the line
Can record on location with co-host or interviewee
Affordable
Simple to set up
Light and portable
Cons
Should I Buy a Focusrite Scarlett 2i2?
The Focusrite Scarlett 2i2 is, in my opinion, an excellent little piece of kit for podcasting. But do you need one?
If you're already happy enough with the sound and workflow of your existing recording setup, then probably not. Just stick with it, and keep doing what you're doing.
But if you're looking to upgrade from a USB mic setup to using XLR mics (and still record into your computer) then the 2i2 is one of the best options on the market.
There are other quality USB audio interfaces out there however, check up the roundup I've linked to there if you'd still like to shop around.
Need More Help Choosing Podcasting Equipment?
If you need some more tailored advice for your own setup, or want help with any other aspect of podcasting, then be sure to check out Podcraft Academy. That's where we run our weekly live Q&A sessions, and you'll have access to all of our video courses, tutorials, ebooks, and other downloadable resources!