In this article, I'm going to cover some of the best lavalier microphones on the market, so you don't waste your hard earned money. 'Lav mics', as they're often known, (or collar mic, body mic, lapel mic) are most commonly associated with TV and film work. They're really small microphones which pin to the speaker's clothing, and I'm sure you've seen one attached to your favourite news reporter at some point.
In television, a big part of their appeal is that they are easily hidden or disguised, so you might be thinking that there's no real benefit to using lavalier mics in podcasting. But, there's two things to consider here:
They are very small, light, and portable. Not everyone has a permanent recording space, and so using a lavalier microphone or two can be great for the 'whenever, wherever' podcaster who records in the car, out walking, etc.
They are excellent for conduction location interviews. Many people can be engaging speakers, right up until you hold a microphone in their face and they seize up. Lavalier mics are much less intimidating and lead to a more natural conversation.
Smartphone lavalier microphones have really taken off now, so you don't even need a recorder. That means your recording kit can be small enough to fit in a shirt pocket. Talk about mobile!
So, let's take a look, what's the best lavalier microphone for your situation?
What Are We Looking For In A Good Lavalier Microphone?
Here, I'll talk through different makes and models of lavalier mics and compare things like audio quality, durability, and price. As podcasters the ultimate priority is good audio quality, but we also need to look at other factors. A particular lav mic might have a flimsy, easily broken clip, or a very short cable.
Most lavalier mics will plug into and run through a digital recorder, mixer, or computer. However, smartphone lavs (which, funnily enough, plug directly into your smartphone) are becoming increasingly popular.
We'll keep this article up to date, over time, to include the most popular lavalier mics out there, along with any others I have the opportunity to test and review. If you recommend a particular type of lav mic that isn't already included please let me know in the comments section below.
Smartphone Lavalier Microphone vs Standard Lavalier Mic?
This is a good question, and a big potential confusion. There are loads of different lavalier mics on the market, but only a select few will work with your smartphone.
An easy way to tell if one will work is to look at its plug. If it has two little bands around it, then it's a TRS plug (tip-ring-sleeve) and won't work.
Need Help Launching Your Podcast?
We'll show you the exact steps, give you a launch schedule & help you along the way.
If it has three little bands around it though, as seen in the illustration, then it's a TRRS (tip-ring-ring-sleeve), and should work with your smartphone.
This is basically because we plug a smartphone lav into the device's headphone jack, which is predominantly an output. Having that extra ring on the plug means that it can act as both an input and an output at the same time.
That's why you can talk through the mic on the default set of earbuds you probably got with your phone – because it'll be a TRRS plug on there.
Rode have an adapter – the Rode SC4 – which lets you turn a TRS plug into a TRRS, so you can use non-smartphone lavs into your phone this way.
This is a handy option in a pinch, but if the lav you're using isn't battery powered, you can end up with a very weak signal in your recording. So, if you're recording on your Smartphone, it's generally wise to stick to specific smartphone lavalier microphones.
Is Recording Audio on my Smartphone Reliable?
It's worth a quick mention on the downsides of Smartphone recording. The trouble is, you're relying on your smartphone to record. And this can be risky….
Phones crash, friends ring and apps can be unpredictable at the best of times.
But, I've recorded many a good interview on my phone, and I've only been let down once or twice out of dozens of recordings. Saying that, you don't want that to happen when you've secured the best interview of your career… It's up to you.
The Best Lavalier Microphones for Standard Recorders
Audio Technica 3350
This lavalier mic is in the 'budget range' due to its extremely affordable price tag. The Audio Technica 3350 comes with a massive 6 meter long cable, which might be a curse or a blessing depending on your own specific needs. For more info check out our full ATR3350 review.
Costs: £22 or $21
Works With: A digital recorder or mixer, or directly into your computer
Connection: 3.5mm jack
Powered By: Cell battery
The Movo LV8 XLR Lavalier Microphone
The Movo LV8 is theoretically a more pro-level lavalier microphone than the others here, coming with an XLR connection as standard. This means it plugs directly into a high level recorder like the Zoom H5 or the Zoom H6, with no adapters required. Another bonus is that is can then be phantom powered, and so get a really nice level of gain.
We tested out the Movo LV8 mics and found them to be a really good option if you have an XLR recorder. We did end up with one broken unit, but I'm sure that was just bad luck, and the other unit was great quality and with a solid build.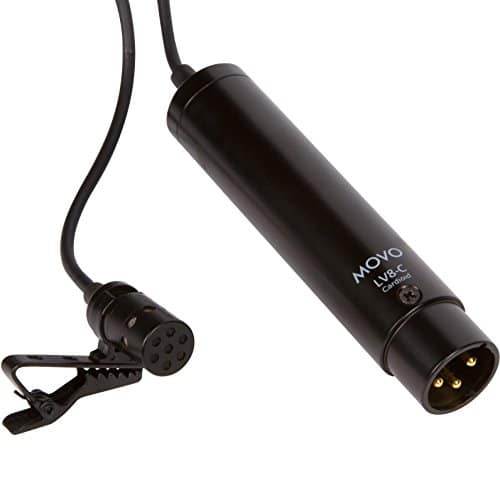 Of course, you pay a little more for this, coming in at around $65, but the higher quality components are arguably worth it.
Costs: £60 / $65
Works with: Digital recorder with XLR input
Connection: XLR
Powered by: phantom power
Giant Squid Podcasting Omni Stereo Lavs
The Giant Squid Podcasting Omni Stereo mic is a unique, hand-built model that feeds two quality lav mics into one plug, and provides a stereo recording.
It's ideal for interviews and co-hosted podcasts which are recorded locally. The mics will record on either side of a stereo track which can be split in post-production, offering independent control over their levels.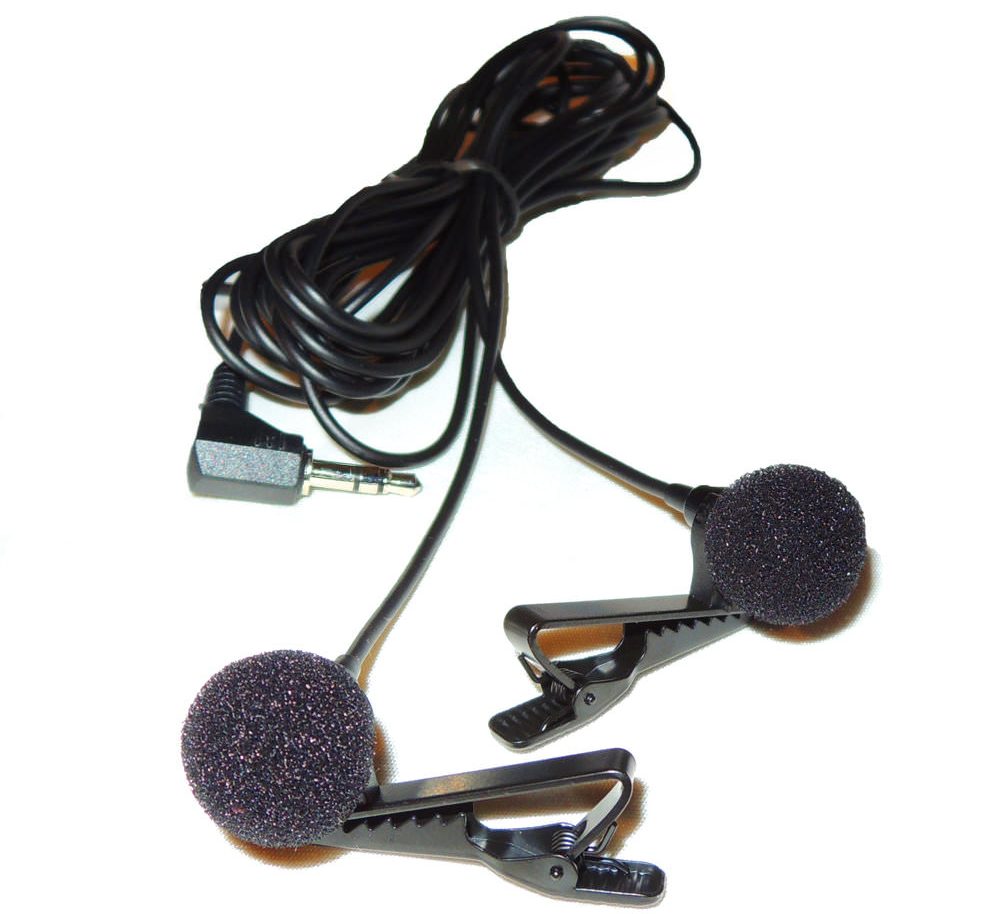 This can also be achieved with most other lav mics by using a HosaTech stereo splitter, but for a one-device solution, it's hard to see past this offering from Giant Squid.
Costs: From $75
Works With: A digital recorder or mixer, or directly into your computer
Connection: 3.5mm jack
Powered By: Plug In Power
Sony ECM-CS10
A budget offering from Sony. The ECM-CS10 costs more than the ATR3350 and doesn't sound nearly as good. Hard to make a case for this one.
Costs: £38 or $27
Works With: A digital recorder or mixer, or directly into your computer
Connection: 3.5mm jack
Powered By: n/a
The Best Lavalier Microphones for Smartphones
The BOYA BY-M1 Smartphone & Digital Camera Lavalier
Price – $20/£15
So this is definitely the budget option out of the three models.
The BOYA BY-M1 is similar to one of our favourite (non-smartphone) lavalier mics in many ways – the ATR3350.
It has a 6m (236″) long cable, which can be a curse or a blessing, depending on whichever way you look at it.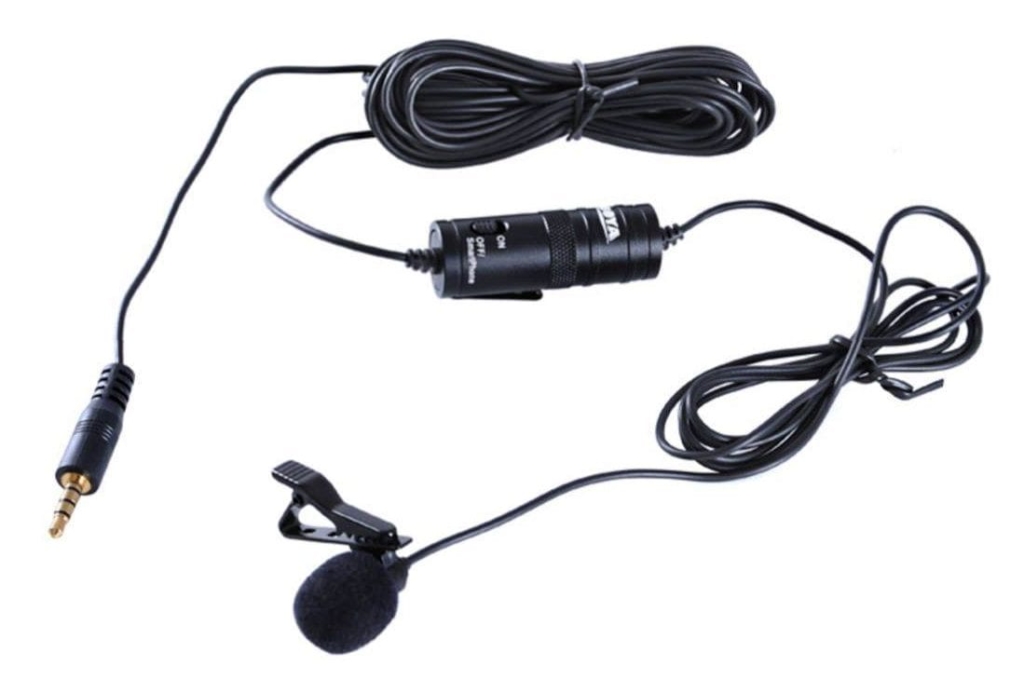 This mic is the only one out of the three which requires its own battery – an LR44 cell.
Again, having the battery can be a pro or a con. It means that the signal is stronger than the other two, so you can turn your gain down a lot lower.
However, this also makes it pretty unsuitable for using the BY-M1 alongside one of the other kinds of smartphone lav. As smartphone recordings are single-channel and don't split the tracks, the differences in sound levels could be problematic and lead to the BY-M1 side clipping.
If you were using two lav mics via a splitter (we'll cover this shortly) then you'd either want them to both be BY-M1s, or none at all.
With the BY-M1, there's also no way to gauge the life left in your battery which is slightly frustrating.
As well as being a smartphone lavalier, you can plug the BOYA-M1 directly into your DLSR camera too. There's a switch on the capsule to alternate between the two settings depending on the device you're plugged into.
The Rode SmartLav+ Lavalier
Price – $74/£43
The Rode Smartlav+ is perhaps the best known of all smartphone lavalier mics, building on the reputation they built with the original Rode Smartlav.
Rode have made some serious improvements in the level of noisefloor picked up by the Smartlav+ in comparison to the original Smartlav, you can listen to the difference for yourself in the sound samples below.
The original Rode Smartlav was a decent model, but had a very high level of hiss present under its recordings. The Smartlav + is a huge improvement on its predecessor and really brought that noisefloor down to an acceptable level.
The Smartlav+ is powered by your phone, so doesn't need its own battery. This means you'll need to turn the gain up a little higher than if you were using a self-powered mic like the BY-M1.
The Smartlav's cable is the shortest of the three of our Smartphone lavalier mic options here, with a length of 115cm (45″). This can be a little awkward if you're recording a video on your phone whilst using the mic.
The Shure MVL Smartphone Lavalier
Price – $69/£50
Shure are a legendary microphone manufacturer. Traditionally a major player in the analogue mic world, they've released a handful of USB and smartphone models in recent years as the digital media world continues to grow.
The Shure MVL is their take on the smartphone lavalier, and it's pretty similar to the Rode Smartlav + in many ways.
It's also a 'plug in and play' with no battery requirements.
The Shure MVL's cable length is 50″ (127cm), making it slightly longer than the Rode Smartlav +, though both fall miles short of the BOYA BY-M1 on this front.
Using 2 Smartphone Lavaliers at the Same Time
Lavalier mics are very much solo mics, so if you're doing an interview or co-hosted show, you'll need to use two.
The problem is, your phone only has one headphone jack – that means you're also going to need a splitter.
Again, Rode are in the lead of this front with their SC6 adapter, which makes it really easy to plug in two lav mics, as well as a set of headphones.
Obviously Rode will have designed the SC6 for use with their Smartlavs, but it works with any other TRRS mic too, such as the MVL or the BY-M1.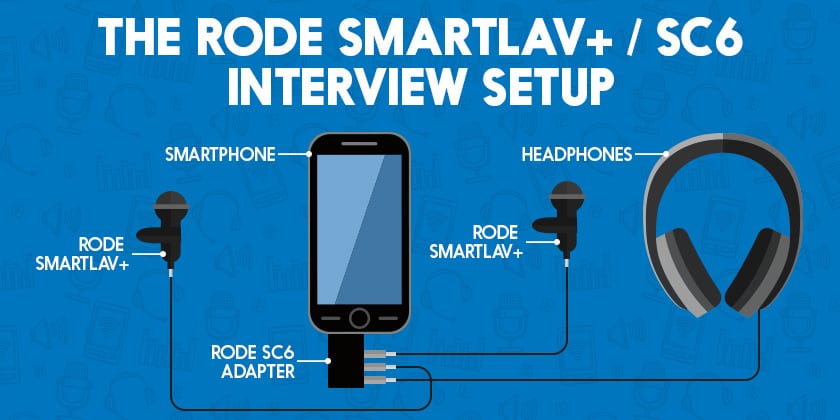 You can mix and match your mics here, but for a more consistent sound level, I'd recommend using two of the same microphones if you can.
The SC6 splitter currently costs $23 on Amazon.com and £13 on Amazon UK.
Comparing Smartphone Lavalier Sound Samples
Here's all 3 clips running one after the other, the BOYA BY-M1, the Rode Smartlav +, and the Shure MVL.
These clips were recorded with the Shure MOTIV app on my iPhone 5.
The Smartlav+ and MVL sound samples were recorded with the gain set to 100%, whilst the BY-M1 was recorded at 77%.
If you're podcasting with your smartphone, be sure to download a recording app that lets you set your gain manually. Otherwise you can end up with clipped and lower quality audio.
All three were then normalised to -3dB in Adobe Audition. No cleaning, EQ, or any other post-processing was applied.
The samples were recorded in the office, rather than the studio. As lavs are often an on-the-go option, you'll rarely record in properly sound-dampened conditions.
Choosing your Lavalier Microphone
If you're looking for a Lavalier microphone to record interviews or speeches, then, for me, you've got three choices here.
If you're happy recording on your Smartphone, then get hold of a Rode Smartlav+.
It's great quality, and a decent price. It's worth being aware of the risk in recording on your phone, but stick it on airplane mode and you'll find that modern smartphones are super reliable.
Plus, the option to work with 2 x Smartlav+ mic thanks to the SC6 adapter is brilliant. There's no easier way to grab a 2-way interview, on the go, for me.
If you want to record on a dedicated digital recorder, then the ATR-3350 is a great choice.
This is the most reliable, robust way to record, and you can find our audio recorder recommendations here. You can combine two ATR3350s with a Zoom H5 or H6, and a couple of 3.5mm to 1/4″ adapters, to do great two-way interviews. Or, if your recorder only has one 3.5mm input, go with two ATR3350s onto a HosaTech stereo splitter.
Need More Help Choosing or Setting it Up?
Remember, we offer live coaching every single week inside our Podcast Host Academy. You can ask all of your gear questions in there, and make sure you make the right choice, and get it all set up correctly.
Alongside that we have a huge range of courses, from launching your show, to growing your audience, and monetising the result. Join us and we can help you build a successful podcast!