M-Audio M-Track Eight Review: Recording a Multiple Track Show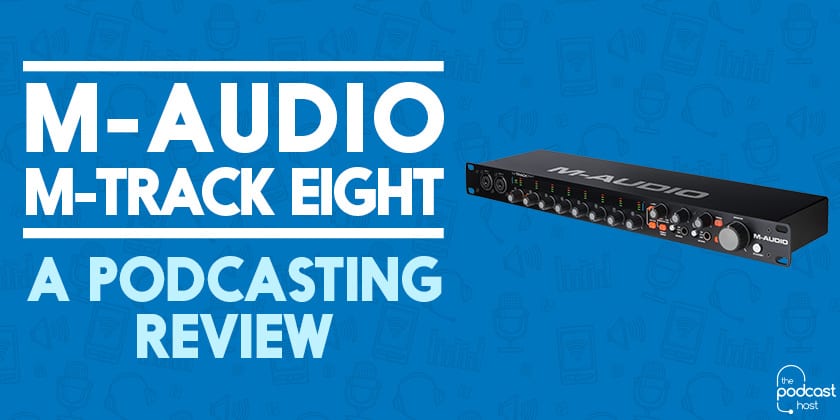 The M-Audio M-Track Eight's name doesn't exactly roll off the tongue, but then few pieces of audio equipment do. The MTE (let's call it that for short) is a USB preamp with eight XLR/1/4″ combo inputs. At £260/$400 it isn't exactly a budget piece of gear, so why might you want one to record your podcast? Let's take a look.
Who Would Use The M-Track Eight?
This is for the same purposes as any audio mixer, really, intended for recording multiple inputs into your computer or a recorder at one time. From a musician's point of view these inputs could be anything from a couple of instruments, to an entire band. If you were to go down the audio drama route, you could use the MTE to have up to eight separate actors recording at once all onto their own individual audio tracks.
If you were to relate this to a talkshow-style podcast series, you can use this same setup to create 'roundtable' discussions where you have all participants together in the same place. This would give you full control over the recording levels of each microphone, and make life much easier in post-production too.
Where Would You Use The M-Track Eight?
Though it's a pretty lightweight piece of gear, it is quite long (19″/48cm), so unlike the Focusrite Scarlett 2i2 and the Yamaha MG10, it probably won't fit in your average bag. That's not to say it isn't portable – it just might be a bit awkward to carry if you're on your own with lots of other equipment.
Ideally the MTE would be at its best as part of a permanent, or at least semi-permanent, recording setup. It's built to be attached to a standard 1U 19″ rack, but can just as easily be placed in a suitable area on a table, desk, or floor.
Features & Setup
As we've covered already, the biggest feature (and purpose) of the M-Track Eight is its 8 x XLR/1/4″ combo inputs, so you can connect and control up to 8 microphones at one time. The device connects to your Mac or PC via USB cable, but this alone won't power it, so you'll need to have a plug socket handy wherever you're working.
There are also 8 TRS outputs which would let you record into something like a Zoom H6 digital recorder. Those multiple outputs are something you don't get on every mixer – most allowing just a stereo output. So, if you're looking to control, say 6 mics nice and easily, and then output each channel separately into the Zoom H6, then this is a perfect bit of kit for you.
On top of that, you can operate condenser mics with the two phantom power buttons, one button operates channels 1-4, and the other, channels 5-8.
Software
A big draw for this unit, something you don't get in many USB mixers, especially at this price, is the fact that you can bring each channel into your computer separately. So, theoretically, you could record 8 people on 8 separate mics, and have them all recording on separate tracks within your DAW. That offers a whole lot of power and control over your recordings.
Looking at software packages individually, if you're using Audacity it may not be possible to record anything other than a stereo track. I've heard reports of people being able to do it, but we fiddled for a good week and couldn't get it to cooperate.
Other DAWs (Digital Audio Workstations), though, such as Adobe Audition, Cubase, and Pro Tools will let you record the eight microphones onto their own individual tracks at the same time
What Does It Cost?
I mentioned in the intro that £260/$400 isn't exactly a budget price, but it isn't ridiculously expensive either if you're looking for multi-channel options on a USB device.
What Does It Come With?
The M-Track Eight includes Cubase LE 7 editing software so you can install and use this DAW to record your multiple inputs simultaneously. It also includes a Waves plugin bundle to give you additional options and effects in the post-production phase.
Sound Sample
I threw this sample recording setup together using two Samson Q2Us, and a Shure SM58, running through the M-Track Eight, into my PC where it was recorded in the Adobe Audition multitrack.
Summary
If you're looking to record 3 or more inputs right into your computer, all on separate tracks, and you have a DAW that can accommodate them, then the M-Audio M-Track Eight is a great bit of gear to add to your setup.
If you only need two inputs however, then something like the Focusrite Scarlett 2i2 could be a better (and much cheaper) option. It really depends on your requirements. If you're doing a bit of roundtable recording or audio drama podcasting then the M Track Eight would be a useful purchase. But if you run a monologue or interview show then there's really no need to pay for the extra inputs.