Rode NTH-100 Review: Why Did the Headphones Cross the Rode?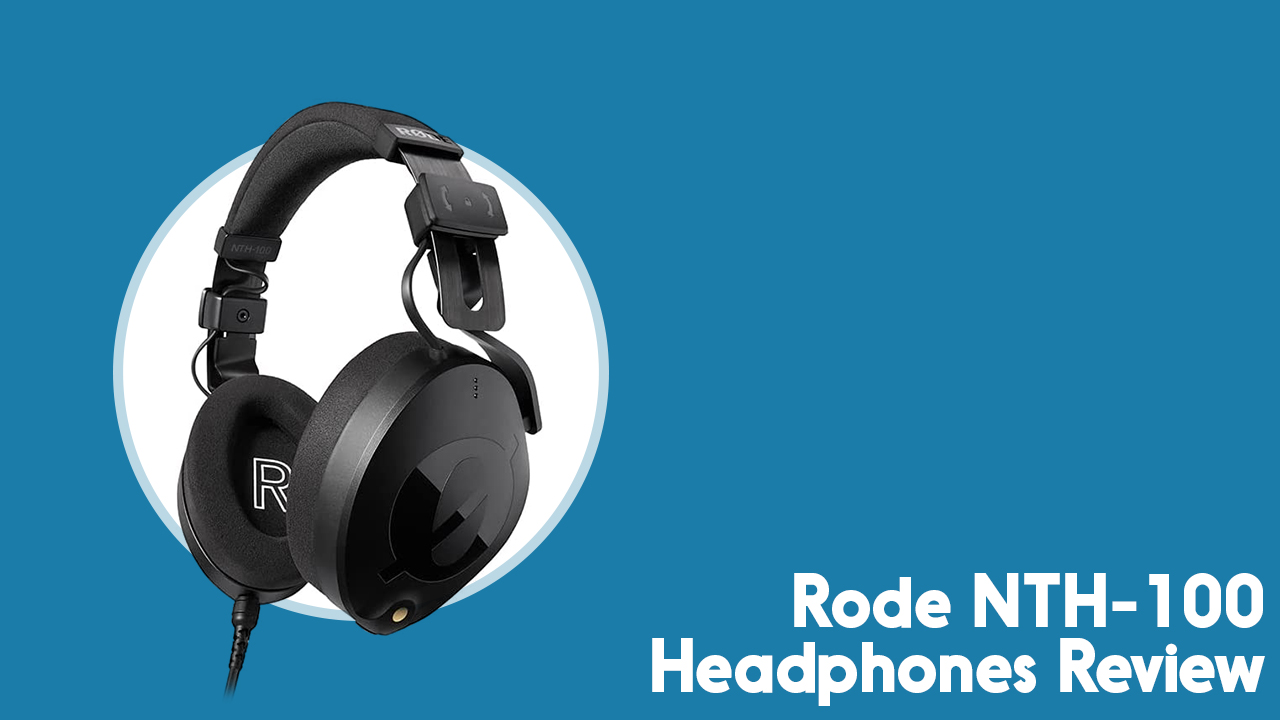 Did you know headphones are much like microphones? They both have their own signature sound – even if it's very nuanced. For example, the Sony MDR7506 is great for working with dialogue because the high-end frequency reproduction is boosted, making it easy to hear clicks in editing, while Beyerdynamic headphones are known for their accurate flat frequency response. However, we aren't here to discuss the plethora of headphones! Today I am reviewing a brand new offering from Rode. Let me introduce to you the NTH-100!
---
This post contains affiliate links. We might earn a small commission should you choose to buy through them – never at any extra cost to yourself!
Comfort of the NTH-100
These are the most comfortable headphones I have ever worn.
The padding for the earcups and headband are Alcantara®. This is something that acts similar to memory foam. The padding contours to my head and ears.
Eyeglass wearers rejoice! I couldn't feel my glasses at all while wearing these throughout a two-hour session. I also have an ear-piercing on the upper ear that always gets pressed into with every pair of headphones I've ever owned. This is not the case with the NTH-100.
The ear pads also have a cooling effect that is advertised to reduce fatigue. The headphones are a tad on the heavy side but that didn't seem to wear me out any faster than my lighter DT990.
The Build of the NTH-100
Without knowing too much of the nitty-gritty of how these headphones were made, it is clear that durability AND comfort were major considerations. But the overall feel is one of sturdiness. The wires from the driver (earcup) to the headband are in a thicker rubber. This appears to protect the thin wire from damage.
You can check out the Rode NTH-100s product page for more information on their technical specifications.
The headband and swivel of the earcups are a comfortable stiff and not "loosey-goosey". They are easy to move and adjust with a sturdy feel. Speaking of headbands:
"The stainless spring steel headband was tested under extreme pressure over 20,000 times (equating to to roughly 25 years of daily use)".

Rode
Documentation provided from Rode also boasts that the headband and earpads are user-replaceable. This is a huge feature because sometimes your materials do breakdown before the device stops working. I love seeing a replace solution, rather than "just buy a new one" mentality, or making part replacement difficult. The pieces are easily removed yet secured in place.
Customizable
According to documentation from Rode, you will eventually be able to customize the colour of the earpads, headband, and connection cable. This is more of an esthetic feature but neat, nonetheless, and gives you easy access to spare parts.
The connection cable can be inserted either on the left or right side. This is great because, depending on which side your interface or mixer is on, you don't have cables crisscrossing every which way. Out of the box, you also get a few coloured cable identifiers, which are also super handy when you are surrounded by cables. There's nothing more frustrating than always grabbing the wrong cable!
NTH-100 Sound Quality
These headphones are technically closed-back headphones. This means they offer some isolation from external sounds and shouldn't leak into your environment or microphone (if you are recording). I usually shy away from closed-back because you can run the risk of frequency built up in the ear cups. However, to my surprise, the Rode NTH-100 has a natural and clear sound that you expect from open-back headphones (those allow air through the back to not have frequency buildup).
Since you cannot plug into my brain to hear what I hear, I'll give you a description comparison between the NTH-100 and my DT990. The NTH-100 has more detailed high end without it messing with the balance. This means I was better able to hear an issue in the high end that needed repairing versus with the DT990.
The low-end reproduction of the NTH-100 wasn't as detailed as the DT990 but I could still pinpoint issues in audio for fixing. I didn't notice any distortion in the high or low end when testing for sudden bursts of loudness.
Impedance of the NTH-100
Impedance is actually really important when it comes to headphones. Typically, a higher impedance will render a more clear and accurate sound representation. However, this requires a powerful headphone amp which most entry-level interfaces just don't have.
The Rode NTH-100 has low impedance yet maintains an impressive amount of clarity and detail. This means almost any interface or mixer should be able to drive these headphones with no loss of details or volume. Kudos to Rode's engineers on that one!
Comfort: 5.0/5.0
Build: 5.0/5.0
Sound Quality: 4.4/5.0
4.8/5.0
---
Conclusion: Should I Buy a Pair of Rode NTH-100s?
The Rode NTH-100s have hit the market at a price of $199.99 CAD ($149 on Amazon US). I can see these headphones becoming a contender to Beyerdynamic headphones, which hold great favour among audio professionals – myself included.
The price point isn't a steep one, (though there are loads of quality cheaper podcast headphones on the market) so this is great for a podcaster that also does their own editing. The only "gripe" I have is they feel a tad heavy but that's most likely due to the solid build.
The headphones check off every major consideration I have when looking for a new pair of headphones:
Comfort
Durability
Sound Accuracy
Rode's NTH-100s are loaded with customizable potential with practicable applications. The sound is clear and accurate even on less than stellar headphone amps. Rode continues to lead the way in affordable, yet high quality, gear for all.