Zoom PodTrak P4 Review – Record Multitrack, Phone Calls, & More
Zoom PodTrak P4 Review: At-a-Glance
The PodTrak P4 is a dedicated podcast recorder created by digital recorder legends, Zoom
You can plug in up to 4 XLR mics are record in multitrack
There's independent headphone control for each participant
You can connect it to your smartphone, computer, or iPad to record remote calls
You can use it as a USB audio interface, as well as a portable recorder
There are sound pads so you can play 'live' music and effects during your episodes
It only costs $200, which is pretty incredible considering all the features on offer
Read on for the full review, photos, and sound samples
---
It wasn't so long ago that podcasters recorded their content through gear that was, first and foremost, designed with music in mind.
But podcasting has grown up these past couple of years. Audio equipment heavyweights now see the medium as something worth fully investing in. The arrival of Rode's Rodecaster Pro in late 2018 all but confirmed that. Zoom – famous for their omnipresent recorders like the H5 and H6 – have further reinforced it. They recently unveiled the PodTrak P4 – and it's designed specifically for podcasters.
A quick heads up that we use affiliate links to products and services we think you'd find interesting or useful. If, after reading this PodTrak P4 review, you decide to buy through our link, then we might earn a small commission – at no extra cost to yourself. Affiliates help support all the free content we put out on the site. Rest assured, we always review fairly too!
What is the Zoom PodTrak P4?
Zoom market the PodTrak P4 as "the ultimate recorder for podcasting". This is exciting, given that I thought their H5 and H6 models could already lay decent claim to that tagline.
When the Zoom H6 arrived on the scene it was pretty much the H5 with a few extra inputs. The PodTrak P4, on the other hand, looks like its own thing entirely.
What Can It Do? 5 Key Features of the PodTrak P4
Before you dive in and buy any new gear, it's important to weigh up whether or not it's really going to improve your current setup and workflow.
In this Zoom PodTrak P4 review, we'll take a look at its key capabilities and features. Depending on your existing kit and the type of show you run, this will help you decide whether it's an essential purchase, or more of a lavish and unnecessary expense.
If you'd like to learn the ins and outs of this handy little device, check out our Zoom PodTrak P4 course inside Podcraft Academy.
1. You Can Plug in and Record 4 XLR Mics (in Multitrack)
So this is the same as the out-the-box Zoom H6. There's always the odd podcaster who seems to be obsessed with having 652 multitrack inputs on their recording device, but if you're bringing any more than 4 people into a single conversation, you should really have a good reason for it. The PodTrak P4's inputs hit that 4-participant sweet spot.
Your XLR mics can be of the dynamic or condenser build. If it's the latter, the P4 has a Phantom Power option. Phantom Power is basically a Superhero who hangs around in audio interfaces and makes things work properly.

Your 4 inputs will be recorded on their own tracks, which can make life easier in the post-production phase. If you've recorded everyone at wildly varying volume levels, for example, you can quickly fix this to make it all consistent. If one is a remote guest and the Amazon guy starts banging their door halfway through, you'll be able to chop that out, too.
2. You Have Independent Headphone Control for All Participants
Each of the participants you're recording should be wearing headphones. This means they can hear exactly how they sound, as the recording is happening. If they keep popping the mic, they'll know about it. If they're too far away from the mic, they'll know about that too. Or at least, they should. You might still need to step in and advise them on their technique now and then, but it certainly makes your life easier.
It has always been possible to have everyone set up with headphones, no matter what recorder you're using. Even if it has one single output, you can use a splitter to send the audio out to as many pairs of headphones as you like.
The problem with this approach, however, is that people's hearing can vary. Remember that elderly relative who'd shout "SPEAK UP!" before you'd even finished asking them if they'd like another Custard Cream? Well if you plan on recording them on a future episode, you can crank their headphone volume up to 11 without bursting the eardrums of anyone else.
The headphone inputs on the Zoom PodTrak P4 are 3.5mm. That's the same as the earbuds you carry around to listen to podcasts on your phone, and is pretty universal as far as headphones are concerned.
3. You Can Record Remote Calls
Here we come to another of the PodTrak P4's marquee selling points – the ability to record calls.
Nothing beats having all your participants sitting round the table together. But sometimes the ideal guest you want on your show lives on the other side of the world. Or, sometimes there's a global pandemic going on.
Recording remote conversations are the most popular way of running podcast interviews these days. There are a lot of great web-based tools for doing this. You can still use one of these tools alongside the PodTrak P4 to record your conversations via your computer's USB connection. Or, you can link your phone directly to the P4 and record simple phone calls.
There are a few options for connecting up your phone. You can simply use a 3.5mm – 3.5mm cable. If you do this, you just need to bear in mind that your guest will be hearing you through the phone mic, as opposed to your XLR mic. This should be different if you were using a TRRS (as opposed to TRS) cable. TRS means "tip ring sleeve", and TRRS have an extra ring on them (look at the 3.5mm plug on your smartphone for an example of this). I didn't have access to a TRRS adapter during my short time with the PodTrak P4, so I'm unfortunately unable to confirm this just yet.
Alternatively, you could use a camera connection kit adapter to link up your phone to the Zoom PodTrak P4. Another option is to go wireless. This means bringing in an additional device (bough separately) called the Zoom BTA-2 Bluetooth Receiver. This'll let you link your phone up with the P4 via Bluetooth, and away you go. There's a handy 'Mix-Minus' button in the settings that'll prevent remote guests from hearing their own voice coming back through the recorder at them, too!
4. There's Sound Pads for Playing Music & SFX
Sound Pads are basically just a bank of pre-recorded sounds or clips you can play in real-time, during a recording session. Admittedly, few podcasters will find use for these. Most prefer to add in all their music and audio effects in post-production. But there are a couple of reasons why this feature might be appealing to you.
Firstly, if you do live podcasting, this can really enhance the production level of your show. You'll have effects, music beds, transitions, and sweepers at the touch of a button. There are 11 pre-recorded presets on the PodTrak P4, and you can load in your own, too. This could be anything from an intellectual long-form interview, to a puerile fart noise that you'll hit each time your co-host attempts to tell a joke.
Secondly, adding all this stuff in during the recording itself can save you time mixing it all together in post. This way of doing isn't everyone's cup of tea. But for some, it's an essential part of their workflow.
5. You Can Use It as a USB Audio Interface
If you'd like to show off your fancy XLR mic in those 300 Zoom calls you do for your work each day, then the PodTrak P4 hooks up to your computer as a USB audio interface.
This can also come in handy if you've been invited on to another podcast as an interview guest. The chances are, the host will be recording the show online. The P4 will help you bring clear and crisp audio quality to the session. After that, the rest is just down to the words that come out of your mouth.
I should add that the PodTrak P4 doesn't record in multitrack when used as a USB interface (recording into a DAW like Audacity or Adobe Audition). However, you can still record onto the SD card (not included) at the same time.
6. What the PodTrak P4 CAN'T Do
Unlike the Zoom H5 and H6, the PodTrak P4 won't work as a standalone (dictaphone-style) recorder. You need to plug at least one XLR mic in to record yourself. So although the device is a steal at the $200 mark, just be mindful that it isn't everything you'll need to record a podcast. Here's a roundup of our top podcasting mics on the market right now.
Zoom PodTrak P4 Review: The Tangible Stuff
The PodTrak P4 weighs about 290g. That's the equivalent to eight Roborovski dwarf hamsters. Or 7.2% of a cat. More practically – a bit more than the weight of your smartphone, a bit less than your favourite coffee mug.
Dimension-wise we're looking at 112mm (W), 155mm (D), 47mm (H), so ever so slightly longer than the average pen.
Bottom line to all this? It's very light and portable!
One downside is that it's not the most durable interface I've ever seen. It has a plastic build, and one bad fall looks like it could do a bit of damage. If you are a perennial walking disaster, consider using a Shure SM58 into the PreSonus Audiobox USB 96 instead.
For getting power to your PodTrak P4, you can plug it into the mains, connect it to a USB source, or pop in two AA batteries (included). If you're running on battery power, Zoom estimate that you'll get between 4 and 9 hours of recording time. If you can't record an episode of your Roborovski dwarf hamster podcast in that time, then you're really struggling.
It's worth mentioning, too, that the USB connection is USB-C. I believe this is the size of an Android phone charger. There wasn't one included in the box, so I had to go to Poundland to buy one. Cost me £1, and we don't even get to keep the recorder. Heartbreaking stuff.
Pricing! Zoom PodTrak P4 Review
At the time of writing this review, you can pick one up brand new on Amazon for $200.
You get two AA batteries in the box, but no USB cable or SD card.
What Does It Sound Like?
Here we come to probably the most important factor in any audio gear review. How does it sound?
I recorded these sound samples with the Rode Procaster, Shure SM58, and Samson Q2U mics. No post-processing has been applied, so you'll be able to hear the audio exactly as it was recorded. I also included a snippet of a phone call recording, where you'll hear some riveting chat about sound blankets.
Zoom PodTrak P4 Review: Summary
So is the Zoom PodTrak P4 the recorder for you? There are a few things to consider, either way.
If you already own a digital recorder like the Zoom H5 or H6, and have a workflow in-place, then it's hard to make the case to fork out more money for the PodTrak P4.
But if you're actively in the market for a podcast recorder, then this bit of kit is worth serious consideration. It's a very reasonable price point (a lot cheaper than the Rodecaster) and the call recording feature alone will make it appealing to many podcasters. Just remember though that you'll still need at least one XLR microphone to get use of it, and you might potentially have to spend £1 on a USB cable too!
If you'd like to learn the ins and outs of this handy little device, check out our Zoom PodTrak P4 course inside Podcraft Academy.
Zoom have a fantastic reputation in the audio world. The release of the P4 will only go to further cement their place as one of the podcasters' favourites. It's great to see podcast-specific gear like this being released. After all, this trend means it's going to become easier and easier to record studio-quality audio content. It's another big step towards accessibility for all.
Hopefully you've found this PodTrak P4 review helpful, and it has been useful in your quest to find the ideal equipment and setup for you. If the thought of having a simple all-in-one podcast recorder seems appealing, then you might also be interested in an all-in-one 'podcast maker' app to pair it with.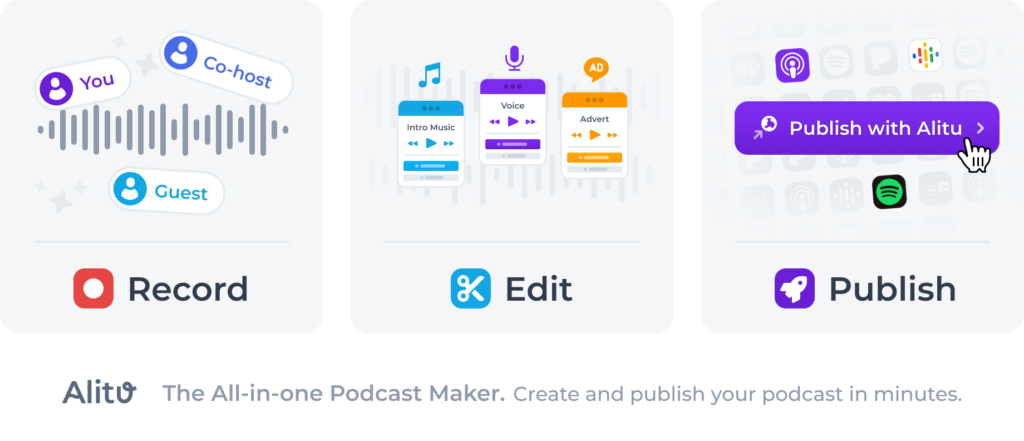 Alitu is one such app. You can use it to automate all the mixing together, cleaning up, and levelling of your audio files. It makes editing ridiculously easy, even if you've never edited audio in your life before. Once your episode is ready, you can publish it from directly within the Alitu interface, too. Try it out free for 7 days and see what you think.