Promote Your Podcast with Twitter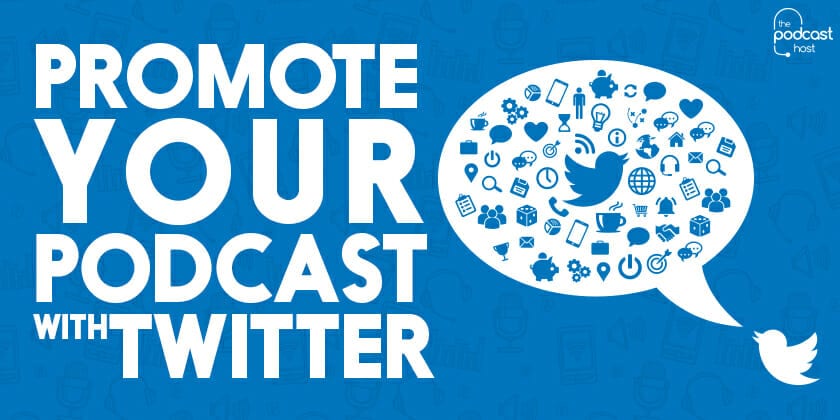 Back in 2009, when Twitter was still in its infancy, I was named one of the Top 100 Authors on Twitter. I shared this honor with huge names like Meg Cabot and Neil Gaiman. I was thrilled and so very proud! But, these days, it's a very different animal, and that makes it much more difficult to use Twitter to promote your podcast.
With millions upon millions of users spewing 280 characters into cyberspace every moment, it has become a deafening din. It makes it very difficult to be seen when you need to be seen.
This is especially true when you need to promote your podcast. People are sick of constant sales pitches, so you must genuinely engage with your audience to be seen.
But, that's where the opportunity is, and I really believe that Twitter is still a great place to promote your podcast.
As in all your online marketing, your tweets simply must benefit your potential audience, not you. Do not fill up your Twitter feed with a constant stream of sales pitches. At the same time, however, you also must let your audience know about your podcast.
It's a delicate balance.
Before we dive in, remember to check out our main article on how to promote your podcast too. But, for now, let's tweet!
Four-Fold Twitter Approach
To this end, I've developed the Four-Fold Twitter Approach. Like all online networking, it's about engaging your audience in a conversation. You must join the conversation, amplify others' words and work, and start your own conversations. The same marketing rule apples in Facebook, Twitter, or blogging.
Each of these should constitute about 25% of your Twitter presence, give or take.
The Four-Fold Twitter Approach is as follows:
ReTweet other people's tweets. Listen to and promote them, and perhaps they'll do the same.
Mention other people on Twitter. Tag them with @, so they see you're hearing them. You value them. You want to talk with them. Engage others into a conversation this way.
Personal Tweets should make up a portion of your Tweets as well. Silly things like needing your coffee or pictures of your food. Whatever you like. Show your audience your personality. Be funny, if you're funny. Be political, if that's what you are. Voice your opinion. If it happens to be on the subject of your podcast, all the better!
Professional Tweets (or promotional/sales tweets) must never take up more than 25% of your Tweets or people will get very bored, very quickly. These professional tweets can be links to your blog posts, about your podcast directly, or places to buy your product. Use the # as well. Since these are often repetitive, consider automating part of these to lighten your load.
Automation & TweetDeck
Automating my Tweets became essential when I was also trying to write books and do a gazillion other things each day. Twitter promotion was one of many tasks.
Twitter has made it very difficult to automate Tweets because of all the unscrupulous spammers, but there are still ways to do it. The application I used is now defunct because they couldn't keep up with Twitter's ever-changing rules. It was the #1 Twitter Tool of all time. Finding one that works for your needs will take some research on your part.
The other option is to use TweetDeck (Editor's note: I use Hootsuite and SmarterQueue for just the same thing, and they are mostly much of a muchness! Colin). Either via the online interface or through the downloaded software, you can schedule your Tweets to publish throughout the day. It's a little more work that it used to be with other Twitter Automation applications, but it's still a great tool.
Click on the "New Tweet" button. The "Schedule Tweet" choice is below the text field along with "Add a Photo" and others.
Automate your Tweets ethically by following the above Four-Fold Approach. Only 25% should be Professional Tweets.
Set aside 30 minutes to an hour each morning (perhaps over coffee) to schedule your Professional Tweets for later in the day.
Space your automated Tweets out to only once or twice an hour.
(Editor: I actually spend an hour at the start of each week to schedule non-time dependent tweets, then add in some more timely personal ones as and when they come to mind. I find batching the whole week saves a lot of time and still allows them to be relevant.)
Automation is a great way to link to older blog posts or podcast episodes. With all the content flying around cyberspace each day, it's easy for yours to get lost down the rabbit hole. Tweet past posts and podcasts periodically and expose your work to a whole new audience. Use them in conjunction with relevant hashtags and trends. Make sure you're making it conversational, not just the title, and outline why someone should follow the link.
Keep a document with a list of links and 280-character messages on your desktop. Then just copy/paste each morning on TweetDeck. Voilà!
Join the Conversation
Throughout the day you must post to Twitter in real time, too. Engage the community with ReTweets, Mentions (@Replies), and Personal Tweets. Remember, only 25% of your posts should be Professional (or Automated). For every automated tweet, post three that engage you in the larger community conversation. Plan accordingly.
Work relevant hashtags. Connect with others who have similar interests. Join the conversation on a wider level. Before you know it, you will find your niche and increase your listening audience.
Remember, check out our main how to promote your podcast article, which links to other methods too, such as Instagram and Facebook.