How to Find Podcast Guests Who'll Bring Value & Opportunity
Running an interview series has many benefits as well as downsides. One of those downsides is the challenge of constantly having to find podcast guests.
Where do you start? Where should you look? How do you know who to approach? And how do you go about contacting them? We'll run through all these questions in this handy guide to finding podcast guests…
Starting With Your Niche
First, are there any other podcasts covering the same subject as you? Do any of them do interviews? If so, look and listen to see if any of these guests would be a good fit for you and your audience.
If someone has agreed to be a podcast guest before, then there's a good chance they'd be willing to do so again.
When going down this route, be mindful of not recreating the same interview your proposed guest has done elsewhere. Even if you're after the same stories and key takeaways, try to approach your questions from a different angle. This will keep things interesting and fun for you, your guest, and your audience.
For more help, check out Great Podcast Interview Questions and How to Prepare for a Podcast Interview.
Ask Bloggers & YouTubers
Who's creating content on your subject (or a similar one) in blog form, or on YouTube? If someone talks about the same things as you, there's a decent chance they'd be more than happy to come on your show.
Not only can this provide you with valuable, relevant content, but it can also help boost your audience numbers. Your interviewee will probably share the episode with their own community, who may be interested in your other episodes.
The interviewee could also see many of your listeners checking out their blogs or videos. Everybody wins here.
Mine Traditional Media to Find Podcast Guests
Are there people in television, radio, newspapers, or magazines who are relevant to your topic? Probably. And you'd be surprised at how many of them would be happy to chat on your podcast if you asked them.
Reporters, writers, and folks working in the media usually have several projects on the go. Their business is all about reaching an audience. Why wouldn't they want to connect with yours?
Find Someone Who's Selling Something
Has someone recently written a book relevant to your subject? If so, they'd probably jump at the chance to come on your podcast and talk about it in front of your listeners. Your audience is also their target audience.
As with any product-selling guest, make sure you create an engaging interview that's valuable and relevant to your listeners. They don't have to go ahead and buy the interviewee's product. Avoid the whole conversation from being one big sales pitch. This can not only ruin an episode but put a black mark against your podcast in general.
It can be useful to explain to the interviewee beforehand that you'll be chatting through several points. Let them know that you'll ask them about their product towards the end of the conversation. This is where you'll give them a chance to talk about it. Then, point folks to where they can go to buy it.
You could even look into setting up an affiliate link or code. This way, you have the opportunity to earn a commission on any items sold. By far, the most important issue though, is to create good content.
Ask Other Podcast Guests
When you finish the interview, ask if they know anyone else who'd be a good fit for coming on the show. You can either do this immediately after the interview is over. Or, you can do it later on by email, perhaps when you tell them their episode is live.
I think it's best to do it whilst you're still on the call with them. This way, you've just spent some time chatting, and you'll get an immediate response.
When you approach other potential podcast guests, you have the added credibility of mentioning the interviewee who thought of them. "I was speaking to [guest] recently on my podcast. She recommended I get in touch with you to see if you'd like to come on the show too?"
Immediately you've established some common ground, and most people will be very receptive. If the chat with your initial guest went well, you could get a direct introduction to their contact.
Ask Your Audience to Help You Find Podcast Guests
Your listeners can recommend potential podcast guests they'd like to hear on the show. Some might actually be great potential guests themselves. Encourage people to get in touch with you. Include it in your call to action at the end of each episode.
Also, make it easy for people to get in touch with you. It's a good idea to send everyone to a page such as yourwebsite.com/contact, where people can select their preferred way of dropping you a line.
You can even create a form specifically for potential interviewees to submit a request to be on your podcast. This also helps filter the more generic requests that podcasters get. Some lazy PR companies use a scatter-gun approach to find shows for their clients to be interviewed on.
As an example, here's our interviewee request form for Podcraft.
Getting In Touch With Potential Podcast Guests
Social media can be an easy and convenient way to reach potential podcast guests. But I still think email is the most effective method here.
The important thing is to respect people's time and get to the point quickly with your invitation – though still in a friendly manner. Imagine your potential interviewee checks their phone whilst walking down the street and spots your 700-word email. Do you think they'll read it properly?
Here's a rough format you might want to follow…
Hi [name], how are you?
I'm [name] from the [podcast], and I'd love to get you on the show for a chat sometime about [subject]. I think it would be really beneficial for our audience who are [interest in topic].
(Optional, let them know where you found them or know them from. "I recently read your book, and I really enjoyed it", or "I just watched your video on [topic], and…" – that sort of thing.)
If you're up for it, here's my calendar link where you can book a slot that works for you.
Having a calendar link or booking tool is invaluable for this process. There are plenty of options out there, but we tend to recommend Book Like a Boss. A service like this removes all the back and forth that could cause a potential interviewee to drop off the radar.
Remember also to have an email signature set up with a clear link to your show's website. That way, any potential podcast guests can click through, where they might check out who else has been on your show. They might even have a listen to some of your episodes.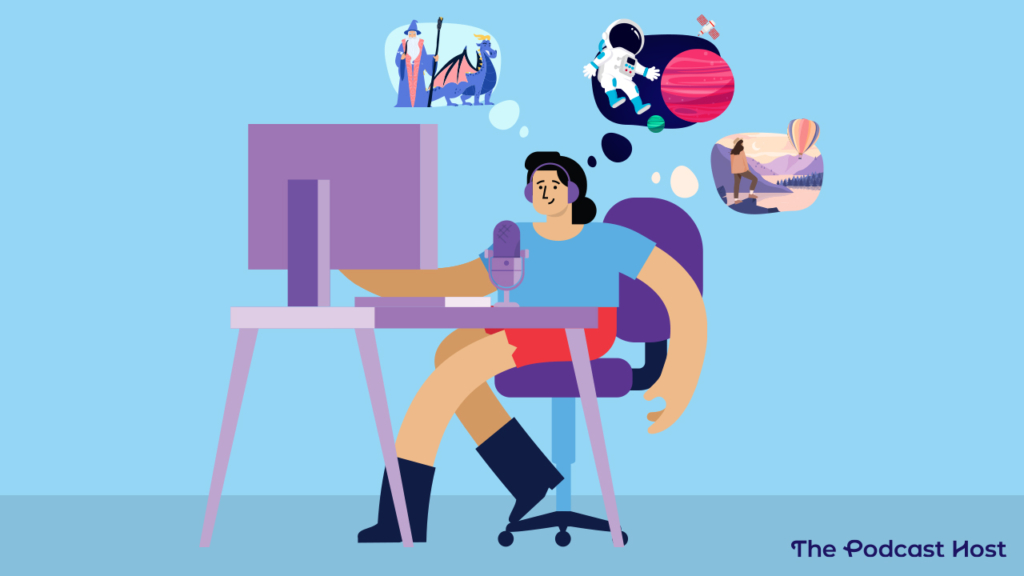 Approaching "Famous" People as Potential Podcast Guests
Every topic and niche has its "celebrities". If you're podcasting in quite a busy space, it can be hard to reach these folks. If someone is so popular that they get 100+ emails daily, they've probably outsourced reading them to an assistant. You may be seen as "just another podcast interview request" and deleted without a response.
If there's someone whom you'd absolutely love to have on the show, then you could record your message to them as audio or video. This has a lot more chance of actually getting through their filters. It shows that you're not just sending out throwaway copy-and-paste emails. Be professional if you do it.
This is also an instance where you could use social media more effectively. For example, you could tag someone in a video you've recorded for them on Instagram. It depends on your preference and whether you and your potential guest use these platforms.
Finding Podcast Guests via ChatGPT
AI tools are taking the world by storm in 2023, and one of the biggest is ChatGPT.
ChatGPT can help podcasters in many different ways, from coming up with ideas and topics, to drafting shownotes, and even, finding podcast guests. With the right prompts, you can set yourself up with a list of interesting people to reach out to.
ChatGPT also offered me tips for those unconventional suggestions:
A Scottish folk musician who incorporates Pictish history and mythology into their music.
A local tour guide who leads tours of Pictish sites and has extensive knowledge of their history and culture.
A member of a Scottish reenactment group who specializes in recreating Pictish clothing and weaponry.
Dedicated Tools & Services to Find Podcast Guests
Looking for folks who're guaranteed to guest on your podcast? Then you might want to use one of these great matchmaking services.
PodcastGuests.com
PodcastGuests.com is a tool that'll help you find more interesting, qualified interview guests for your podcast. It's a mailing list at the heart of it, but with a member-based website that adds some extra features.
On the newsletters, you can post interview requests through which people can apply to come on your show. Or, on the website, you can browse their existing database of guests and get in touch with them directly. Every newsletter also includes a few listed experts, so you can contact a few new people every week if they're suitable for your show.
If you upgrade to the premium service, you can also list yourself as one of those 'subject experts' and get invited to more shows. The free newsletter is a great way to find better guests more easily and appear on more shows yourself.
Podchaser Connect
A newer way of finding podcast guests is to use Podchaser, a platform that's often referred to as "the IMDb of podcasting".
Podchaser has a range of excellent features for podcast listeners and podcasters alike. The platform enables you to create your profile, and then link that profile to all the shows and episodes you've ever been involved in.
Their Podchaser Connect feature is marketed as "a new platform for strategically connecting experts and podcasts to create amazing content and grow audiences."
Alongside its custom profiles, you'll find data-driven matching between podcasters and potential guests, along with detailed analytics and reporting.
PodMatch
At the time of writing, PodMatch has generated over 56,000 Interviews among its 11k+ members. Continuing the dating app analogy theme, they say they use the same(ish) technology for their automated podcast guest and host matching.
MatchMaker.fm
MatchMaker market themselves as "like Tinder, but for podcasters".
You can use it either to find podcast guests, or to put yourself forward to be a guest on other shows.
It's totally free, and you can connect via your LinkedIn or Facebook accounts!
Summary: How to Find Podcast Guests
Hopefully, that's given you a few avenues to explore when finding the right guests for your show and your audience.
The starting point should always be your content when identifying potential podcast guests. What value will this person bring to your audience? What unique insights will you get from them?
Never take the cynical approach of going after guests purely because they have a big following on social media. Sure, this can be a nice bonus. But the size of their following doesn't necessarily equate to extra listens for your episode, especially if the interview you do with them doesn't stand out enough for them to share it.
So some pointers going forward:
Let Alitu Take Care of Your Podcast Editing
Alitu is a tool that takes your recording, polishes it up, adds your music, and publishes the episode, all automatically.
Learn more about Alitu
And, if you're looking for the easiest way to record, edit, produce, and publish your podcast, then be sure to check out Alitu. Alitu is our 'Podcast Maker' tool that makes podcasting as simple as humanly possible, even if you've never worked with audio before in your life. Try it free for 7 days!