Best Alitu Alternatives for Podcasters
Shopping around to find the perfect software to run your podcast? It's likely that our Podcast-Maker tool Alitu will already be on your radar. Whilst we're delighted with that, and really hope you'll give it a go, the purpose of this post is to run through the best Alitu alternatives on the market right now.
But why mention our competitors?
Why not…
This site has always been about giving you the facts and presenting you with a full range of options. It's our aim to help you make an informed decision. Maybe Alitu isn't the best option for your particular needs or wants. If that's the case, let's find you something that is.
Before we jump into the Alitu alternatives, though, a quick recap on what Alitu is and what it can do.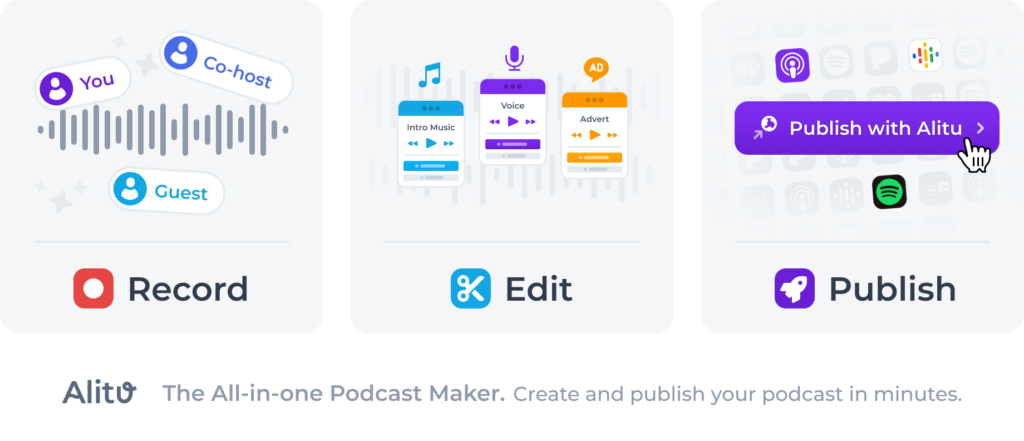 What Is Alitu?
Alitu is a web-based software, an all-in-one 'Podcast Maker' tool. Here are some of its key features.
Recording, either online calls or solo
Audio clean-up, such as balancing volume and removing background noise
Editing, where you can easily chop out mistakes and unwanted content
Episode building, so you can put recordings in the order you want with smooth transitions
A library of royalty-free music
Auto-generated transcription
Hosting, so you can easily publish to the multitude of listening apps and directories out there
A free website for your podcast
Imagine having access to everything in your podcast workflow with one single subscription and login. That's our goal.
Obviously, we can't automate your ideas or the things that make your podcast uniquely yours. That would be creepy. But we can automate the tools that make it easier for your ideas to reach your audience.
Alitu Alternatives for Call Recording
When it comes to call recording software for podcasters, there are a lot of different options. Squadcast, Riverside, Ringr, Cleanfeed, Iris, and Zoom make it possible for you to hear and sometimes see the other people on your podcast, no matter where they are.
These all vary, of course. Zoom, for example, limits sessions to 40 minutes in the free tier, and the audio quality can be poor. From my experience, Zoom works best when everyone involved is comfortable recording themselves (also called double-ender recording). If you and your co-hosts or guests are good at recording yourselves, then any online call software would do. You're solely using the Zoom recording as a reference track to keep pace. Then, you record the files separately and edit them together.
Some call recorders we mention have a free tier, and subscription fees vary. They can offer additional features such as transcription or video. With these, you would still need to arrange the editing, publishing, and hosting parts of your podcast workflow.
Squadcast and Riverside are two high-end options for recording multitrack video and audio. You might consider those as your Alitu alternatives if you're happy to go elsewhere for things like editing and hosting.
Here's our full guide on the best software options for recording remotely.
Alitu Alternatives for Editing & Production
Choosing software for podcast editing and production depends on what kind of podcast you want to make. For example, if you want to make immersive audio with multiple tracks, music, sound effects, and binaural sound placement, you want a digital audio workstation. This includes software such as Hindenburg Journalist, Adobe Audition, Logic, or Pro Tools. Audacity and Reaper are free or low-cost software. They're also good for multi-track editing and production. GarageBand comes standard on Mac computers and iOS mobile devices.
None of these are plug-and-play options where you assemble podcast episodes right out of the box. They all have a learning curve. Fortunately, there are loads of tutorials for any of these on YouTube. Hindenburg offers free training webinars periodically. These options are solely for recording, editing, and polishing. Many of them are designed for music. These can help you make a podcast episode that sounds amazing. Unfortunately, they won't help you with publishing, transcription, or hosting.
Audacity has always been a popular option with podcasters because it's free. Adobe Audition is seen as the more high-end and premium option. These are great Alitu alternatives if you're happy to publish and host elsewhere.
Here's our full guide on the best podcast editing software.
Alitu Alternatives for Podcast Hosting
Podcast hosting is a competitive industry. This means that each service is constantly trying to upgrade its game regarding what tools and features it can offer podcasters.
Of course, many podcasters will be happy so long as publishing an episode is quick and easy, and there are download stats available.
Some other podcasters love the bells, whistles, and extras, though. These might be things like private "members only" podcasts, tools for newsletter or sponsorship, or the ability to publish directly to YouTube.
A few of the top podcast hosting options today are Captivate, Transistor, Castos, RSS.com, Libsyn, Buzzsprout, Redcircle, and Podbean.
The best way to choose a media hosting service is to start with your podcast. What do you need? What's your budget? How much data will you upload per month? Are you starting to build an audience now, or are you Oprah Winfrey?
Knowing what you need as a podcaster is the best place to start. The basics will be provided, no matter who you host with. And then, the need for things like transcription, YouTube, and so on will vary, depending on what you want to do with your podcast. Alitu is the only podcasting service that offers recording, editing, transcription, and publishing along with your hosting. But services like Captivate and Transistor have loads of cool features if you're already set up with the recording and editing stuff.
Here's our full guide on the best podcast hosting providers.
Alitu Alternatives for Transcription
Some podcasters feel that transcription is extra work. Most podcasting professionals feel that taking the time to transcribe your podcast is necessary to help you grow your show and make it more accessible. As a result, the market for transcription has exploded.
Many transcription services run on artificial intelligence, with different kinds of accuracy. Again, you'll want to know what your podcast needs before you spend money. Descript, for example, offers transcription, recording, and synthesized voices (but not hosting or publishing assistance). Some hosting services (such as Captivate and Castos) offer transcription, though not recording or editing. Rev is a straight-up transcription service if you've got your bases covered in all other areas.
It's good fiscal sense to purchase transcription when you can get something else along with it, whether that's recording, editing, or hosting. Alitu has all three, giving you the most bang for your buck.
Here's our full guide on where to get your podcast transcribed.
Find The Right Tool For Your Podcast
Most people worry about the fixed aspects of podcasting ("how do I know the difference between all the bitrates?"), and let the variable parts of podcasting (the content) slide. Unfortunately, this means they let technology be an obstacle. Podcast technology should be something that helps you move forward and not get bogged down.
Fortunately, we live in a golden age of podcast technology and software. There are loads of great tools and services on the market which are accessible to the aspiring creator. Many of the Alitu alternatives mentioned here can help you run and grow a great show, providing you've got the content part nailed down.
As you plan the logistics of your podcast, you'll come to realise whether or not multiple logins or subscriptions for various services make sense. For some, it will. For others, having access to recording, editing, hosting, transcription, and a podcast website all in one account will be too good to turn down.
If you do find Alitu's "all-in-one" offerings appealing, there's no need to take our word for it. You can run a free trial for a week and make up your own mind.