Because we're building an amazing team, in a caring company, and our goal is to help you build the career of your dreams!
We're a young but established company in an exciting, creative space (Podcasting!). Our in-the-brickwork goal is to help creators to get their voice out, and to have a positive impact on the world.
We're doing that by nurturing a lean, close-knit team of superstars, who care about each other as much as they do about the product (which is a lot 😻).
We think big and we're hungry, but we're a calm, caring company, too. In my view, I don't want to get somewhere fast if our hair's on fire the whole way 😆 That's why we aim for a great work life balance, taking care of our team, and having a focus on learning every day.
If this sounds like a place you'd like to work, I'd love to speak to you! Drop us a line.
What's our Purpose?
We help your passion become the world's inspiration 💓
We do that by helping anyone to get their voice out into the world, by creating a fan-building, life-changing podcast.
Change your life and the lives of your audience!
Why Do People Like Working with Us?
🎮 Control
We like everyone to have something that they 'own'. We're lean, therefore everyone can 'own' something important, take control of it, and make an individual impact on the company.
🏂 Flexibility
We're a distributed team, working our own days and hours, not the traditional 9-5. If your work is on-track and it snows, go skiing. Work that wet Saturday instead.
👩🏾‍🏫 Learn New Skills
Learning and development is our bread and butter. Tell us what you want to learn, and we'll make time for it, from courses to conferences to mentors.
🎨 Great Customers
We work with the best people 😋 Podcasters are passionate, creative, funny, ingenious and full of banter. We help them achieve their dreams, and they appreciate it!
🔗 Exciting, Collaborative industry
Podcasting is a creative, fun industry, and it's evolving fast! It's a really dynamic space to work in, and we have great relationships, even with our competitors.
🚗 Autonomy
Again, we're lean, with few pretty flat management. So, you'll get support, but we're a team of problem solvers and action takers. We trust you to make decisions & act on them yourself.
🌱 Progression
You'll develop along with our company. You can set your career goals, and we'll create a plan to help you get there, even if it's elsewhere.
🎈 Personal projects
To help your learning, if there's an idea you want to work on, and it might help our users (even waaay down the road), we'll find time for it.
😻 Passionate, Open-Minded Team
We care. About each other, about our customers, about our product. We keep an open mindset, question assumptions, take risks and try new things.
⚡ Young & Mouldable industry
Podcasting is still super-young, and you'll be in a position to have a big impact on that. We're helping build an industry that's only 2 decades old!
What do we Do?
We help the world to share their voice, by launching and growing their own amazing, world-changing podcast.
We do this by offering software and education which makes successful podcasting as easy as humanly possible!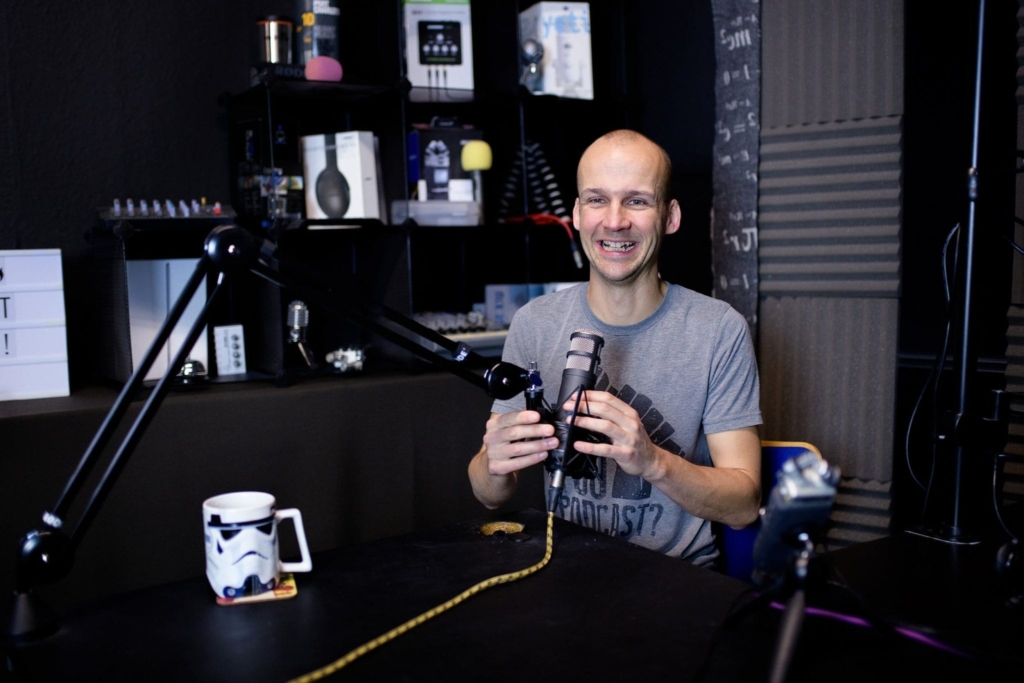 We run a web-based app, Alitu.com, which is a podcast maker tool. It helps podcasters record, cleanup, edit and produce their audio, then publish it to the world. It takes the tech out of podcasting by automating as much as possible, and assisting with the rest.
And we also educate, through regular articles, podcast episodes and videos at thePodcastHost.com. This is an entirely free resource, to help anyone run a show. But, we also direct anyone who needs more help to our paid coaching and web app products.
Here's how our company works:
1. Podcast Maker Web App
Running a Software as a Service (SAAS) web application: Alitu.
It's a tool to help people create a podcast. SAAS development and growth is a really exciting area, and you could be a big part of it.
2. World Leading Content
Creating ridiculous amounts of super-helpful, actionable content on The Podcast Host.
This is all free, from blogs, to podcasts to YouTube videos, and covers everything anyone needs to know about running a show.
3. Community & Coaching
Supporting a close community of all-in media creators within our paid course library: Podcraft Academy.
The community contains courses, resources and live-taught events to help anyone learn how to run a better show.
What are our Values?
Our values are really important to us. Mindset, culture, whatever you call it, it's how you think and act, both in your work and with others.
Now, this doesn't mean everyone having the same thoughts, beliefs or background. Quite the opposite – we're passionate about bringing in diverse ideas and opinions, from all backgrounds. But your mindset is more about how you approach things like work and communication.
Communication with respect, trust & humility is our #1 priority
We're always learning, always teaching, always humble
We're balanced but hungry
We strive for Clarity in everything we do
It's all about helping the podcaster
We have fun and try new things in our very creative industry
We're practically optimistic & positive problem solvers
We "ship it", small step by small step
We are committed to inclusion and diversity throughout our work
Our Approach of Inclusivity & Diversity
We're committed to providing a welcoming and inclusive environment throughout our company, whether you are a customer, podcast listener, site visitor, podcast creator, job applicant, employee, or contractor. As a team, we'll always strive to promote dignity and respect and will not tolerate any form of discrimination, intimidation, bullying or harassment.
We all have a role to play in promoting this and it is through our behaviours, personal commitment, how we collaborate and how we share our perspectives with each other that we can achieve this.
If you're thinking about working with us then we highly encourage applications from all ages, disability, race, colour, nationality, ethnicity, beliefs, gender or sexual orientation. We know we can collaborate, learn and grow together much more effectively when we have a diverse team of people, and that it creates a much more interesting and exciting place to work!
Are we a Remote or Hybrid Company?
We're a remote-first startup, with staff based around the world. But we can do hybrid working for anyone close enough to our offices in Scotland, who want to be in-person from time to time.
We started in Dundee, and now have offices in Edinburgh and Inverness, but we're looking for great people everywhere! We've grown out of the founder's passion for podcasting and education, and are growing a team that share that passion, wherever you're located.
What about Funding & Growth?
We aim to be a lean company, and not stray too far from profit. From 2015 to 2021, we boostrapped the company, taking no funding, and staying profitable throughout.
In late 2021, we took on a funding round from some very carefully selected investors. They bring a lot to the table, from experience to contacts, and are happy with our plan to grow in a smart and sustainable way. This lets us grow a little faster, and test more things through 2022 and 2023, so we can get where we're going a little faster, but not with our hair on fire 😆
How Established Are We?
Our content site launched in 2011 and is one of the best-known brands on the web for podcasting. It helps 2 million+ visitors every year figure out how to launch or grow their show.
We also have a thriving community & coaching space with hundreds of members, and paid courses which have been bought by 1000s of podcasters.
We launched Alitu, our podcast maker web app, in 2018, and it's grown by leaps and bounds since then. We finished 2021 with more than 2,500 paying users, and we attract hundreds of new users every month.
That's just the start, though! We want to get our education and our tools out to everyone who needs them, and help everyone to get their voice out into the world.
What our Customers Think of Us
---
What Jobs are we Hiring For?
Check out our currently advertised roles, here:
But, if you love the look of our company any you think you've got something to offer, you can also get in touch. Send over your CV and why you think you'd be a great member of our team. We'd love to hear from you!