So it's about time we revisited our Best Fiction Podcasts roundup. We're three-quarters of the way through the year, into awards season (you can vote for the AudioVerse Awards and the Discoverpods awards if you like). Soon, we'll glide into December, when "Best Of" podcast lists dominate the swap-o-sphere.
These roundups of capsule reviews tend to have the same podcasts over and over again. Good audio drama podcasts don't go away. More people are discovering audio drama podcasts for the first time, and it can be hard for them to discover more podcasts beyond the ones dominating the top of the charts.
As always, defining The Best Audio Fiction Podcasts of 2022 (or any year) is a slippery task. Not only because it's hard to define "best," but also because there are so many really good audio drama podcasts.
Best Fiction Podcasts for 2022
Celebrity and Independent Audio Drama Podcasts
The 2020 pandemic brought a lot more players to podcasting. 2021 and 2022 have seen more podcasts with celebrities and professional funding than ever before. Theatre companies used audio drama to tide them over until in-person performance can safely resume.
For podcasters, this can feel like when you were a kid, enjoying a paddling pool, and then some really big kids splashed in, to crowd you out and sink your boats with water displacement. For audio drama podcast audiences, it's confusing. But, more audio drama podcasts don't mean that yours has to leave. It's a big Internet.
Celebrity and big-budget podcasts are a big gateway. Independent audio dramas have focused appeal. Let's distil this search for audio drama podcast excellence, shall we?
If You Like That Fiction Podcast, You'll Love This Fiction Podcast
Comparison doesn't serve podcasters well when it feeds competition. It's healthy, however, when we're trying to narrow down a wide range of options. In the interest of podcast discovery, the statement "if you like this, then you'll also like that," can help audiences find shows they'll care even more about. Let's give it a try.
Best Fiction Podcasts if You Like We're Alive
We're Alive is the show that made a thousand audio enthusiasts say, "I want to do that." Fortunately, K.C. Wayland is generous with his knowledge. Not only has he made other audio drama podcasts, but he also wrote the educational book, Bombs Always Beep. If you enjoy immersive adventures where intrepid folk battle an indescribable horror in an unforgiving world, here are some others you should try.
The Cleansed
The Cleansed: An apocalyptic tale about Maria and Luke, siblings who escape with rebel leader John Prophet to save the world from a second man-made apocalypse.
Primordial Deep
Primordial Deep: A team of scientists and marine explorers searches for a deep-sea creature too big to imagine. The immersive sound design on this adventure will have your heart racing.
A Scottish Podcast
A Scottish Podcast: Lee, a washed-up former radio DJ, wants to see his show The Terror Files mentioned up there alongside podcasts like The Black Tapes, Limetown, and The Message. And he'll stop at nothing to achieve it. Aided by his jaded musician pal Dougie, the pair travel the length and breadth of the country in search of Medieval Demon Kings and Lovecraftian Gods of the Sea.
Best Fiction Podcasts if You Like Limetown or The Black Tapes
Both of these stories follow an investigative journalist digging her way through a web of unanswered questions. Whether the enemy is Big Tech or supernatural, the mystery depends on perception and unreliable witnesses. If you enjoy these podcasts, you'll like:
Arden
Arden, in which a journalist and a detective unravel the mysterious disappearance of a Hollywood starlet and the unidentified body in the trunk of her car.
Death by Dying
Death by Dying, where the obituary writer of Crestfall Idaho investigates mysterious deaths, and finds himself tackling more than he can handle.
How i Died
How i Died, where a forensic pathologist relies on a unique advantage; that he can talk to ghosts.
Best Fiction Podcasts if you like Welcome to Night Vale
This late-night radio missive from a surreal desert town inspired a surprising number of fans to dress up as super-powered glowing clouds. The radio host framework isn't difficult to reproduce. Making that unique is another question. Here are some standout offerings.
Mecrury: A Broadcast of Hope
Mercury: A Broadcast of Hope This daily fiction podcast from Atlanta Radio Theatre Company is a different kind of zombie story. What do you do when you're trapped in a radio station during the zombie apocalypse? You help people. Episodes older than 24 hours are only available through their Patreon page, so when you see this in your feed, listen as soon as you can.
The Earth Moves
The Earth Moves: People tune into Brent Ziff's radio show to hear him make fun of losers. But tonight's loser, Leo Short, is calling with a message straight from the bowels of the Earth that's going to put everything Brent knows on shaky ground. Writer and producer Mac Rogers has been churning out audio drama thrillers (Steal The Stars, Give me Away) for years. Thank goodness there appears to be no stopping him.
Best Fiction Podcasts if You Like Wolf 359
Set on board the U.S.S. Hephaestus space station, the dysfunctional crew deals with daily life-or-death emergencies, while searching for signs of alien life and discovering there might be more to their mission than they thought. Wolf 359 utilizes comedy, character exploration and drama in a way that's reminiscent of Red Dwarf and Star Trek Deep Space 9.
Oblivity
Oblivity A disgraced war hero is posted to Pluto on her toughest mission yet: to oversee a small, dysfunctional research team. You know all the side characters in space adventures who have to be saved by the Captain Kirks and Starbucks of the galaxy? What if there were finally an adventure where the underdogs save the day? This podcast turns a lot of the expectations of sci-fi adventure stories around to provide a fast-paced and delightful dig into human nature.
Oz9
Oz9: Sacred cows make the best burgers, and Oz9 is a feast of satire. A disorderly crew in ships better left in a junkyard take the very wealthy and reckless for a space cruise, in the interest of avoiding legal and financial trouble writ large. If you enjoy hearing the rich and powerful taken down a notch or two, this is your show.
Civillized
Civilized: This improvised dark comedy podcast raises a lot of questions and will always keep you guessing. Humanity's final hope lies in terraforming a new world. A fleet of engineering ships are sent in advance of the colony ships, sure to follow in their wake. But one lone ship becomes separated from the fleet and crash lands on an alien planet. This podcast includes an interactive audio story, in which you play the alien, Albaska The Under-Appreciated. The choices you make determine how the story proceeds, and what you'll hear next.
---
Have you heard our very own space exploration show Hostile Worlds before?
---
Best Fiction Podcasts if You Like Homecoming
Homecoming centers on a caseworker at an experimental facility, her ambitious supervisor, and a soldier eager to rejoin civilian life — presented in an enigmatic collage of telephone calls, therapy sessions, and overheard conversations.
This podcast made a huge splash when it was first released, not only for its high-profile celebrity cast, but also for for its compelling story and immersive style. If you're interested in a psychological thriller that uses metaphor to make us examine our politics, why not try:
Terms
Terms: Do we really need an electoral college? Why? What would happen without it? If The West Wing kept Sorkin's tension, but dropped its optimism, you'd have this political thriller.
Quid Pro Euro
Quid Pro Euro: In 1995, a number of videotapes were made for employees of the European Union. Through the course of the series, they learned what they could expect to happen in the twenty-first century. The audio from these tapes is released now as a podcast. Felix Trench's satire experiments with audio degradation to show the idealism of The European Union, eroded by misunderstanding.
Dashing Onions' When We Were Two
Dashing Onions' When We Were Two: This story seems like a Twilight Zone version of a Harold Pinter play, on its surface. They say everyone has a double, but what if you literally did? What if your double had your home, money, job, clothes? Who would you ask to take you in? This story about a family forced to care for each other with suddenly limited resources, in unexpectedly close quarters, for reasons they can't understand, shines a light not only on Brexit, but also on the recent pandemic.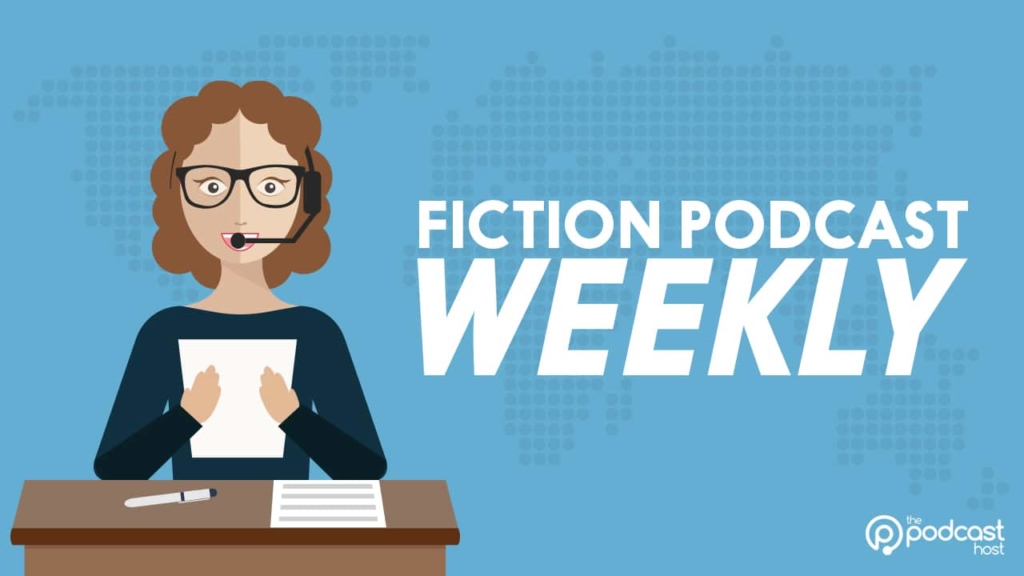 Best Fiction Podcasts if You Like Princess of South Beach
Princess of South Beach is rocketing up the Spotify charts, and with good reason. Not only does it feature a stellar cast, it's available in English and Spanish. Twin sisters María del Carmen and Gloria are separated at birth and raised in dramatically different ways – one in a convent and the other in the lap of luxury.
When a freak accident kills Gloria, María del Carmen assumes her identity and uncovers that Gloria's rich family isn't as picture perfect as they seem. If you're interested in stories made by Latinx artists, for Latinx audiences, you should definitely check out these indie tales.
Timestorm
Timestorm: When the Ventura twins are yanked into another dimension, they meet a distant cousin who gives them an extraordinary mission: travel through time to witness their culture's true history. This compelling, fun time travel adventure teaches and celebrates Puerto Rican history and heritage.
Ochenta Stories' Mija
Ochenta Stories' Mija: Mija is a young Latina growing up in New York City. She is the daughter of Colombian immigrants, and this is her story. At a time when immigrant voices aren't heard, Mija aims to share their stories to celebrate immigrants and their contributions on an international platform.
Kalila Stormfire's Economical Magick Services
Kalila Stormfire's Economical Magick Services: If you like stories about minority witches in modern-day working-class neighborhoods, meddling love goddesses, and morally ambiguous spellcraft, this is the tale for you. Creator Lisette Alvarez describes herself as "a queer Latinx creator who wanted more stories that reflected their reality." Add a little sparkle to your audio drama listening experience.
Best Fiction Podcasts if You Like Aaron Mahnke's 13 Days of Halloween
Every October, the world suddenly re-discovers audio fiction. There's something about cooler temperatures, brilliant leaves, and fire pit gatherings that make people want to hear a spooky story. Aaron Mahnke took Lore from indie story podcast to streaming service juggernaut through sheer determination.
In 2020, his production, 13 Days of Halloween takes what indie podcasts do well (immersive, multi-layered stereo storytelling) and cast Keegan-Michael Key as the Caretaker. Despite their claim that it's the first 3D audio fiction project, this is far from the truth. if you want a spatial audio fiction experience that'll get your heart racing and have you jumping at every shadow this October, these indie fiction podcasts should fill the bill nicely.
The Owl Fields 3D Escape Room
The Owl Field's 3D Escape Room: I made the mistake of starting to listen to this at about 9 pm on a weeknight, and had to stay up all night until I'd solved every puzzle and heard every bit of the story. The story is scary, the puzzles are challenging, and the binaural sound design is so realistic that it'll make you jump out of your skin. Escape Room: Frequency is an interactive 3D audio escape room where you must find and solve all the puzzles within 60 minutes. This full-cast audio drama's audio-based puzzles provide a fresh challenge for even the most seasoned escape room enthusiast.
Campfire Radio Theater
Campfire Radio Theater: This horror anthology podcast has been scaring the heck out of the Internet for nearly TEN YEARS. That's right. John Ballantine's first episode premiered in December of 2011. This show has more tenure than Serial. With so many episodes, there's something to scare everyone, and you can hear voice acting talent who star in other indie podcasts. If you want, "of course I listen to podcasts" credibility, you have to listen to Campfire Radio Theater.
11th Hour Audio Productions
11th Hour Audio Productions: Similarly, 11th Hour Audio has something to scare everyone, because of its huge and varied community of creators. More than just a horror anthology podcast, it's a chance for producers and talent to collaborate, locally or with folks from around the world. The talent ranges from folks who are new to their craft to seasoned veterans. This global and diverse community of creators gather for one month a year to delight your ears with fantastic tales and immersive worlds, and celebrate horror, Halloween, and Audio Drama Day.
Why Independent Audio Drama?
if you're familiar with the IATSE shutdown, you know that a typical Netflix or Amazon Studios movie involves hundreds of people working 16 hour days, sometimes without breaks. These are professionals, and even they're exploited. This is typical throughout Hollywood, but streaming services have different contracts, and are more exploitative.
Independent audio drama creators don't have the money, time, resources, and security that the pros do. They're making foley in their own bathrooms and kitchens, juggling scriptwriting and editing with day jobs and families.
In the case of fiction podcasts, this doesn't mean the quality is any less. It means the stakes are higher. You can queue up Motherhacker and Girl In Space back to back, and not be able to tell which one is the indie. Independent audio fiction podcast creators want to tell their stories more than the stable of screenwriters and editors in any major studio.
If you're going to crash on the couch with a movie, stop, put on your headphones, close your eyes, and try an independent audio drama instead. You'll be the change you want to see in the zeitgeist, and visit a world that may surprise you.
Best Fiction Podcasts: What Did We Miss?
Are we missing your favorite audio dramas(s) in our Best Fiction Podcasts roundup? Shout us up on twitter, and let us know what you love and why.
If you fancy creating your own, then we actually have a comprehensive guide on how to make a fiction podcast too.
And finally, if you're interested in staying up-to-date with the world of audio drama, be sure to sign up to the Fiction Podcast Weekly…
The Fiction Podcast Weekly
Fiction Podcast Weekly is an email newsletter, bringing you the latest from the world of audio fiction, audio drama, and sound storytelling.
Are you involved in the medium in any way? Whether that's as a writer, producer, voice actor, curator, or even just a hardcore listener who loves the 'behind the scenes' stuff. Whoever you are, whatever you do, this is a great way of staying up-to-date with the latest happenings and opportunities in the fiction podcasting realm!