What Is the Best iPhone Microphone? Top Mobile Recording Options
There are a few good iPhone microphone options on the market these days. Smartphones are powerful devices, after all – and you can use them to record high-quality audio.
Just like laptops or computers though, it's a better idea to plug in a dedicated mic, rather than use one that's been built into your device.
So if you're on the hunt for an iPhone microphone, what options are there out there? We'll take a look at some of our favourites in this article.
First up though, a word on connecting an external mic to your iPhone.
Connecting a Mic to Your iPhone
It's possible to connect most USB devices to your iPhone by using a Lightning to USB camera adaptor.
If you already own a USB microphone and one of these adaptors, then you might want to try this first, before splashing out on a completely new bit of kit.
Choosing an iPhone Microphone
The following are options that come equipped to plug straight into your iPhone, without the need for a lightning to USB camera connection kit.
You'll find links to our full review of each mic, if we've already written one. Some links will take you straight to Amazon, if we've not written a full review of that model just yet. Our Amazon links are affiliates; we earn a small commission from anything bought through them, though at no extra cost to the buyer!
Anyway, on to the mics…
Samson Satellite as an iPhone Microphone
Price – $99/£105
The Samson Satellite is a fairly new microphone on the market. It's also a USB mic, and has 3 different polar pattern settings, to suit different recording needs and setups. One nice feature is the touch control mute button, which can be toggled without being picked up in the audio you're recording.
Shure MV5
Price – $98/£89
The Shure MV5 is pretty similar to the Satellite, in audio quality and price range. It's an unobtrusive and light little mic that also works in USB form. You can use presets to optimise for recording speech or music, and it works perfectly with Shure's MOTIV recording app.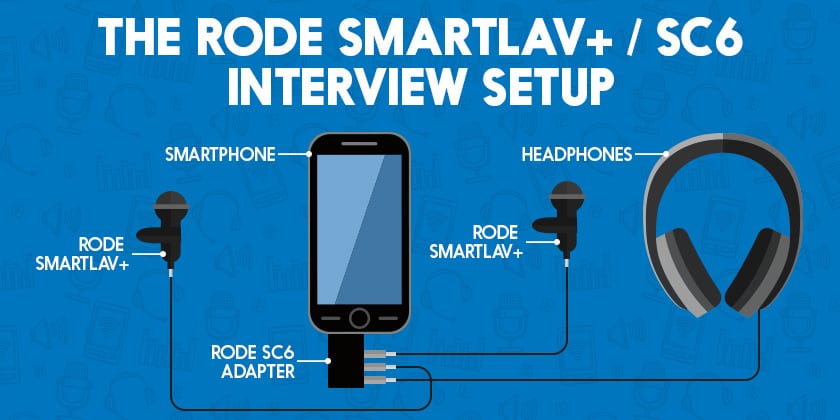 RODE Smartlav+
Price – $62/£42
The RODE Smartlav+ is a lavalier mic, so it's the lightest and most portable of all microphone for iPhone options. You can use one as a solo mic, or connect two via RODE's SC6 adaptor and create a great little interview kit. The Smartlav+ (and SC6 adaptor) actually plug in via your phone's headphone jack, rather than Lightning port, so this option may be unsuitable for newer models of iPhone.
Shure MV51 as an iPhone Microphone
Price – $199/£185
The Shure MV51 is big brother to the Shure MV5. It's also a great mic, but it costs a fair bit more. It's pretty tailored towards musicians and has presets to cater for every recording scenario. Like the MV5, it too works in harmony with the Shure MOTIV recording app.
Zoom iQ6
Price – $99/£71
Zoom are the masters of making top quality digital recorders. The Zoom iQ6 is very similar to the capsules you'll find on such recorders, like the H5 and H6. It plugs directly into your iPhone's Lightning port, and immediately turns your device into a mini Zoom recorder. Use with Zoom's Handy Recorder app for optimal results.
RODE iXY
Price – $199/£174
RODE's other microphone for the iPhone option comes in the form of the RODE iXY. This one is similar to the Zoom iQ6 in that it plugs directly into the Lightning port, mounts on to the phone, and has two stereo X/Y mics. This makes it ideal for recording interviews or conversations.
Shure MV88
Price – $149/£199
The Shure MV88 is similar again to the Zoom iQ6 and RODE iXY in the way it plugs into the iPhone. Though rather than being an X/Y mic setup like the other two, the MV88 can be rotated and pointed up to 90 degrees. This means you can aim it at the source of your sound, even if you're recording video. Use with the Shure MOTIV app for optimal results.
Summary: Best iPhone Microphone
Ultimately, the best microphone for your iPhone, will depend on exactly why you need one, how you want to use it, and as ever, your budget.
All of these mics can sound great when recording into your iPhone. Just be sure to use a good audio app for optimal results.
If you're looking for an iPhone microphone that'll also work into your computer as a USB mic, go for the Samson Satellite or Shure MV5. Quality-wise, they're hard to split. And they're both around the same $99 price range.
If you're looking to do interviews on-the-go, or are looking for the lightest and least obtrusive kit possible, consider the Rode Smartlav+. You'll need two of them, as well as the SC6 adaptor to do interviews, or you can simply use one for solo recording.
It's worth noting though, that the Smartlav+ and SC6 connect via the headphone jack, so if you have a newer model of iPhone, and want to record interviews, opt for the Zoom iQ6.
Need More Help?
Whether it's choosing equipment, planning your launch, or promoting and monetising your podcast, you'll find everything you need in the Podcast Host Academy. In there, you'll get access to all our courses, downloadable resources, and you can get help, advice, and support in our weekly live Q&A sessions.
If you're looking for the simplest way to record, edit, and publish your podcast, too, then check out Alitu. Alitu is our 'Podcast Maker' tool that makes the entire process as simple as humanly possible, even if you've never worked with audio before in your life!