Best Audio Recording Apps for Android | Recording On the Go!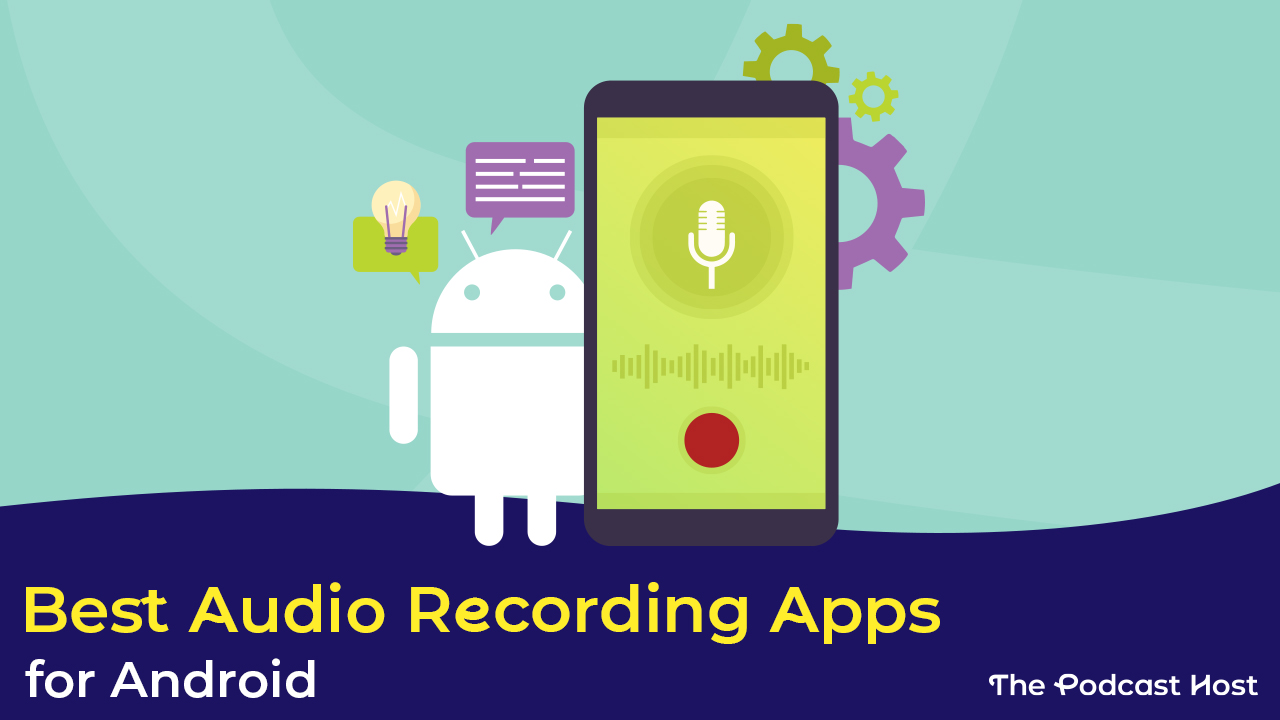 Between producing sound effects and working with podcasting clients, I find myself on the road and on the go quite a lot. I can't always carry my recording kit wherever I go and often the need and opportunity to record something happens without warning. The opportunity for an interview or a unique soundscape can happen in an instant and can be gone just as quickly. My handheld recorder is rarely very far away, but when it is, I rely on my Android phone to fill in the gaps. If you're in the same boat, what are the recording apps for Android that are worth your consideration?
Criteria
I like the interviews for my shows to sound immersive and intimate. They should sound like you're sitting down in the room and having a cup of tea with a guest, or on the street in the thick of the moment as things occur. So when I sat down to research and test recording apps, I had some pretty intense criteria in mind. Your needs will likely vary. Here are mine:
Musts:
Easy to use
The interface needs to be simple enough to open the app and start recording right away. A lot of opportunities get lost while setting up equipment. Quickly and easily recording is a must.
High-quality mp3 and uncompressed wav recording
Your Android device is basically a Linux computer under the surface. Because of this, it drives me buggy hearing the quality of recording that comes out of most of the built-in voice recorder apps. They are often recorded at low quality in a hyper-compressed format.
I am a stickler for uncompressed audio. Even though high-quality mp3 works just fine for most interview scenarios, occasionally I am trying to capture material documentary-style. So it's important that my setup is flexible and can save as either mp3 (for direct upload of podcasts) or wav (to capture high-quality audio to be edited later).
Works with external gear
I don't trust even the best of cell phone mics. They tend to be omnidirectional, which causes a problem with coherence when there is too much background noise or reverb in a room. Some recorders on the market only record from the built-in front/rear mic of the phone. For my purposes, I need one that records through my iRig and through a USB mic hooked to my phone via an OTG cable.
A Minor Tangent on Gear
A smartphone is essentially a Linux-based computer, as I mentioned above. As such, many modern smartphones offer the ability to connect standard USB devices like thumb drives, midi instruments and audio interfaces via an On-The-Go (OTG) cable. Android phones can be hit and miss on this capability, so it's worth checking into the specs to see if your device is OTG compatible.
Essentially with an OTG cable, you can replace that sketchy mic on your device with a professional quality USB microphone or a USB to XLR adapter to use with any XLR mic in your kit. My two personal favorites are the Samson Go Mic or the Blue Icicle XLR to USB converter. The nice thing about the Icicle is that is has built-in phantom power, so it will power both my condenser and my dynamic mics for maximum recording flexibility.
If you're in need of an analog option that plugs directly into your phone's audio jack, Android phones work very well with a Rode Smart Lav, or and iRig Pre for folks who want to use their XLR mics. The iRig also comes with Phantom Power, though the unit requires a 9 volt battery in order to provide phantom power to the mic.
Optional:
Save to cloud (Google, Dropbox, Other)
Cloud uploads allow me to back up files to ensure I don't run out of space on my phone. Some recorders upload directly to many of the podcast hosts available, simplifying the publication of your audio once it's recorded and edited
Editing
In general, I prefer to edit audio on my laptop or my studio system. Having an editor on my phone allows me to edit flexibly on the road, and upload materials for my clients immediately. Flexibility is key in podcasting, so having a reliable editor on my Android phone would be a nice get.
Markers
One of the features I use intensely in my recorders and DAWs is their ability to place markers. It makes it so much easier to find audio when editing if I can drop a marker when recording. To be fully effective, the markers would need to save to the file as markers that can be read in my editing software.
Best Recording Apps for Android: The Candidates
Anchor (Free)
Anchor is a really impressive all-in-one solution to podcasting. It runs on Android and iOS, as well as from an internet browser. Recording is as simple as lifting your phone to your ear and you can record with multiple guests at once.
| | |
| --- | --- |
| Easy to use | Records only in M4A Format |
| Works with external gear | Markers do not embed in audio file |
| Save to cloud (via Share) | |
| Editing is available and intuitive | |
| Markers (as flags) | |
Lexis Audio Editor (Free)
Lexis Audio Editor records and edits audio from your Android or iOS phone. It is simple to use for both recording and editing. It has multiple built-in effects, including normalization, noise reduction, compression, reverb and fades. Editing is intuitive and zooming allows for very precise deletions and trims. All at a free price point.
| | |
| --- | --- |
| Easy to use | No markers |
| Records in WAV/MP3 | |
| Works with external gear | |
| Save to cloud (via Share) | |
| Editing is available and robust | |
ASR Voice Recorder (Free/2.99)
ASR Voice Recorder comes in both free and premium flavors. The free, ad-supported option is loaded with excellent features, an easy and intuitive big button design and a ton of features. It also features silence skipping, and the ability to drop a note marker when recording resumes.
| | |
| --- | --- |
| Easy to use | Editing of markers only |
| Records in WAV/MP3 | Markers do not embed in audio file |
| Works with external gear | |
| Save to cloud (Premium only) | |
| Markers (as notes) | |
Smart Recorder (Free/$1.49)
Smart Recorder is a fairly barebones recording app for Android. It records in WAV format up to 44.1. There are no options for markers or editing, but the interface does its basic function of recording well, though without much flexibility.
| | |
| --- | --- |
| Easy to use | Editing of markers only |
| Records in WAV | Markers do not embed in audio file |
| Works with external gear | No Editing |
| Save to cloud (via Share) | No Markers |
| | |
Auphonic (Free/Subscription)
Auphonic is another nice recording app with good editing capability. It comes in free and subscription models. Premium features include the ability to encode in multiple formats, loudness normalization, leveler, and noise reduction.
| | |
| --- | --- |
| Easy to use | Markers do not embed in audio file |
| Records in WAV or AAC | |
| Works with external gear | |
| Save to cloud (via Share) | |
| Editing is available and intuitive | |
| Markers | |
Conclusion: Best Recording Apps for Android
In general, all of the recording apps for Android that I tested did well, at basic recording. I was somewhat disappointed that none of the apps that I tested could embed markers into the audio file, as it's a feature I use regularly to slate my recordings from my Zoom and Tascam field recorders so I can easily identify edit points and notes in RX and Reaper.
If you're looking for a good one-button solution that doesn't edit, the ASR Voice Recorder is the one I would go for, as I liked the simplicity of the interface. For all-out recording and editing, Lexis Audio Editor really impressed me. In addition to its basic editing functions, Lexis comes with several effects, including the basic normalization, compression, limiting and EQ functions I reach for most commonly when I edit.
If you need more information about the intricacies of recording, editing, and equipment in general, check out Podcraft Academy. We've got plenty of videos, courses, downloadable resources, and live Q&A sessions, to help you with any aspect of podcasting you desire.