Looking for the perfect gift for a podcast creator or lover? We've got you covered!
The best gift you can ever give anyone is to build up their interests. Also socks, but one could argue that socks help you do the things you need and want to do, too. Do you know someone who can't stop talking about their podcast, or constantly seems to have their head stuck in their editing software? Need to get them a present? Good. In that case, our guide to podcast gifts guide is right up your alley.
Podcast Gifts Quick Guide
Holiday Gift Guide for Podcast Lovers
This can be quite easy if you know a few of your podcast lover's favourite shows. Most podcasts these days will sell some sort of merchandise on their website. A lot of podcasters also run Patreon (or similar ongoing crowdfunding) campaigns, and signing up to one of those will usually get you access to bonus content and features.
Unless your friend's favourite creator is someone like Joe Rogan or Michelle Obama, it might be possible for you to buy some of their time as a podcast gift. Most podcasters want to hear from their audience and will have multiple ways of getting in touch (email, website, social media, etc). Just reach out and ask the question. If you're able to set something up, you can let them know in advance, or keep it as a surprise where they think they're getting on Zoom to speak to that annoying aunt they don't like.
If your pal is a fan of gear and gadgets then maybe a top-of-the-range pair of podcast listening headphones could be a great podcast gift.
There's also a decent chunk of original audio content and audio drama on Audible. If they don't have an Audible account, then you might consider getting them one. Unless of course they already openly complain about the length of their unplayed episodes list, then that could be like a digital equivalent of swamping them with Lynx deodorant gift sets.
Gear Gifts for Podcasters
If a podcaster you love has asked you for a particular piece of kit, then of course, by all means, get it for them as a gift. But, if you think, "well, they're a podcaster, they must need a microphone, headphones, or something similar," then I'm here to warn you that careful consideration is your friend.
Ask them about where and how they make their podcast. Do they work at home, on a desktop computer? Do they use a device to record out in the field? Have they interviewed people at a distance? This helps you narrow down the wide selection of gear.
We have a great article about the best podcast microphones for all budgets. Different podcasters have different needs, though. Someone who wants to record on the go might want lavalier mics, or to record with their smartphone. A digital recorder always provides flexibility, and some are more convenient than a tv remote control. A dynamic microphone is more forgiving of environment than its condenser counterpart. Headphones are always a plus and never go out of style.
The important thing is, ask your podcasters how they work on their show, and listen for what they might need.
Specific Gifts for Creators
Okay, so I'll cut to the chase. If you truly want to impress your favorite podcaster with a great gift, try one of these.
I'd be remiss in my duties as a podcaster and as a human being if I didn't tell you about Podcast Growth: How To Grow Your Podcast Audience. It's a fun book, with specific, realistic strategies to help a podcaster you love (or yourself) nurture the audience they already have, while building a bigger one. We drew on over a decade of practical experience to write this book, and now, everything we learned the hard way is in one convenient package.
The Rode Lavalier Go mic provides flexibility, plus it's durable and reliable, with a price point well under $100. Some podcasters use more than one lavalier mic at a time if they have guests, so you can't go wrong with this gift.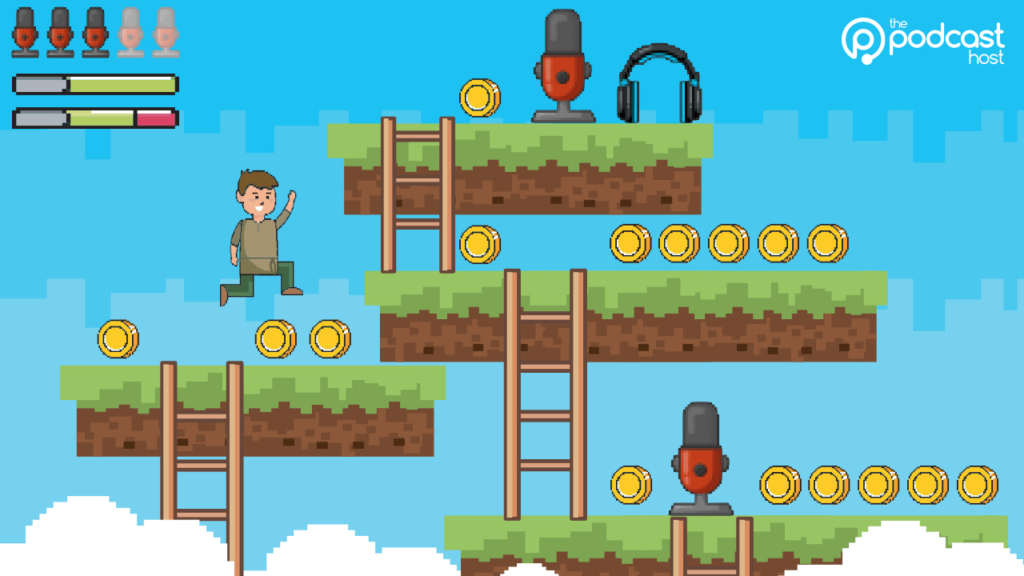 The Zoom H5 and ZoomH6 are ubiquitous among podcasters. They're useful, durable, and have a reasonable price point. Either of these digital recorders would be a generous gift. However, their PodTrak P4 is a recorder specifically designed for podcasters. Not only is the P4 cheaper than the other two – it's likely more useful to anyone running a podcast, too.
The gift that Colin describes as "quite simply, magic" are this pair of headphones – Bose QuietComfort 35. In our Best Studio Headphones for Podcast & Audiobook Listening roundup, he says these can "turn a noisy, chaotic stressful experience into something quiet, peaceful, and tranquil." What more does anyone want?
A podcast gift that'll help any podcaster to improve their show, their workflow, and their general mindset is The Podcast Host Planner. This is a journal-style book where podcasters can… funnily enough… plan their podcasts, from the smallest details to the big picture goals.
Intangible Tools as Podcast Gifts
Most podcasters start out with free software, such as Audacity, to produce their podcast. When they need it, they upgrade to a software with more flexibility. Our Guide to Podcast Editing Software has options for every budget and skill set. Your favorite podcaster can make it sound like their show takes place anywhere from here to Saturn.
If you want to make life truly easy for any podcaster, have a look at a subscription to Alitu. This web-based tool lets you record your episodes, clean up your audio files, add music, and publish your podcast. Whether you want to give a gift to a podcaster who is just starting out, or has been recording for years, Alitu can relieve a lot of the heavy lifting.
Another gift of stress relief is to pay for a month or more of their podcast's media hosting. This is a necessary item for every podcaster. A media hosting service is where the sound files live. The cost can be as little as ten or fifteen dollars a month. This depends on the size of the podcaster's files, and what benefits the media hosting company offers. Our guide to podcast hosting services can show you a little bit more about what different companies offer, and how much it costs. If you're looking for a gift for someone who needs help getting their podcast published, helping them with media hosting is very generous.
Still another gift is to help them promote their podcast. Buying ad space on Overcast promotes their work to people who are serious about podcast listening. Giving your podcaster the gift of more listeners won't be forgotten.
Or, write a review for your pal's podcast. This is an excellent gift idea that won't cost you anything but a few minutes of your time. You can do this somewhere like Apple Podcasts or Podchaser. They will appreciate it. Here's more on how to write podcast reviews.
The Gift of Knowledge
We all know that knowledge is power. The more a podcaster knows about how to make their podcast, the more unique and interesting their content can be. Giving the gift of a podcasting course provides expertise and confidence.
The Podcraft Academy provides courses, downloadable resources, and weekly live coaching sessions to become well-rounded in all aspects of podcasting. Not only is the Academy a good way to get started. It can also help experienced podcasters improve their skills.
The Academy isn't the only podcast education platform on the market though. Our guide to 6 of The Best Podcasting Courses On The Market can help you choose what kind of course would be a good fit. Whether your podcaster is interested in audio engineering and sound design, or passive income generation, you can help them learn how to make a better podcast. Headphones might wear out, eventually, but knowledge lasts forever.
Books about podcasting are a good way to inspire your favorite podcaster, and let them get their eyes away from screens for a few minutes. Our very own book Podcast Growth: How to Grow Your Podcast Audience does exactly what it says on the tin (cover!). It'll help your podcasting pals to build dedicated and enthusiastic followings around their content.
Animate Them – A Unique Podcasting Gift!
Imagine presenting the podcaster in your life with a short cartoon of them and their show, brought to life in glorious technicolour.
The good news is that this is entirely achievable, not to mention, affordable.
Check out our article on how to get your podcast animated for the full lowdown, links, and costs.
Three Black Friday Gifts for Podcasters
As we've already covered, creating a list of gifts that will suit every podcaster is impossible. However, here are some suggestions for Black Friday.
A pop filter is a great low-cost gift for any podcaster. Even if we own one already, we can always use a spare or two. It's also a nice little acknowledgement of "I know you like to do this stuff".
A boom arm and shock mount can make the amateur podcaster feel like a seasoned veteran radio star.
A Rode Rodecaster II is something you might choose for someone very special.
Three Christmas Gifts for Podcasters
Playing the role of Santa for the podcaster in your life? Here are three more suggestions for stuffing that stocking.
Summing Up: Presents for Your Podcast Pals
Again, if you know someone who wants to make a podcast, and you want to support them with a gift, the best thing you can do is to ask them about their work, and to listen to it. Find out why it's important to them, what they enjoy about it, and what they have trouble with. The best gift for podcasters is to hear someone taking an interest in their creative endeavours.
With that said, there are still loads of great podcast gifts you can actually buy for creators and listeners alike. To make this ultra-easy, we've created our own Podcasting Store which lists ratings, reviews and prices in easy-to-navigate categories. Happy shopping…