A microphone is one of the few bits of kit you absolutely need to record a podcast. Mics come in all shapes, sizes, and prices – check out our full guide to the best podcast microphones when weighing up your options. This time around, though, we're going to be taking a closer look at the PreSonus PX-1.
What is the PreSonus PX-1?
The PreSonus PX-1 is a "Large Diaphragm Cardioid Condenser Microphone". If you're new to mics and audio gear though, then that probably just sounds like a bunch of random words. What does it all mean?
Large Diaphragm Condenser – The Build
For starters, the "Large Diaphragm Condenser" bit tells us how the mic is built. The two most common types of mic you'll find are dynamic and condenser. We break down the differences between the two in the article I've linked to there.
Large Diaphragms in mics can offer less "noise" under your recordings. By noise, I don't mean the sound of dogs barking and kids rampaging through the house, but rather, the low hissing sounds we can hear if we listen carefully enough. This is simply the sounds of audio gear working away – it's always there, but some setups will show it more noticeably than others.
A Large Diaphragm might also offer a little extra "richness" to the vocals, picking up more on the bassy tones coming from the chest area. This is opposed to their Small Diaphragm counterparts which may be considered more accurate and nuanced.
Cardioid – The Way It Picks up Sounds
The term "Cardioid" refers to the mic's Polar Pattern. This is the area around the mic that it "hears" sound from. Some mics focus on sound right in front of them, whilst others pick up all around them. A Cardioid pattern means it's the front you talk into, whilst it'll be more forgiving of any noise around the sides and back of the mic. This is the most common Polar Pattern for a vocal microphone.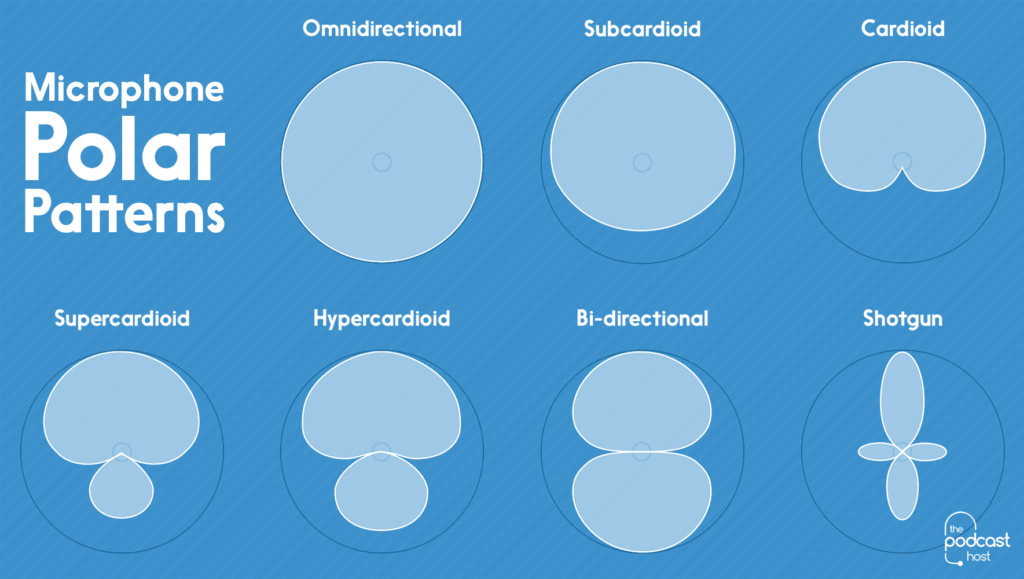 So, in summary, you're more likely to find this type of mic being used in a studio to record vocal performances (singing or spoken word). On the other hand, you're unlikely to ever see a musician stomping about a stage holding one, whilst swigging from a bottle of toilet cleaner (see the Shure SM58).
And whilst my simplified explanations of these terms means a "well, actually…" comment from an audio aficionado is never far away, we've got more important things to talk about in this PreSonus PX-1 review, so let's hike on.
What Will I Need to Use the PreSonus PX-1?
As you might've guessed, you can't just pull the mic out the box and start talking into it. You need to connect it to a recorder of some sort, and these come in many forms, shapes, and price ranges.
Using a Computer?
It's common for podcasters to record directly into their computer (Mac, laptop, PC, etc). You might want to record solo episodes into software like Audacity or Audition, or perhaps online/remote conversations are more your style.
In any case, a simple and effective way to run the PreSonus PX-1 into your computer is to use a USB audio interface. You can see a rundown of our top picks right there, one of which is the PreSonus AudioBox USB 96.
You'd just need an XLR cable to connect the mic to the interface itself, then you'll be good to go.
Don't Want to Use a Computer?
I know, I know… you've never trusted the things since Dizzy crashed on your ZX Spectrum in 1989. So what's the alternative?
A digital recorder is the optimal choice, here. They're portable, powerful, and extremely flexible. You can plug multiple mics into them if need be, and they have a lot of other handy features, too.
The Zoom H5 and Zoom H6 are excellent digital recorders, though it's hard to see past the Zoom PodTrak P4 these days, which is designed exclusively for podcasting and has remote call capabilities.
Again, you'll just need an XLR cable to link up the PreSonus PX-1 with your recorder of choice.
Phantom Power
It's that guy again, Phantom Power. Condenser mics need Phantom Power to make them work. This simply means pressing a button or toggling a setting on your audio interface or digital recorder. In this industry, tech support asking "have you turned on Phantom Power?" will be the equivalent of "have you turned it off and on again?" in the IT sector.
A Boom Arm or Mic Stand
The PreSonus PX-1 definitely isn't the type of mic you'd want to hold in your hand whilst recording. It should be mounted on a mic stand or boom arm for proper use. In the box, you'll find a custom-built mount that lets you attach it to one quickly and easily.
PreSonus PX-1 Review: Look & Build
PreSonus market the mic as having a "rugged construction". It's certainly not the most fragile-feeling condenser mic I've come across – though I've yet to see them driving over it in a truck. I need to send mine's back to them soon, so I'm still weighing up whether to give it a go.
It's just under 20cm (8″) in length, and weighs 454 g – which is just a little heavier than that copy of the Podcast Growth book you bought recently.
There are no buttons, dials, or settings on the PX-1 (this is much more common in USB mics) which keeps it sleek and minimalist. You'd access and control all your settings from your recording device, rather than the mic itself.
As an aside, it also comes in a trendy carry case, to help protect it from the evils of the world. But probably not truck wheels.
PreSonus PX-1 Review: What Does It Sound Like?
Here's a (completely unprocessed) sound sample of the PreSonus PX-1 recording into the PreSonus AudioBox USB 96, the Focusrite Scarlett 2i2, and the RODE AI-1.
How Much Does the PreSonus PX-1 Cost?
At the time of writing, you can pick up a PreSonus PX-1 brand new on Amazon for $99, and Amazon UK for £113. Our link here is an affiliate, so we may earn a commission should you choose to buy through it – though at no extra cost to yourself!
Summary: PreSonus PX-1 Review
The PreSonus PX-1 is undoubtedly a lovely mic – but do you need one?
If you're in a position to create a permanent studio-style space for your podcast recordings, then it's a great option. Here, you'd want to do some sound treatment, get a boom arm setup, and record into an audio interface or digital recorder. Costs can really add up here, so it'll be heavily budget dependant, despite the mic itself coming in at a very reasonable price. You might also want to check out our reviews of the PreSonus PD70 and the Stellar X2.
However, if money is a little tighter, and your setup is a little less optimal, then a dynamic USB mic like the Samson Q2U could be a better option. Most podcasters are using USB mic setups these days, and doing online/remote interviews. Only you yourself will know your own unique needs and wants, though – so hopefully this PreSonus PX-1 has helped you make an informed choice when it comes to buying your podcasting gear.
If you need any more help, advice, or guidance from us, then we run weekly live Q&A sessions inside Podcraft Academy. That's our membership site where you'll find all of our courses, too. From setting up equipment and editing, to promotion and monetisation!