Choosing a Digital Voice Recorder, at-a-Glance:
Digital recorders are portable, versatile, and ultra-convenient
They're a lot more stable and reliable than computers or phones
Some audio recorders can act as USB microphones, or a USB interface for your computer
There are voice recorders for all budgets, the price often scaling with how many external mics you can plug in
Find full details and our recommended recorders, right here!
---
The most basic thing you need for any podcast is a recording device. Pretty simply, to create an audio file, you need to be able to record your voice!
Just in case: are you really looking for voice recording software?
Physical audio recording devices take many forms, from really basic dictaphones to full-quality professional handheld audio recorders. Even your computer can act as a digital recorder. It's possible to record a regular podcast using no more than a laptop and its inbuilt microphone (although we'd recommend at least a better microphone!).
But, when you start looking to improve both your sound and your workflow, a good standalone digital voice recorder (sometimes called a handheld recorder, or a field recorder) is a vital tool. Here I'm going to take you through the digital recorder options, from entry-level to pro kit. Whatever your Podcasting needs and budget, you'll find something that suits right here.
Why Might I Need a Digital Voice Recorder for Podcasting?
Anyone that's into broadcasting will tell you it's vital to have at least a simple mobile recording device in your arsenal. Without a recorder that you can carry around, you'll be stuck at your computer desk for all your podcast creation. This can be quite limiting.
Thinking beyond planned recording sessions, many podcasters will keep a little dictaphone handy when they're out and about. This is just in case they come across a great guest unexpectedly; you never know when an ideal interview subject will fall into your lap.
How to Choose the Best Digital Recorder for Voice or Podcasting
It's worth spending more than the minimum on a podcast recording device – with this type of kit the quality is very dependent on price. Moving above the $50+ mark generally takes you into the range of good quality digital voice recorders, and you can spend infinitely more than that if you try.
To get started, just buy what you can afford, or use the equipment you already have available. Better to get started with basic kit than not at all.
But over time you might look to save up for something that'll give you tonnes of recording options, and can really help you to take your podcast sound to the next level.
A quick heads up that the links here we use are affiliates, but rest assured we never recommend anything that we wouldn't use ourselves.
So let's get started walking through the best podcast recorder options on the market then – starting at the sub-$100 level.
Budget Level Digital Podcast Recorders – Under $100
1. The Zoom H1N
For the budget-conscious podcast producer, have no fear. The sub-$100 Zoom H1N records high-quality audio in stereo or mono using its onboard X-Y mics. They are extremely high-end for the price and capture details very well.
The H1N is easy to operate, with many of its functions easily selectable via buttons on the recorder rather than cycling through endless menus.
The unit is about the size of a handheld microphone. Recording is quick with a tactile record button that is very easy to find without looking. The Zoom H1N is also a great device if you are interested in getting started in stereo field recording for audio dramas on a budget.
2. Tascam DR-05
Tascam's entrant to the budget handheld digital voice recorder market, the Tascam DR-05 boasts similar features to the H1N. It has a lovely compact design, is easy to operate, and offers great audio quality for the price.
I have used the DR-05 and the H1N interchangeably. The only con to the Tascam is that the record button is more difficult to find by touch.
Read our full Tascam DR-05 review
High Quality Digital Podcast Recorders – Under $200
In the $100-$200 range, the features of the digital audio recorder get much more flexible. Typically, these recorders record higher-quality audio with less noise. As an added bonus, this tier of recorders allows the use of XLR microphones and even phantom power for sweet, silky condenser mics.
3. Tascam DR-40X
With quiet pre-amps and, great audio quality, and a host of excellent features, the Tascam DR-40X is a fantastic package.
It's able to record four tracks simultaneously, using its onboard mics in tandem with two external microphones. This makes it perfect for group or 'roundtable' recordings. The DR-40X's small form factor allows the recorder to fit easily in a small bag or purse.
It records up to pro-quality 96/24 – more than enough to handle everything from interviews to recording sound effects as they happen.
4. Zoom H4N
Zoom's entry in this weight class is the ever-popular Zoom H4N. I own one of these and if it ever kicks the bucket, I will likely buy another. While the DR-40X edges the H4n into 2nd place with quieter preamps, the difference, to most ears, is unnoticeable.
Both devices can act as a USB Audio Interface, record at 96/24 and produce great quality sound in easy to operate packages.
Pro-Level Digital Podcast Recorders – Under $300
In the $300 range, handheld digital recorders become more customized with features that suit different styles of recording. Choosing which features are right for your podcast is going to depend heavily on your style of podcasting and the needs of your show.
5. Zoom H5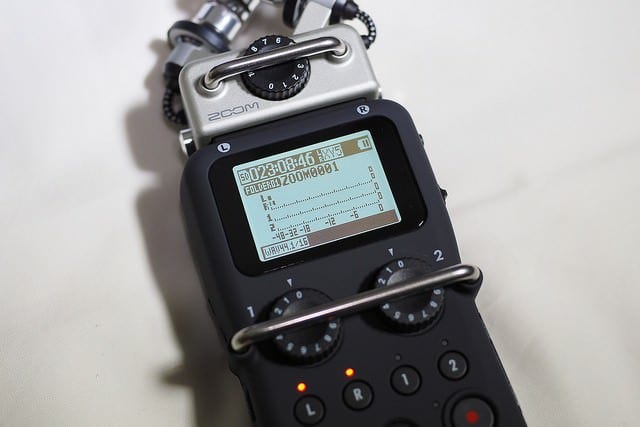 The Zoom H5 is a great pick for producers looking for versatility in their digital voice recorder.
It's a brilliant handheld device for on-the-go recording, with its top quality and interchangeable onboard mic. But, it also performs brilliantly as an in-studio device, for recording from a mixer, or acting as a USB microphone or interface for your computer.
With interchangeable capsules to fit X-Y, Vocal and Shotgun microphone setups, and two additional jacks with phantom power to handle any of your external microphones, the H5 steps up in terms of the ultimate configurability.
6. Tascam DR-100 MKIII
What the Tascam DR-100 lacks in configurability, it makes up for in quality.
With quiet pre-amps and an impressive 192/24 recording capability, this unit is perfect for the podcaster and field recordist who wants pristine, high-sample-rate audio for professional productions and clean sound effects/field recording.
Top Level Digital Voice Recorders – Over $300
You'll get excellent sound quality with even the cheapest digital voice recorders in this roundup. But if money is no object, or if you're creating an ultimate podcasting wishlist, then here are a couple of top-shelf podcast recorder options to consider.
7. Zoom H6
The Zoom H6 is the cream of the crop when it comes to portable digital recorders.
At the time of writing, you'll spend $350 to pick one up brand new on Amazon. These recorders are everything the Zoom H5 is, with a few bells and whistles.
The Zoom H6's USP is in its ability to record 6 individual audio tracks simultaneously. This makes it an excellent choice for folks who do larger group recordings. This could be anything from a roundtable discussion, to a troupe of audio drama actors.
Dedicated Podcast Recorders ($200 – $600)
Okay, so this type of gear is a little different from the others mentioned in the roundup. The Rodecaster and the PodTrak P4 can't be used 'dictaphone-style' because you need to plug an XLR mic into them in order to record. However, they're packed with podcast-specific features that can streamline your workflow and make your life easier.
8. Zoom PodTrak P4
The $200 solution is the fantastic Zoom PodTrak P4. It looks and feels similar to the other digital recorders in the Zoom range, but with a few added features.
There's 4 XLR inputs on the recorder and you can record each person on their own individual track. What's more, you can connect your computer, tablet, or smartphone to record remote calls, too. There's also sound pads so you can play music, sound effects, and other pre-recorded content during your episodes, and the independent headphone volume control is a nice extra touch. Read our Zoom PodTrak P4 review to get the full lowdown on this superb little device.
9. Rode Rodecaster Pro
The Rodecaster is a sort of hybrid between a mixer and a handheld digital recorder.
But it's a superb basis for building a studio around. With multitrack recording features, to online and phone call recording capabilities, the Rodecaster is often referred to as 'the ultimate podcast recorder'.
It doesn't need a computer to function, and is still portable enough for you to use in different locations.
A brand new Rodecaster will set you back about $600, and that's before you pick at least one mic to plug into it. So definitely not one for the "on a tight budget" podcaster!
Read our full Rode Rodecaster Pro review for more details.
The 'Honorable Mention' Digital Voice Recorder
10. Zoom H2N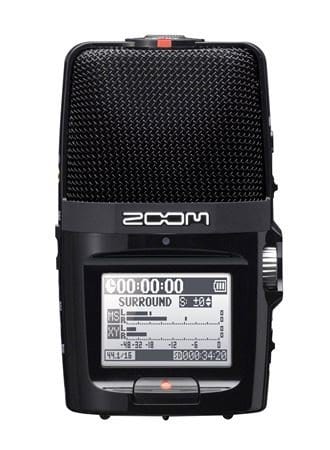 Sometimes, it is difficult to classify recorders, as they differ from other recorders in their price range in terms of overall functionality. The Zoom H2N is one such recorder, and I'd be remiss not to mention it as a highly compact, all-in-one recorder perfectly suited to podcasting.
The H2N doesn't allow external XLR microphones like its cousins in the under $200 range. Instead, it is fitted with multiple microphones, making it a perfect grab and go recorder to record in several different mono, stereo, multichannel, and even surround sound formats.
The H2N is my go-to recorder when attending conferences and concerts.
Need More Help?
I hope this guide has helped you out if you're in the market for a podcast recorder.
If you're wondering about the best external microphone options for plugging into your recorder, be sure to check out our best podcast microphones roundup too.
And if you're looking for more help with choosing the right podcasting equipment, then we'd love to work with you.
Check out Podcraft Academy, where you'll get access to our weekly live Q&A sessions, courses, tools, and downloadable resources. You'll find everything you need there to plan and launch a successful podcast!