Best Streaming Microphone Setup for Gaming & Live Audio
What's the best streaming mic? What's the best gaming mic? What's the best podcasting mic? For some, their podcasting hobby and content output overlaps with live streaming or broadcasting. For others, a bit of downtime spent gaming is a great way to recharge the batteries. If you do all these things, you might wonder where to find the cash (and room) for all the mics you apparently need.
But unless you're Montgomery Brewster, you're probably not looking to buy a different mic for every single potential use case. So, can you find yourself a mic that will be ideal for podcasting, but also perfect for live streaming? Or, better still, winding up your pals on your latest Call of Duty marathon?
Fortunately, it has never been easier to buy a quality mic that performs equally well for podcasting, gaming, or streaming.
Streaming Microphone Setup Advice
Everyone has their own personal preferences. Setups and use cases vary from person to person. Generally speaking, though, the best streaming microphone setups for live audio are the ones that allow for movement. You might not want a boom arm blocking your view the moment you send your striker clean through on goal. Nor would you want to be leaning over to talk into a mic on a desk stand. This is especially true if you're working with your keyboard and mouse a lot. Mics on desk stands will pick up every click and thump, and this will sound terrible for anyone listening.
With that in mind, headset-style setups are often optimal for live audio and streaming purposes. That said, some boom arms – like the Rode PSA1 – are flexible enough that you can mount a bulky mic on them and adjust it to keep it out of your face. You might even opt to go down the lavalier route in your search for the ideal streaming microphone. We'll get to some recommendations just shortly. But there are a few more considerations, first.
Connecting Your Mic
There are two main ways mics are connected to computers, be that for podcasting, gaming, streaming, or live audio. The most common and most direct way is via USB. Here's our roundup of the best USB mics on the market.
You can also connect an XLR mic to your computer via a USB audio interface (like the Focusrite Scarlett 2i2). This might be an option for a couple of reasons. Maybe you have an existing XLR mic lying around. Or, maybe a musician pal has given you a shot of their trusty and invincible SM58.
Or, maybe you ARE Montgomery Brewster, and fancy treating yourself to top-of-the-range mic like the Electro-Voice RE20.
In any case, you'd plug your XLR mic into a USB audio interface. Then, connect it to your computer by… funnily enough, USB.
I mentioned lavaliers as potential streaming microphone options, too. Typically these are connected via 3.5mm plugs (the same as your standard set of earbuds). You can plug these directly into your computer if you have a 3.5mm mic input. But, the quality will hinge a lot on your sound card. For better results with this setup, you'd use a simple 3.5mm to 1/4″ adapter to go into a USB audio interface (again, like the Focusrite Scarlett 2i2).
Using Headphones
There are a lot of potential reasons why you might want to wear headphones. If you're recording conversations for a podcast or live stream, this prevents your guests from hearing their own voice. It's a sort of 'echo loop'.
Or, maybe you do a lot of gaming, and the folks you live with are sick of the sound of loud explosions. Not to mention the "good-natured banter" of your fellow players.
If you're looking to wear headphones, then obviously a headset mic is an all-in-one solution here. Alternatively, most USB mics and audio interfaces allow you to plug your headphones into them. Then, you can set them as your output, as opposed to plugging them directly into your computer. Here are some excellent headphone options. However, even a set of earbuds will do the trick, if you're on a tight budget.
Alright, with that all said, let's move on to some recommendations. This way, you can find the best streaming microphone for your own unique purposes.
Streaming Mic Reviews & Recs
As always, with gear recommendations, there's rarely a "this is the best for all use cases" option. It all depends on your needs, your setup, and your budget. Here are some suggestions for your gaming, live audio, and streaming microphone considerations.
Headset Options
One headset we've been recommending for years is the Sennheiser PC 8. It's a simple USB setup, and a great all-rounder if you have multiple use needs, but minimal budget.
Another excellent headset-style option for live streaming and gaming is the ModMic USB. This is essentially a USB headset, without the actual "head" bit. Instead, you use your own headphones, which is excellent if you've already invested in a decent and comfortable set.
USB Mic Options
There are a tonne of quality USB microphones on the market these days. For me, the ultimate all-rounder mic (and best value for money) is the Samson Q2U. This mic can be used in XLR form, as well as USB.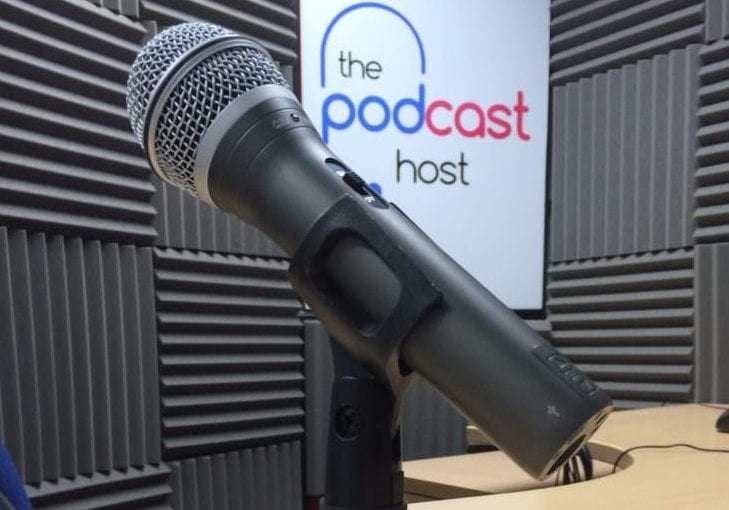 The best sounding USB mics out there, in my opinion, are the AKG Lyra and Rode Podcaster. Whilst the Blue Yeti remains a popular and iconic choice amongst podcasters, gamers, and live streamers alike.
USB Interface Options
Let's keep things simple. If you want to take the USB audio interface route and use an XLR mic, consider the Focusrite Scarlett 2i2. It's got the best ratio of quality to value for money. Check out our Best Microphones roundup to find an XLR mic option that fits your own needs and budget, too.
Other Considerations
Remember, mic desk stands aren't really up to the task when it comes to live streaming or gaming. If you're not using a headset-style setup, look into getting a flexible boom arm stand to mount your microphone. And a comfortable, quality set of headphones can go a long way towards enhancing your experience, too.
The Best Streaming Microphone Setups for Live Audio
Hopefully that's been useful in helping you decide what kind of setup is going to be optimal for your needs. On top of that, I've linked to the full reviews of some recommended pieces of kit. This way, you'll find something for you, no matter what kind of budget you're on.
If your live-streaming or gaming endeavours overlap into podcasting, too, then we can help you with every aspect of that.
Just getting started? Check out our step-by-step guide to launching your own podcast.
Already launched? Here's how to promote and grow your show.
And, for access to all our courses, downloadable resources, and weekly live Q&A sessions, be sure the check out Podcraft Academy!