In this Blue Yeti review, I want to find out why it's one of the most popular starter microphones on the market for podcasters. At a cost getting close to £100/$125 it certainly isn't the cheapest beginner microphone on the market, after all. You definitely don't need to spend that much to start podcasting (check out our best microphones article for a full rundown).
But, I found that there are a few good reasons why it could make your life easier, and your learning curve a lot less steep.
Let's run through the full review and decide whether or not it's the mic for you.
Who Would Use The Blue Yeti?
What really impresses me about Blue is the overall packaging and appearance of their microphones. The Yeti's box is well illustrated with simple diagrams and explanations of its functions. The aim here is so that someone who knows little or nothing about recording audio can look at it and feel confident that they can set it up and begin using it straight away.
Blue sell a lot of Yetis, in a lot of markets, but one of their primary areas is the podcaster. Or, to be more specific, the podcaster who just wants to plug in and record without having to worry about anything other than their content.
Because it's a USB mic and plugs directly into your computer, you don't need a mixer or preamp to operate it. Whilst this is a big plus point for beginners and 'content only' podcasters, it won't find much favour with those who enjoy tinkering with settings on a mixer and constantly trying to improve their audio quality. Again though, those folks aren't really Blue's target market here.
Setting Up The Blue Yeti
The Yeti is a good looking microphone, and it feels sturdy, durable, and well weighted. You can be set up to record with the Yeti in under a minute.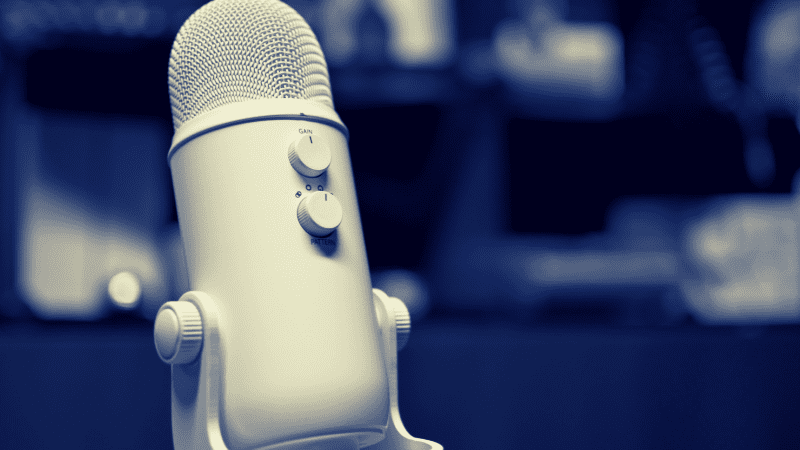 It's a simple case of taking it out the box, sitting it on your desk, then connecting it to your computer using the USB cable provided. Your computer will detect it pretty quickly, and you can start using it as a recording device in any audio software, like Audacity or Audition.
Click, Talk, Done! Super Simple Podcast Recording & Editing
Alitu records calls, solo segments, cleans up your audio, adds music & transitions, helps you edit & publishes right to your host.
Mounting the Yeti on a Stand
The Yeti comes on its own stand which is a big plus for many. There's no need to have a boom arm or any other type of mic stand to get started. The underside of the stand is cushioned with rubber padding. This, combined with the mic's weight, means the Yeti feels fixed in place once you start recording.
On the downside, the stand doesn't exactly put the mic in the ideal position. If you place it directly on your desk, it'll tend to be quite low, so I often see people propping it up on a stack of books or a box when recording. Not exactly a dealbreaker, but worth noting.
The Blue Yeti comes with it's own stand, which is a big plus for many.
If you want to get the Yeti into an ideal position, every time, then you might want to mount it on a separate stand. It has a screw thread hole at the bottom which will easily attach to any standard mic stand or boom arm.
Some 'bundle' deals include a pop shield, but you can attach any standard pop shield to your Yeti quickly and easily. Take a look at the photo to the right and you'll see how I attached mine.
A wee word of warning that one with an angled clamp like this one can mark or scratch the paintwork/coating of your Yeti stand, so look out for that if you ever plan to sell it on.
To keep my Blue Yeti review concise, I'll not go too far off track here, but you have a lot of options when it comes to add-ons. If you're interested in adding a bit more bling, you can see our full article on Blue Yeti accessories here, which includes things like yeti specific boom arms and pop shields.
Features Of The Blue Yeti
There's a 3.5mm port on the underside of the mic, so you can plug your earbuds or monitor headphones in here and monitor your recordings. This means you'll be hearing exactly what's being recorded, as you record it.
There are 3 different dials on the Blue Yeti.
Headphone volume – unsurprisingly controls the volume of the audio you're hearing coming back out through your headphones. You can refer to this as your 'output volume'. Increasing or decreasing this won't have any effect on the audio you're recording.
Gain – this dial controls the sensitivity of your mic. You can refer to this as your 'input volume'. Increasing or decreasing this will have an effect on the audio you are recording.
Polar pattern – this allows you to select a recording method that best suits your recording set-up. We'll talk about polar patterns in more detail shortly.
There's also a mute button on the Blue Yeti. Once plugged in to your computer, this will light up with a little red light on it.

If you press the mute button once, it will flash. This means your mic has been muted. If you press it again, the light will go back to constant, and the mic will be picking up your voice once more.
Polar Patterns
These are settings to determine how the mic picks up all of the sounds around it. The Yeti has 4 different options here, as well as recommendations on which one to choose.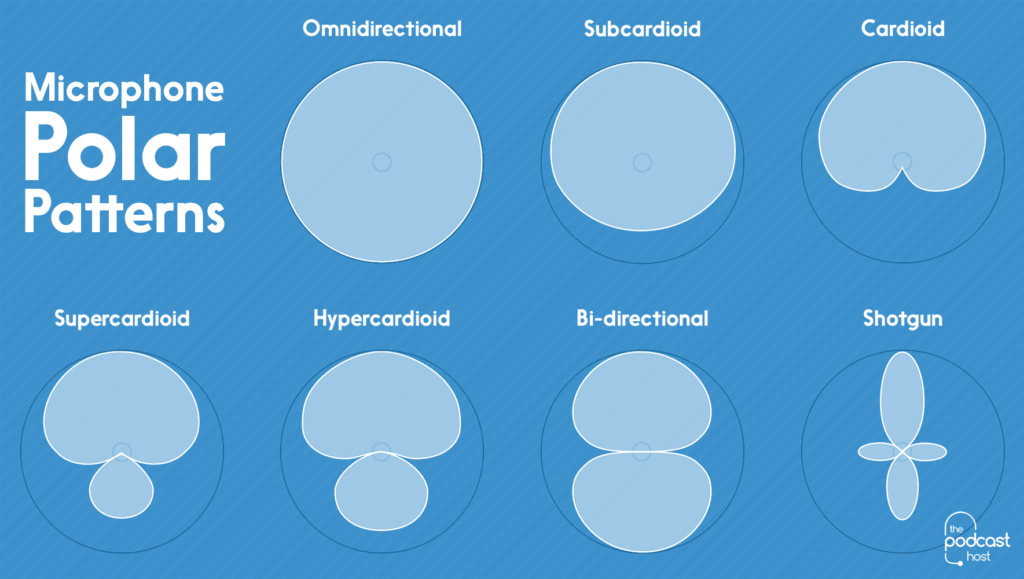 Stereo – for recording a singer, or a couple of instruments.
Cardioid – for recording a solo podcast – one person facing the mic.
Omnidirectional – for recording a number of people surrounding the mic. It records from all directions. Eg. a roundtable discussion.
Bidirectional – for recording face-to-face interviews, two people facing each other, either side of the mic.
Sound Quality
The Yeti has a pretty decent sound quality as far as USB microphones go, and does a good job of accurately capturing the voice. One thing I was aware of was that it did pick up the fan noise from my PC until I clicked it onto the cardioid polar pattern setting (thus minimising sound from round the back of the microphone), so that's something to look out for.
Cost & Accessories
The Blue Yeti costs around £100 or $125 to buy new on Amazon. There are bundle packages available on Amazon.com where Blue will throw in a couple of extras (a pair of headphones and a pop shield) for around $150 too.
Blue Yeti Review Summary
So, what's the outcome of our Blue Yeti review? I think it's a great option for someone looking for a simple set-up, but also a decent level of sound quality. The Yeti certainly sounds better than its little brother, the Blue Snowball Microphone, which is another popular starter microphone.
You can buy the Blue Yeti USB Microphone here.
My recommended starter mic is usually the Samson Q2U. In terms of sound quality, there's not too much between them, though, if anything, I'd say the Yeti slightly edges it. The Q2U is a fair bit cheaper at £45/$40 and also has an XLR connection option. The Yeti on the other hand has more polar pattern options and an included desk stand.
The bottom line is that if you're just looking for a quality USB mic without any complications then the Blue Yeti is a good choice.
If you want to incorporate a mixer into your arsenal at some point though, but still want a USB mic option at this early stage, then I'd recommend the Samson Q2U.
If you're still undecided on which mic is going to be most suited to you though, check out our best podcasting microphones article.