Blue Yeti Review: A Popular (Yet Oft-Misused) Beginner Mic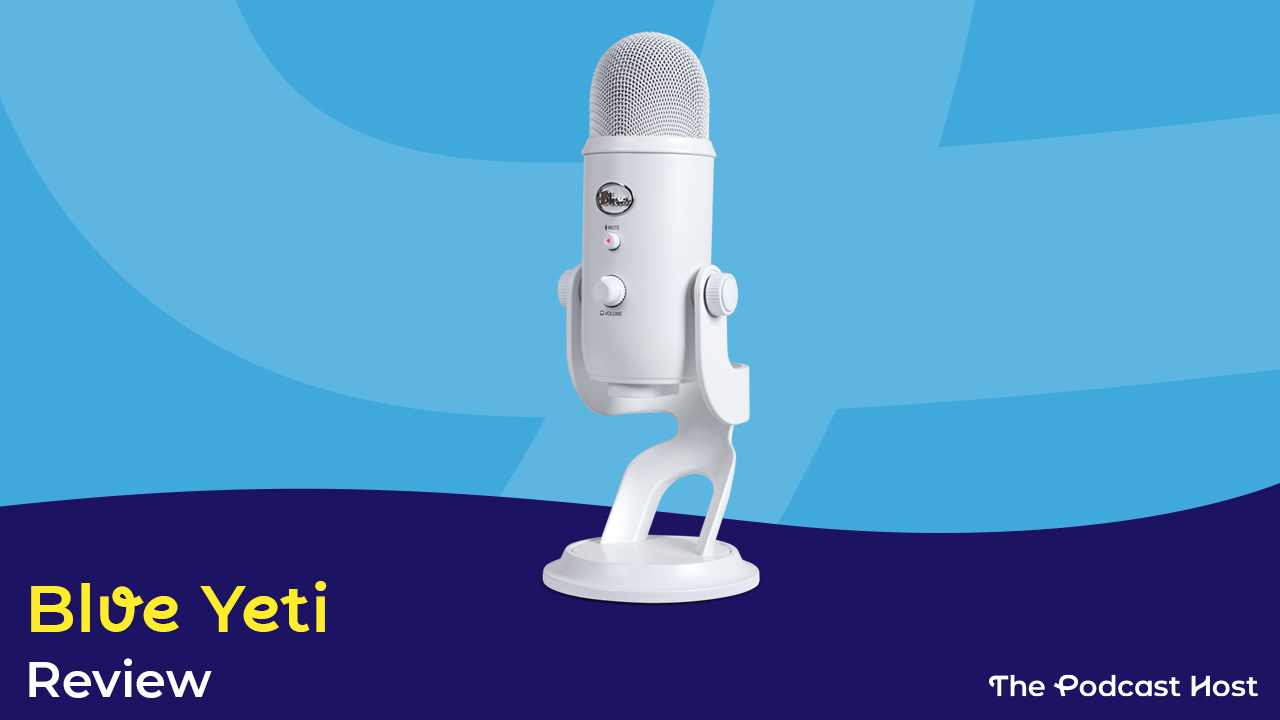 In this Blue Yeti review, I wanted to find out how the abominable snowman got so cold despite having all that fur.
But you've apparently landed on this post to learn more about his microphone namesake, so I suppose we should probably talk about that instead.
The Blue Yeti is one of the most popular starter mics for podcasters (as well as ASMRtists!). It's also one of the most misunderstood.
Here, you'll get the info you need to help you decide whether or not it's the ideal mic for you and your podcast. We'll also touch on how to get the best from your Yeti, because it's very easy to use it in the wrong way.
Sound good? You're about to find out. Let's dive in…
Who Would Use the Blue Yeti?
I'd say the target market for the Blue Yeti was aspiring and early-stage podcasters. Folks who know little or nothing about audio, and are just looking to get good-sounding content out there without a steep learning curve or complex setup.
The ideal use scenario for the Yeti is for solo recordings and online/remote conversations. It can be used in more ways than that – just not very well. More on that a bit later.
The Yeti is also a handy mic for live streams and conference calls.
What really impresses me about Blue is the overall packaging and appearance of their microphones. The Yeti's box is well illustrated with simple diagrams and explanations of its functions. The aim here is so that a complete novice can look at it and feel confident that they can set it up and begin using it straight away.
Despite that, however, many people don't use the Yeti in its best setting for their own use case. I completely understand that. I'm guilty of opening up and using new gear without even a brief squint over the instructions or how-to stuff.
So we'll take a wee look at the pitfalls of the Blue Yeti and link to some follow-up resources, below. That way, if you do buy one, you'll be using it properly and getting the best sound from it!
A quick heads up: Our link to the Blue Yeti is an affiliate which means we may earn a small commission, should you choose to buy through it. Rest assured; this is never at any extra cost to you 🙂
Setting up the Blue Yeti for Your Podcast
The Blue Yeti is a USB mic, so it plugs directly into your computer. You don't need an audio interface or digital recorder to run it.
This is perfect for beginners but can be a bit limiting for those who'd like to gradually hone and improve their audio skills.
There are a lot of mics on the market that work as both USB and XLR (the Samson Q2U, Shure MV7, and Samson Q9U, to name just three) and these mics can grow with you if you want to end up running a mixer and multiple mic setup. Again though, that route definitely isn't for everyone.
The Yeti is a good-looking microphone. It feels sturdy, durable, and well-weighted. You can be set up to record with the Yeti in under a minute.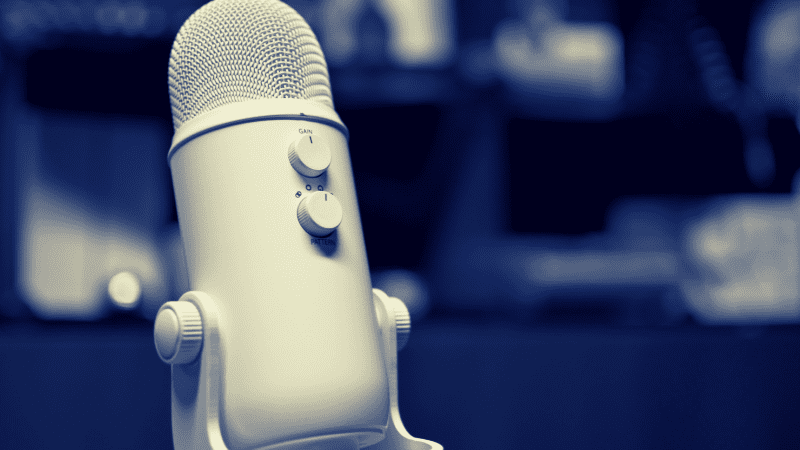 It's a simple case of taking it out of the box, setting it on your desk, and then connecting it to your computer using the USB cable provided. Your computer will detect it pretty quickly, and you can start using it as a recording device in any audio software, like Audacity, Audition, or Alitu.
Mounting the Yeti on a Stand
The Yeti comes on its own stand, a big plus for many. There's no need to have a boom arm or mic stand to get started. The underside of the stand is cushioned with rubber padding. This, combined with the mic's weight, means the Yeti feels fixed in place once you start recording.
On the downside, the stand doesn't exactly put the mic in the ideal recording position. If you place it directly on your desk, it'll tend to be quite low, so I often see people propping it up on a stack of books or a box when recording. Not exactly a dealbreaker, but worth noting.
If you want to get the Yeti into an ideal position every time, then you might want to mount it on a separate stand. It has a screw thread hole at the bottom which will easily attach to any standard mic stand or boom arm.
To keep my Blue Yeti review concise, I'll not go too far off track here, but you have many options for add-ons. If you're interested in adding more bling, you can see our full article on Blue Yeti accessories here, which includes things like Yeti-specific boom arms and pop shields.
Features of the Blue Yeti
Let's talk features, then. What options, dials, and ports do we find on the mic itself?
Headphone Jack
There's a 3.5mm headphone jack on the underside of the mic, so you can plug in your earbuds or headphones and monitor your recordings. This means you'll be hearing exactly what's being recorded, as you record it.
Dials & Controls
There are three different dials on the Blue Yeti.
Headphone volume – unsurprisingly controls the volume of the audio you're hearing coming back out through your headphones. You can refer to this as your 'output volume'. Increasing or decreasing this won't have any effect on the audio you're recording.
Gain – this dial controls the sensitivity of your mic. You can refer to this as your 'input volume'. Increasing or decreasing this will have an effect on the audio you are recording.
Polar pattern – also known as "pickup pattern" – pattern selection allows you to choose a recording method that best suits your recording setup. We'll talk about polar patterns in more detail shortly, as they're a huge factor in how your Blue Yeti will sound.
There's also a mute button on the Blue Yeti. Once plugged into your computer, this will light up.
If you press the mute button once, it will flash. This means your mic has been muted. If you press it again, the light will go back to constant, and the mic will pick up your voice once more.
Blue Yeti Review: Polar Patterns
Polar patterns are settings to determine how the mic picks up all of the sounds around it. The Yeti has 4 different options here, as well as recommendations on which one to choose.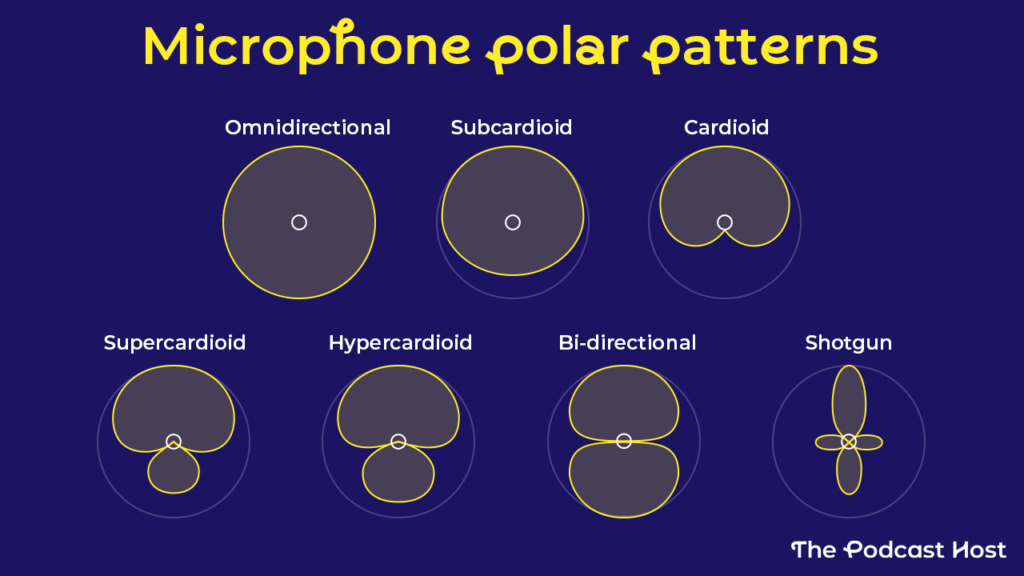 Stereo Mode – a music-intended setting for recording a singer or a couple of instruments.
Cardioid Mode – for recording a solo (or online) podcast – one person facing the mic.
Omnidirectional Mode – for recording several people surrounding the mic. It records from all directions. E.g. a roundtable discussion. Ideal for making ASMR.
Bidirectional Mode – for recording face-to-face interviews, two people facing each other, either side of the mic.
These settings ostensibly give the Yeti a lot of flexibility, but really, I'd only advise buying the Yeti if you plan to use it on its Cardioid pattern. This means you'd be recording solo eps into your computer or online/remote interviews and conversations.
If you ever plan to record multiple people in the same room together, then the Yeti's not your guy. Check out our guide to multitrack recording for all the best options on that front.
Sound Quality
When used optimally, the Yeti has a pretty decent level of sound quality and does a good job of accurately capturing the voice.
One thing I was aware of was that it did pick up the fan noise from my PC until I clicked it onto the cardioid polar pattern setting (thus minimising sound from around the back of the microphone), so again, that's something to be aware of.
Blue Yeti Frequency Response
Frequency response refers to the range of sound frequencies that a microphone can pick up and reproduce. Just like human ears can only hear certain sound frequencies, microphones also have limitations. The frequency response of the Blue Yeti can depend on several factors, including its polar pattern, gain settings, and the environment in which it's used. Generally, the Blue Yeti has a frequency response range of 20Hz to 20kHz, which covers the entire range of human hearing.
Cost & Accessories
The Blue Yeti generally costs between $99 and $125 to buy new on Amazon. There are bundle packages available where Blue will throw in a couple of extras (like a boom arm and shock mount) too.
Recording ASMR With Blue Yeti Microphones
This Blue Yeti review has been written with creators of spoken-word content in mind. We are a podcasting site, after all.
That said, we're always interested in the wider fields of audio, and recently did a couple of write-ups on ASMR and Binaural Beats. As it happens, the Yeti seems to be a popular mic for creators of ASMR (AKA ASMRtists), and I can see why. Its Omnidirectional polar pattern might not sound too clever when recording podcasts, but move some scissors around it, and you'll be recording your own virtual barbershop in no time!
Blue Yeti Review Summary: Podcasting With the Yeti
So, what's the outcome of our Blue Yeti review? I think it can be a good option for someone looking for a simple setup, but also a decent level of sound quality. The Yeti certainly sounds better than its little brother, the Blue Snowball, another popular starter microphone.
With that all said, my recommended starter mic is still usually the Samson Q2U. In terms of audio quality, there's not too much between them, but the Q2U is a fair bit cheaper and has an XLR option too.
The Yeti does have more polar pattern options, but I don't think it's worth buying to use any of them other than the Cardioid setting.
The bottom line though is that if you're just looking for a quality USB mic without any complications then the Blue Yeti is a decent choice.
If you're still undecided on which mic will be most suited to you, though, check out our best podcasting microphones, best USB microphones, and best budget mics articles. Or, if you have another mic in mind, you can search for our dedicated review of it in the box, below…
And no matter what mic you're using, you're going to need some software to record into. There is a multitude of podcast software options out there today. For the simplest possible way to record, edit, and publish your show, though, opt for Alitu (which has a 7-day free trial).
Finally, as for figuring out why the abominable snowman is so cold, we never did manage to tackle that, did we? Not to worry, though. Be sure to join us again next week when we answer the question, "Why is Bigfoot sweating?"