Best Headphones for Listening to Podcasts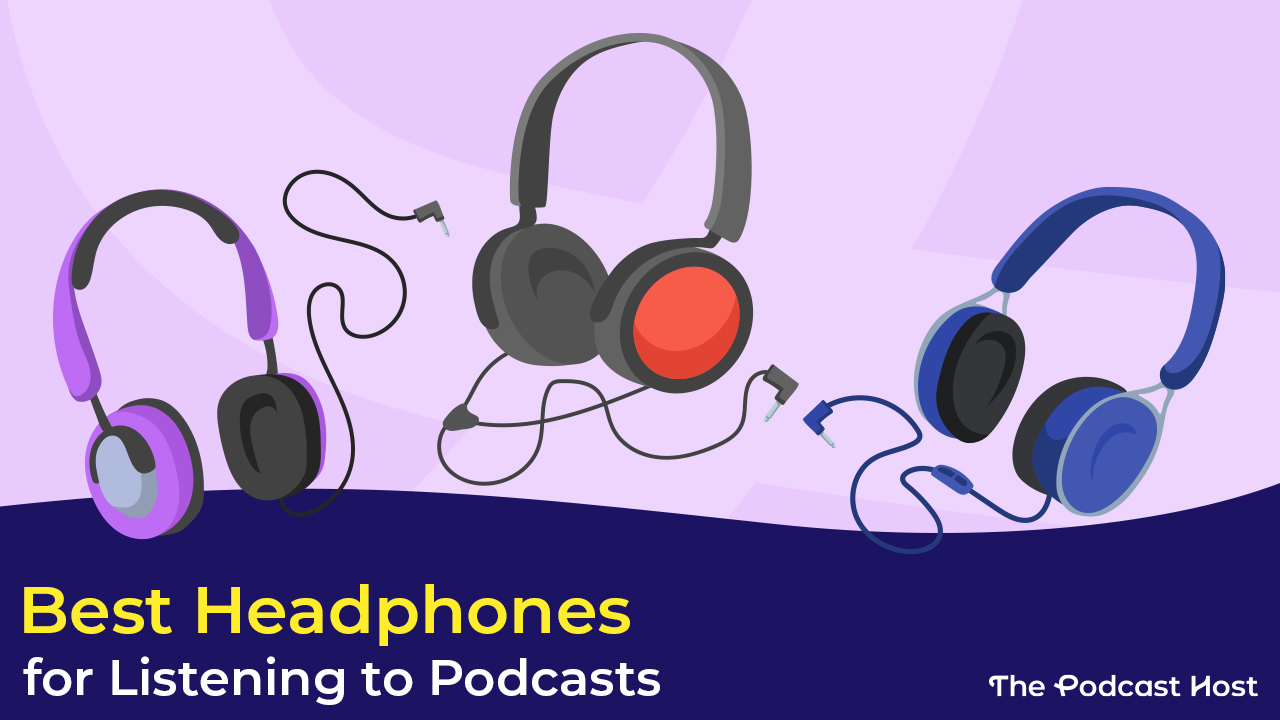 Do you need the best headphones to listen to podcasts? Definitely not. That doesn't mean that any old pair will do, though. A good set of earbuds or over-ears can make a huge difference to your listening experience.
If you're fed up with the 3.99 buds you get in TKMaxx that disintegrate after 2 hours in your pocket, then this article's for you. I'll explain why we recommend something a bit better than those paper-mache efforts, and what benefits they bring. Then we'll go on to our own recommendations for the best headphones for podcast listening.
Sound good? Of course they do – that's the point 🙂 Let's take a look at the best headphones for listening to podcasts!
A quick heads up that we use affiliate links in this roundup, so earn a small commission if you choose to buy through them. This is always at no extra cost to yourself.
We've updated this article for 2020 to include some of our new favourites!
When Good Headphones are Worth It
There are two main reasons why you might want to think about your choice of earbuds or headphones when in the market for a new pair.
You often listen in noisy or distracting environments
You listen to highly produced shows and want a fuller audio experience
There's a good chance you'll also use the same headphones for listening to music on your device too. So even if you wouldn't class yourself as an "audiophile", it's natural that you'll want the audio you're consuming to sound as good as it can.
Types of Podcast
Firstly, we should clarify here that a "podcast" is ultimately a delivery method, and there's really no rule to say that one show will sound anything like the next.
There are generally accepted standards such as average loudness which an increasing number of producers adhere to.
But there are many different types of podcast. Perhaps the three most common types we see are
Interview show, co-hosted or solo monologue
Documentary-style
Audio Drama
Production Styles
By looking at an audio file's waveform – its visual representation – we can see the differences between these styles.
Interviews, co-hosted shows and monologues are typically produced in mono, meaning the sound you hear is exactly the same in both ears.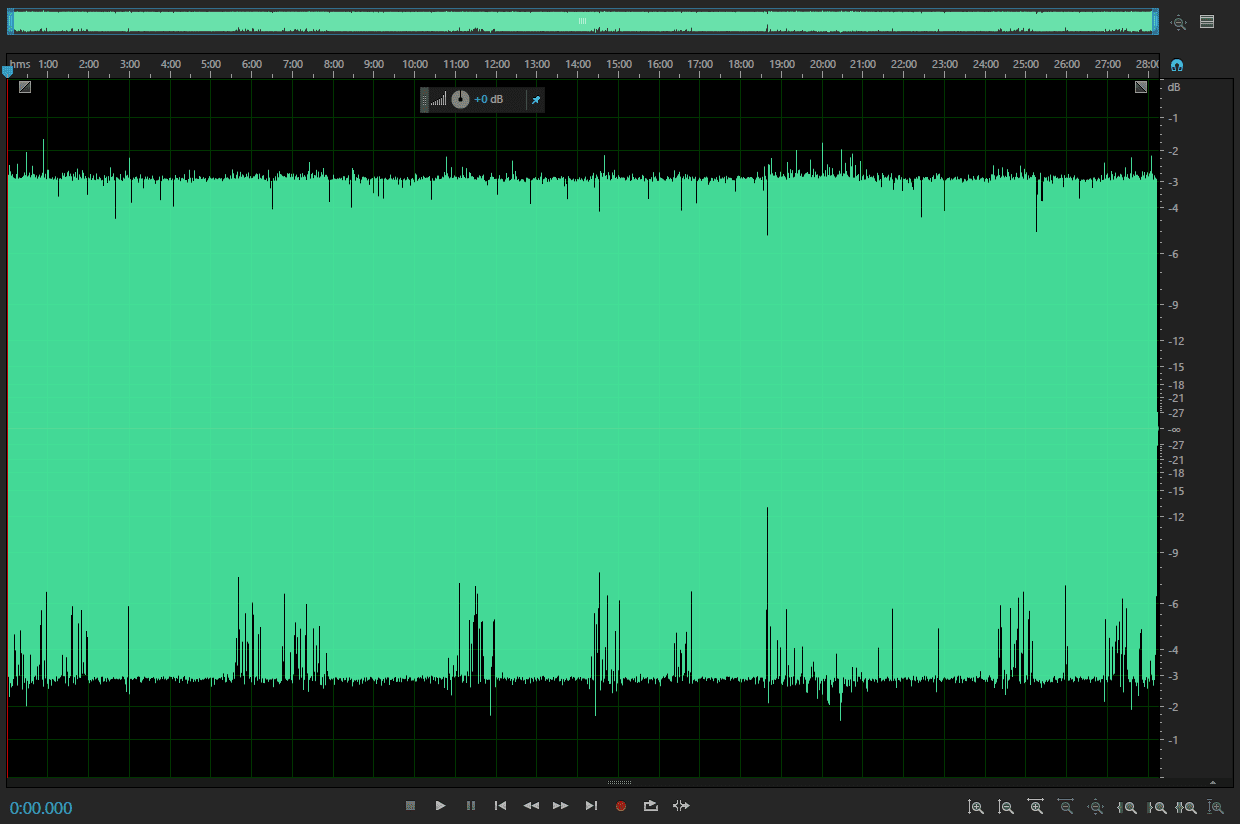 This audio is generally less complex, which makes it easier for the producer to set a consistent volume level.
Many podcast interviews take place over tools such as Skype, meaning the audio quality often isn't the same standard as it would be if both people were in a studio together.
Having a mono show that's 99% spoken word content means the producer can set a much lower bitrate. This means the audio quality is lower, but the file is also smaller, making it easier for listeners to download.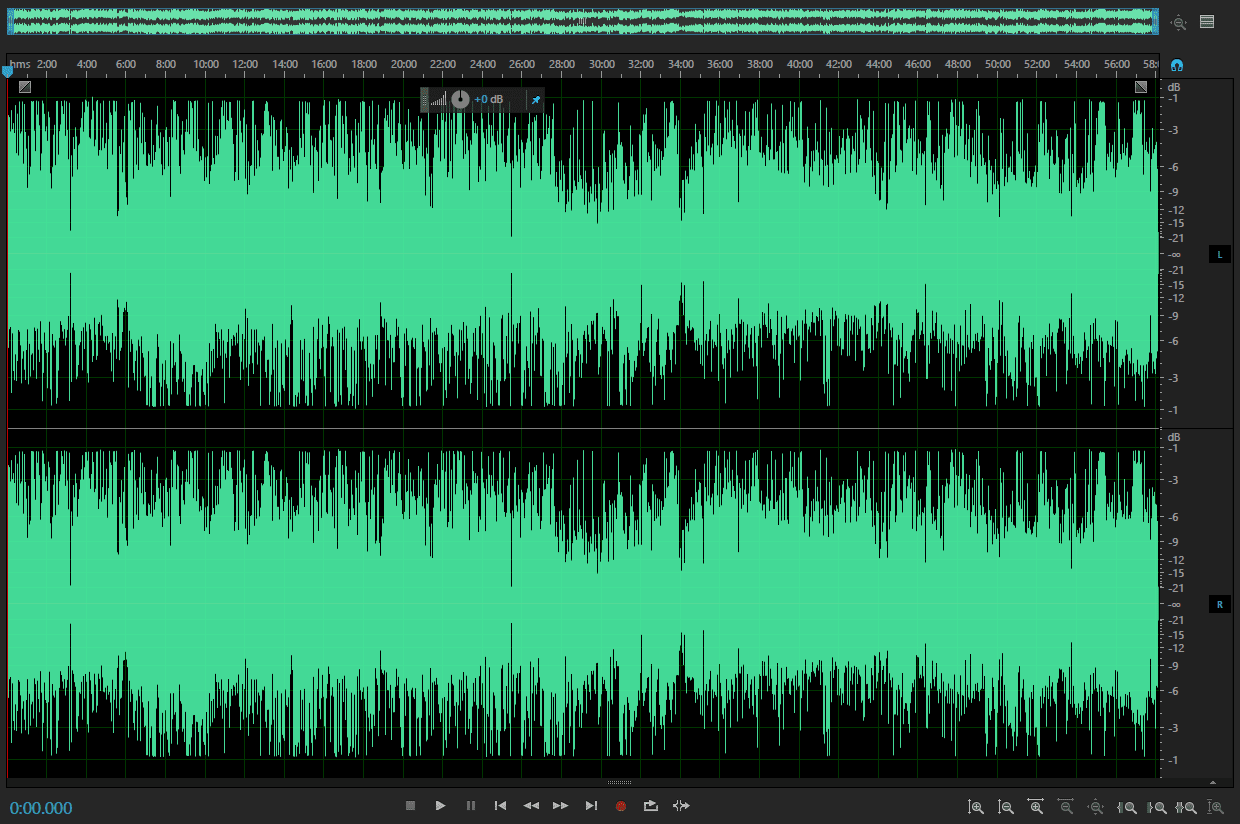 Documentary or audio drama-style shows tend to be a bit more complex. They mix speech with music, ambience, and sound effects.
These shows will usually be produced in stereo, meaning there will be (usually subtle) differences between what you hear in each ear.
An overall consistent volume is harder to achieve, but a good producer will work hard to achieve this in the mastering stage.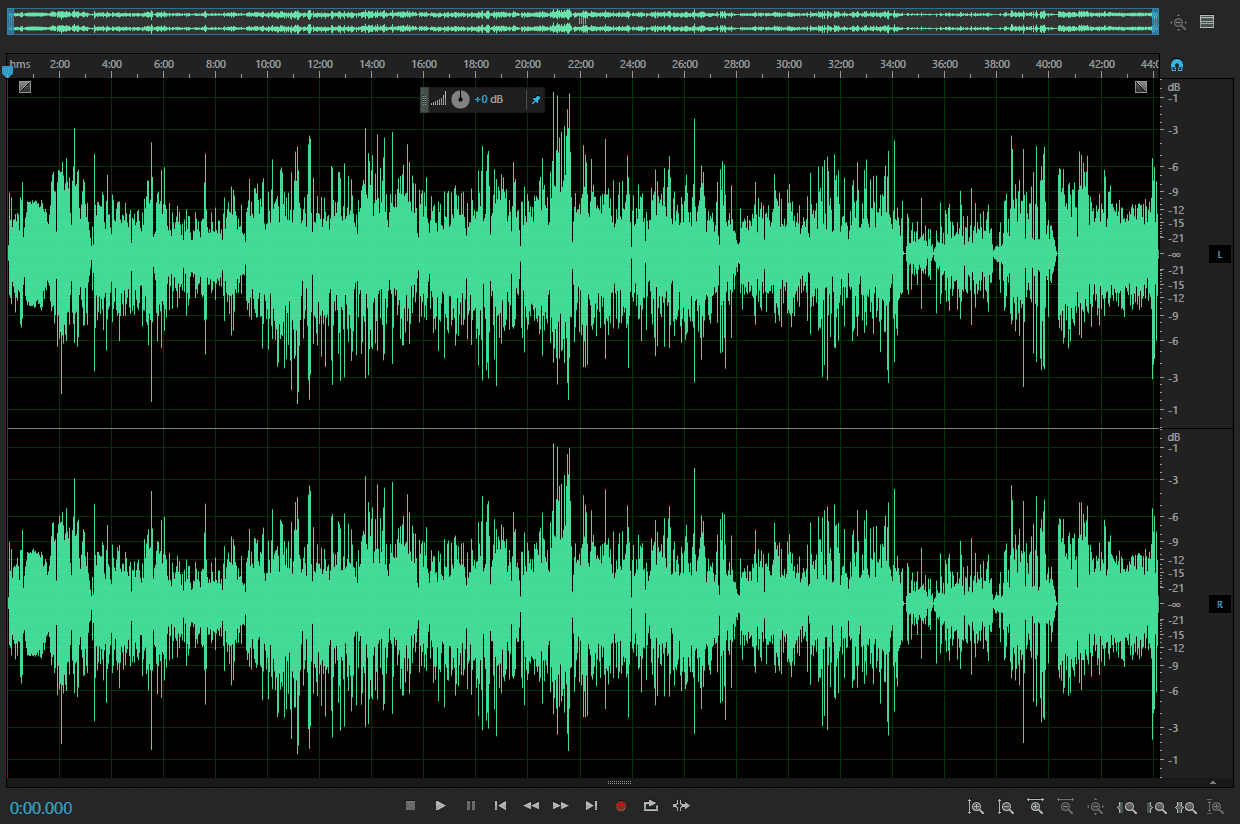 They don't want you to be reaching for the volume dial every few minutes, yet they might have two people whispering in one scene, and a huge explosion in the next.
They'll want these sounds to keep their integrity and realism, but still provide a consistent listening experience that doesn't pull the listener out of the story because they need to stop to adjust their settings.
Best Headphones for Listening to Podcasts
We've touched on some of the big variations between different styles of podcast.
The bottom line is that great headphones won't make bad audio sound good. On the other hand, low quality headphones won't make good audio sound bad, as such. Instead, you'll just be missing out on much of the experience.
Ultimately, you're in the hands of your favourite podcaster (or their producer).
So, assuming they've done a good job on the production side of things, what headphones should we use to best enjoy the fruits of their labour?
There's an almost infinite number of makes and models available out there, so we've narrowed it down to a few choices that we're keen on ourselves.
Best In-Ear Headphones or Earbuds
Best Budget Earbuds
Panasonic Ergo Fit
If you want the cheapest possible pair but don't want the cheapest possible sound, then the Panasonic Ergo Fit earbuds fall nicely into that bracket.
Best Mid-Range In-Ear Headphones
1. 1More In-Ear Triple Driver Headphones
These were Colin's day-to-day headphones for quite a while: the 1More Triple Driver in-ears.
Here's his report: First, the quality is brilliant – crystal clear and balanced. Second, they've enough oomph to out-blast the passing lorries and buses in the street, without being full-scale noise-cancelling headphones that see me blindly wandering across the road when a car's coming. And third, the cabling is the least tangly I've ever come across, with a lovely fabric-style cable. That makes it so easy to throw them in your bag, or stuff them in your pocket, without ending up with a bird's nest of cables when you remove them.
2. Sony WF-1000X
The Sony WF-1000X are truly wireless, noise cancelling and a nice little set of buds. The audio quality is great, but the noise cancelling isn't astounding. You notice a marginal cut in background hum when it's switched on, but it's not comparable to the Airpods below, or the Bose Quietcomforts. But then, the Sony 1000x buds are less than half the cost of either! If you want to go truly wireless, but on a more reasonble budget, these are great value.
Best High-End Earbuds
1. Sennheiser Momentum In-Ear
Prepared to invest in a high-end set? The Sennheiser Momentum earbuds will give you a premium quality sound for your podcasts, audio dramas, and music.
2. Apple Airpods Pro
Another recommendation from Colin. Here's his take: I'll be honest, the Apple Airpods Pro are now my day to day 'phones. If you have an iPhone and price is no object, these are about as good as you get, and not just for the audio quality.
The audio is top-notch, though, and the noise cancellation works like a dream. Pop them in and just listen as that regular background noise disappears. You'll still hear the intermittent sounds, of course, but the low rumble and high hiss of the world at large just melts away. I have no trouble listening to a gentle voiced podcast while walking down a busy street.
Add to that, though, the extra utility Siri gives you and these are a magic combination. Love her, or hate her, she can be useful, and I've found myself turning into a regular user since getting hold of the Earpods. "Play on Pocketcasts" I'll say to start a podcast immediately, or "Add that book Tyler Cowen just mentioned on North Star to my todoist." For Apple fans, these are an amazing tool!
Best Over-Ear Headphones
Best Budget Over-Ear Headphones
Audio Technica ATH-M20X
If you don't mind carrying a pair of actual headphones around with you, then the Audio Technica M20Xs are great value for money and provide an excellent listening experience.
The cable is pretty long from a consumer point of view (they're really designed for in-studio use), but from a sound quality to price to comfort ratio, it's hard to see past them in this category.
Best High-End Over-Ear Headphones
GRADO SR325E
If you want to splash out on an expensive pair of quality headphones then take a peek at the retro-looking Grado SR325e headphones.
Best Noise Cancellation Headphones
Best Over-Ear Noise Cancellation Headphones
Bose QuietComfort 35
If external noise spoils your podcast listening more than anything, then noise cancelling headphones might be for you. These have little mics built in to them designed to pick up the sounds around you and neutralise them.
For top of the range, look at the Bose QuietComfort 35. These are quite simply magic. Pop a pair on in the airport and turn a noisy, chaotic stressful experience into something quiet, peaceful, tranquil. Of course, they're not cheap, but I've had a pair of these for a couple of years now and I wouldn't live without them.
If you don't quite have the budget for the wireless 35s, then forego the wireless… ness… and get the 25s. The Bose Quietcomfort 25 model has all the same noise cancellation and comfort features, for a fair chunk of cash less.
Best Noise Cancellation Earbuds
Apple Airpods Pro
Going back to the Apple Earpods Pro here, I'd say! The noise cancellation works a treat, which I find amazing, given their size. Look at my full comments on the Earpods above!
Putting Your Headphones to Good Use
So now that you're set up to get the best sound from your podcasts, how about some quality new shows to add to your playlist? Check out our 'Best Of' roundups below where you'll surely find something you like.
And, if you've ever fancied creating your very own show, check out How to Start a Podcast. That's our free step-by-step guide that'll walk you through the entire process, from planning to promotion. If you want a deeper dive, consider joining Podcraft Academy. There, you'll find all of our courses and downloadable resources, plus our weekly live Q&A sessions, to answer all of your questions.