Double-ender Recording: At-a-Glance
A double-ender is where both participants record their own sides of a remote conversation.
These are then synced together in post-production.
It can make you sound like you're in the same room as your guest, even if you're recording on different continents.
Double-enders also offer an extra layer of security, should your computer crash during an interview.
You can run a double-ender manually, or many modern call recorders can do it for you automatically.
Read on to find out more…
---
In a recent podcasting class in Buffalo, I was treated by the attendance of one of the directors of the Black Film Center/Archive at Indiana University, Terri Francis. Since the class, she and her team have been assembling episodes for a podcast highlighting and introducing black filmmakers. Like many podcasters, due to the pandemic and to better facilitate interviews with filmmakers around the country, Terri and her co-producer Deonna opted to use Zoom to record meetings, but quickly became disenchanted with the quality of the sound. They write:
We are not loving our zoom sound for the podcast. Sometimes we like that it marks the pandemic time and the rougher sounds fit with the "archival" aesthetic that we're going for. We edited our interviews but decided to leave them rather on the long side and use music and external sound samples sparingly and in an unadorned way.

But sometimes we want to leave that behind and just be crisp and fresh and be in an ideal radio space. We would still use zoom to be able to see each other though.
Zoom and other call recorders are extremely useful for recording interviews. They make connecting and recording simple and they create local recordings, and many upload and store them to the cloud when recording is completed. However, they do have limitations when you're trying to achieve a professional "studio" sound. Lag and packet loss due to latency can cause drop out and audio compression limits and alters the quality of the audio recorded and can lead to undesirable results, misalignment, and indistinguishable words. The solution I have found that works best for this sort of issue is double-ended recording (A.K.A, the "double-ender").
What is Double-ended Recording?
Simply put, double-ended recording involves recording a local copy of the audio used in hosting, interview or production. The term is a bit misleading, as it suggests only two recordings. However, the "double" refers to recording both to the call, whether it's via Zoom, Skype or phone call as well as a local copy.
Double-ended recording has many benefits. It accounts for drop-outs due to internet connection, recording uncompressed audio at studio quality (48/24, uncompressed), and even acts as a backup recording if the online recording is lost due to power failures, call drops, or other unfortunate interruptions to recording.
While it sounds involved, the process of double-ended recording is fairly uncomplicated. You are simply recording your end of the conversation to two recordings at once, the call and a local recorder. It may require some additional equipment, depending on your setup. Most often, you will need a secondary recorder and possibly a second microphone. Here are a few tried and true methods I use for double-ended recording.
Best Method: Hand Recorder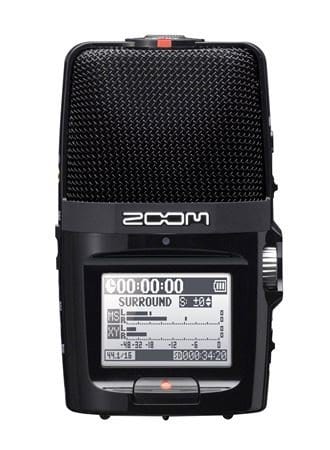 By far, the easiest method to record a double-ended recording is using an external handheld recorder. My favorite option from my arsenal is my Zoom H2N. It's small and portable with great built-in microphones, allowing me to simply set it up, hit record and go while I use my computer setup to handle the Zoom session. Here are some other great digital recorder options.
Got a sweet mic, that captures the warmth and detail of your voice? No problem. Many portable recorders, like the Zoom H5, handle external mics and include phantom power, so you can use just about any mic you want to record your voice. As a bonus, if you run your setup with a Samson Q2U, you can use the same microphone for both the computer and the external recorder.
Pro Tip – Syncing
When recording with multiple hosts, each individual on the call would ideally be recording using a double-ended setup in order for all the participants to record with studio-quality sound. These individual files have to be aligned for timing when compiled for editing. To make it easier to align, do a marker while recording by counting to three and having all the participants clap together. When the files are edited, simply align the claps to align the timing of the recording session across the tracks.
Good Method: Smartphone Recording
Don't have an external recorder? If you have an iOS or Android device, you can achieve professional-quality recordings by attaching an external microphone. There are several options, from OTG cables that work with your current USB microphone to microphones like the Rode Smartlav+, which come ready to use with your iOS or Android phone.
The biggest cons to recording with your phone are space, access to an external microphone and the fact that, as a computer, your phone's memory is tied up in other functions that can hog resources. The benefit to an external recorder is that by design, they are committed to doing only one thing, recording audio. This means your batteries aren't draining looking for a wi-fi signal, getting your location, or any of a hundred other processes that keep your phone operating, but reduce resources available to record.
Pro Tip – Microphone Choice
When using an external recorder, the built-in microphone is often a good quality for voice recording. This isn't typically true of built-in microphones on smartphones and computers. Manufacturers often use lower quality, consumer-grade omnidirectional microphones in computer and phone devices. So it's good practice to choose a high-quality USB or external analog microphone when recording using a smartphone or computer.
In a Pinch: Computer Recording
If you don't have access to an extra microphone or an external recorder, you still have the option of recording locally to your computer's hard drive. It takes a bit more technical savvy to set up, as it involves routing your computer audio to two pieces of software at once, but it gets the job done with the gear you already have. To route the audio, you'll need a virtual audio mixer like Voicemeeter or ASIO4ALL on PC or Soundflower on Mac.
The process is similar in each. Essentially you are routing both Zoom and the recording software of your choice (Audacity, Reaper, Auditon, etc) to record from the same microphone channel in the virtual mixing software. This sends the audio to both the Zoom call and the local software for recording. It's a bit tricky to get used to, but the results are outstanding.
This method is not the best choice, as it's difficult to set up and troubleshoot. It faces the same dilemma of memory and processor sharing as the smartphone method, but now you are tying up critical resources for both Zoom and your local recorder. Additionally, incorrect settings can lead to disastrous end results, like recording the session and the double at completely different sample rates, making you or your guests sound like Barry White. And to top things off, if your computer crashes or loses power, you would potentially lose both recordings (though some DAWs store backups locally).
Many modern call recorders (like SquadCast, Riverside.fm, and Zencastr) technically enable you to run double-enders through them, because they record each participant locally, and store them in the cloud, as they're being recorded. This route is a great option if you're lacking in external recording gear, and want to keep things super-simple.
Conclusion: Double-ender Recording
If Zoom's audio quality isn't as professional as you were hoping for your podcast, you can still use Zoom to meet up while recording professional-quality audio. In conjunction with solid recording practices, double-ended recordings provide a means to record professional-quality recordings, whether for your hosts, your interviews, or for podcast fiction.
In terms of method, a simple hand recorder with a built-in microphone is by far, the simplest method of recording. And the best in overall quality is going to be a hand recorder with an external microphone. I personally use and swear by the Q2U method unless I need to use a condenser microphone.
I used to use the computer method of recording. That was before good quality call recorders existed. It works but it requires an intermediate understanding of how to route sound and setup audio drivers and it comes with too many pitfalls.
Need More Help?
If you're struggling with anything podcast-related you'll find the help you need inside Podcraft Academy. In there, we've courses on everything from gear and editing, to promotion and monetization. On top of that, there's loads of downloadable checklists and resources, and we run weekly live Q&A sessions too!