Best Podcast Apps for Listening on iOS, Android, + Smart Devices
With over four million podcasts available in the world today, there's no shortage of audio content out there. The tricky part is finding the stuff you want to listen to, as well as having the ability to curate and customise your experience. That's where podcast apps come in. Here, we're going to take a look at some of the best podcast apps for android & iPhone or iOS, so you can figure out which one is the best conduit for listening greatness.
What Are Podcast Apps?
First up, though, let's answer this question – what are podcast apps?
Podcast apps are listening directories you can download and install on your Android, or iOS device. Commonly, this would be your smartphone, though it could also be anything from your Apple Watch to Amazon Echo smart speaker.
Put simply, one of these apps can be your one-stop shop for listening to and subscribing to your favourite podcasts.
How do Podcast Apps Work?
Designs and features vary from podcast app to podcast app, but they all essentially work in the same way.
There's the main interface, which usually shows you a selection of podcasts to help get you started. These tend to be in the form of top picks, charts, or other curated suggestions.
You might find something you like in the recommendations, but the real value of podcast apps is in their search function. You can type the name of a show, a topic, a keyword, or a question when looking for something new to listen to, and it'll throw up a list of podcasts or podcast episodes.
You can test the water by listening for a few minutes. Then, if something grabs you, you can hit follow or subscribe. This means all new podcast episodes from this show will be delivered to you automatically from now on.
How do Podcast Apps Organize Your Picks?
Many podcast apps give you options for playlists which let you organise your episodes. This means you always have something next-up in your listening queue. They offer playback speed controls, too, so you can listen to episodes at varying speeds. Some even let you skip drawn-out intros and outros.
Can I Record on a Podcast App?
It's worth mentioning, too, that not all podcast apps are focussed on listening. Some apps are built for podcasters to help them create content. That's a subject for another discussion, though. We talk more about this in our Best Podcast Making Apps roundup.
Alright, now that we're clear on what podcast apps are, how do you go about choosing the best one for you?
What's the Best Podcast App for Your Tastes & Habits?
To start, think about what kinds of podcasts you enjoy, and how you listen.
Are you listening to interview or discussion shows, with just a few voices and a little bit of music at the beginning and the end?
Do you listen to shows with multi-layered sound design, many distinct voices and cliffhanger content?
Are you using your car's speakers while driving?
Do you listen with headphones while multitasking or relaxing?
Do you tell a smart speaker to play something while you go about your business?
Are you hungry for story, thirsty for information, or just needing something to pass the time?
Whatever your needs are, there's a podcast app that focuses on your needs, and others that don't. Let's look at some features you find in different apps. This way, you can narrow down what you want most in a podcast listening app.
Car Listening and Navigation
If you listen to podcasts while driving, and your car was built after 2014, chances are good that your car has Apple CarPlay or Android Auto installed in its system. This system makes it easier for you to use your phone's apps (such as for navigation or listening) from a screen in your car's dashboard.
If you listen to podcasts while driving, you want a podcast listening app that has some grouping system (like queues). This way, you can use only one or two clicks to hear what you want. Distracted driving is not good.
Controlling Voices & Amplifying Audio
Not all voices are alike, and some listeners want control over how podcast voices are presented. Many podcast listening apps give users a variable speed playback feature. Some shorten silences, rather than making the speaker sound like a chipmunk. If you want your daily news podcast in a third of the time, this is a helpful feature.
Another option is what's called "voice boost." This makes the speaker's voice stand out from the background sound more. If you listen to podcasts with multi-layered sound design, this helps you focus on the primary speakers rather than have all sound wash together.
Can a Podcast App Improve Audio Quality?
A podcast's sound quality is the responsibility of its creator. But as we've covered, above, some podcast apps will provide advanced features intended to "improve" certain things.
If a podcast sounds terrible in the first instance, it's unlikely that any amount of audio effects will improve it. If there's a show whose content you really like, but the audio quality makes your ears bleed, it might be worth a tactful email to that creator with some pointers.
AI audio has made some frighteningly good leaps in the past 18 months, so undoubtedly, we will see an all-in-one tool that can solve all and any sound issues at some point in the future. But I hope that podcasters themselves won't rely on third-party listening apps to make their content audio good. You don't need to be a sound engineer or a millionaire to sound like a pro.
Podcast Feed Organization & Discovery
Back to listening habits, then. Some people open up their podcast listening app and scroll through what's trending. Others want to hear their preferred podcasts right away. Some are in wi-fi-enabled environments when they listen. Others can't stream and have to download their favourites. What your podcast listening app lets you do with how and when you listen can be crucial to your enjoyment. You can open up a podcast listening app and feel you have to listen to what it tells you to. Other podcast listening apps feel like you open the closet and find the shirt you want right away.
So, I've laid out some criteria:
ease of navigation,
audio customization,
access to podcast selections and discovery.
Let's see how these features fit into different popular podcast listening apps for your smartphone. Whether you use an Android or an Apple iOS smartphone, these will be solid ways to get excellent listening experiences.
What's the Most Popular Podcast App?
Let's get the two biggest kids in the sandbox out of the way first. Though, without a doubt the most popular, Apple Podcasts and Spotify are anything but the best podcast apps out there. Both are actually pretty basic. That said, they both provide a good gateway for getting new listeners into podcasting. Some of these folks become "power listeners" and end up moving on to an app like Pocket Casts or Overcast.
But what about the big two?
Apple Podcasts
The old dog might not be the best podcast app, but Apple Podcasts arguably grew the medium more than anything else ever has when it became a default app on the iPhone.
Apple Podcasts users can rate and review podcasts, so this can be useful when deciding which shows to try out (or not).
But it just looks a little clunky and isn't that easy to navigate. If there is an option to create a personalized playlist in Apple Podcasts, it's not evident. You have to make do with options on individual episodes, such as "listen now" or "listen later," in one queue.
You can skip forward or back by 15 or 30 seconds, or speed up playback. But there's little more on offer here, sadly.
That said, it does have one of the better search capabilities in the podcast app sphere. Apple Podcasts seems to be capable of searching the audio itself in podcast episodes, so this increases your chances of finding the exact thing you're after. You might just want to hop onto another app to actually download and listen to it.
Spotify
Just in case you've been living under a rock, Spotify is a music streaming service that has also become a popular podcast platform in recent years.
The company has gone into podcasting heavily, making a lot of waves and spending a lot of money. But as a listening app, it just seems a bit… meh.
On the plus side, you can create playlists with your favourite podcast episodes, and even mix them in amongst your favourite songs. And there are some exclusive podcasts you'll find on there that you won't get anywhere else, too.
You can change the speed, and skip back or forwards 15 seconds. You can also rate podcasts, though there's no review capability.
In all, it's just pretty basic, though, and if you listen to music in the app, the podcasting side of it can end up getting a bit lost. The general 'Search' tab is going to throw up songs as well as podcast episodes, too.
Google Podcasts
When any podcast hosting provider publishes overall listening stats, you'll tend to see Google Podcasts in third place behind Apple and Spotify. They might be a distant third, but that's still a significant market share.
Again, Google Podcasts is alright for getting you started, but it's a bit limited, especially for the "power user". It also requires you to sign in to your Google account if you're using it on your smartphone. It's just a bit of a faff.
What About Google Play Music?
There can be some confusion around Google Podcasts and Google Play Music. The latter is actually defunct, though. It did have an extremely limited (and, ultimately, failed) foray into podcasting, but the app was killed off in late 2020.
Google Podcasts entering the fray whilst also having the word "Google" in its name seems to have been enough to confuse some folks. The bottom line, though, is that when you hear anyone mention Google Play Music these days, they probably mean Google Podcasts.
So, Which Podcasts Apps Are Any Good?
The three above might be hamstrung by some listening limitations, but there are a lot of excellent podcast app options out there. Here are our top picks.
The Best Podcast App for Listening on Android? Pocket Casts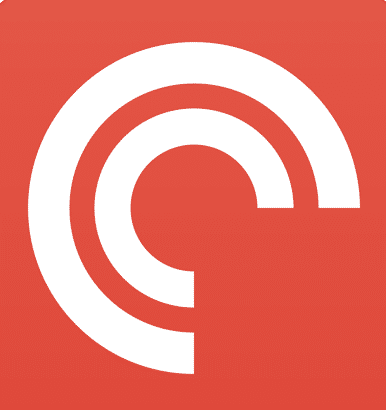 Before Spotify waltzed into the podcast scene, Pocket Casts was preferred by Android users. Though most podcast listening apps are free, this used to have a $4 price tag. PocketCasts moved to a "freemium" model in the fall of 2019. The app and most features are free. Subscription allows some special perks (such as 10GB of Cloud storage) for Plus subscribers. It's become popular, regardless of operating system.
Like others, this app defaults to a screen of listening suggestions. Your podcast library of subscriptions is laid out in a quilt-like image. It's quite pretty and makes the most out of good podcast art. There are some curated playlists, such as Better Bedtime. From the default screen, filters are an instant option (Pocket Casts' word for playlists or queues). They can be colour-coded or marked with symbols.
Within each podcast's window, you have a settings button. This leads to a submenu of listening options, including:
Auto-download (yes, you can choose to subscribe without downloading automatically to preserve your device's memory),
Intro skip (have you heard your favourite podcast's intro 20 times? It's okay, you can skip it)
Auto-Archive lets you keep episodes you want to hear again.
In the episode window, you have all the audio options, and a sleep timer. Plus, you can share the episode on social media.
Pocket Casts is like a good Lego piece. It's pretty, it fits into whatever listening experience you're trying to build, and you can share the experience with others easily.
The Best Podcast App for Listening on iPhone / iOS: Overcast
(If you don't like Pocketcasts…!)
Overcast has all the good features of Pocket Casts, and is popular amongst "power user" podcast listeners. It assumes that you already know what you want to hear. On first opening, it shows no podcasts, but asks you to add some (rather than displaying ranked charts). Tapping the plus to the upper right shows some recommendation lists. Most of these lists are based on what users tapped the star button on each episode to recommend. Overcast also shows curated lists from She Podcasts and Podcasts In Color.
The beauty of Overcast is in its organizational tools, custom queues, and audio settings. You can:
Set different speeds, shorten silences, choose whether or not to boost the voices, and know that those settings will remain for each episode of that podcast (but not others)
create queues and set them up so that new episodes of the podcasts you added will automatically download to those queues.
Choose whether to have all podcasts stream, all download automatically, or whether to stream or download on a podcast-by-podcast basis.
If you spend time working in wi-fi-free environments and need to save memory on your phone, this is ideal.
You can also custom skip the intros and outros of podcasts. If one of your favourites opens with ten minutes of ads, or closes with an annoying and drawn-out theme tune, then you never have to suffer through either again.
Overcast lets you share episodes on social media, too – even letting you create a custom clip. The app is free, with a subscription option. For $9.99 a year, you can upload files and/or remove the banner ads for other podcasts at the bottom of your app's screen. The banner ads aren't irritating, anyway. In fact, they're a great way to advertise your podcast, if you have one.
Overcast makes it easy to migrate your subscriptions from one app to another, too. Though if you feel overwhelmed by the volume of podcasts in your old app, a scorched-earth approach might be best.
If you know what you want, don't need your app to look a certain way, and do want to start listening to your preferred shows in a few clicks as possible, Overcast is your best choice of podcast listening app.
Podcast Addict
Podcast Addict is the number one podcast app on Android. It boasts over ten million downloads, 500k reviews and an average rating of 4.7/5.
There is a free version, and a premium one, which you can get in exchange for a donation. The free version is pretty robust. It has a great car listening feature, and you can search for podcasts in other languages, too.
Check out our full Podcast Addict review for an in-depth look at this popular podcast app.
Apollo – Best Podcast App for Fiction Podcasts
As more and more podcasts are launched every year, it's feasible we might start to see podcast apps niche down into topics or themes. One early example of this is Apollo, an app dedicated exclusively to fiction podcasts and audio drama.
These types of shows were notoriously hard to find for many years. Apple held out for a long time before it finally dedicated a category to the medium. Even then, such categories can show you top recommendations, but they rarely take the search function into account. More niche apps like this mean that the overall subject matter is already a given, and it's just a case of finding the stuff within that subject matter that you'd like to listen to.
Other Popular Podcast Apps
Some other popular podcast apps not mentioned so far are:
Podchaser: The Network That Powers Discovery
This isn't a mobile app, but rather a web app. It's worth mentioning, though, because it's a great way to listen to podcasts. Podchaser is a website which offers a social media element that others lack. Users can post reviews, create profiles, curate lists and connect with other podcast listeners and creators. It makes podcast listening more social and educational.
Podcast creators can expand their profiles to include credits, which enriches the user's experience. For example, let's say you're listening to A Scottish Podcast, Episode 7, Season 2, and you hear this character Bruce. He sounds familiar. You think, "where have I heard him before?" So, you can scroll down to see the cast, or type the actor's name, Karim Kronfli, into Podchaser's search engine. It'll come up with a list of all his podcast appearances as a voice actor. Next thing you know, your world of listening experiences is wider. This helps listeners find more episodes they enjoy, and helps artists promote their work.
The embedded player is only about as good as most web-based embedded players. It lets you skip a few seconds forward or back, and increase or decrease the playing speed.
Podchaser was recently acquired by hosting provider Acast for a whopping $34m. The platform will remain its own independent brand and business, though, which is great news for the many passionate creators and listeners who use it.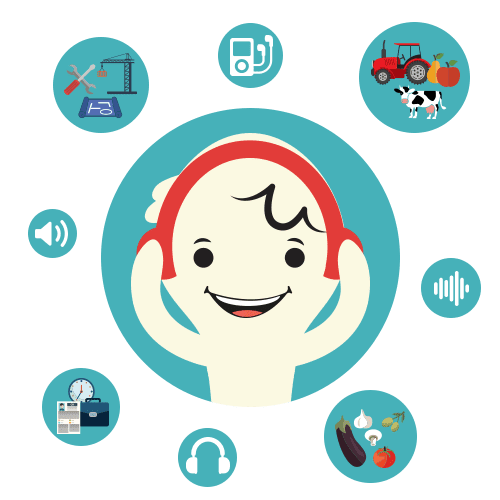 What's the Best Podcast App for you?
Podcast apps are often free, or at least have decent free versions. So, there's no reason that you can't try several and see what you think are the best podcast apps for iPhone or Android.
Apple, Spotify, and Google Podcasts might be the household names with the most users, but opt for Overcast, Pocket Casts, or Podcast Addict if you're looking for something that blows them out of the water with features, customisation, and ease of use.
And remember, if you're a fan of audio drama or fiction podcasts, be sure to check out Apollo, too!
Find Your New Favorite Podcasts
Unsurprisingly, we are big fans of podcasts here at The Podcast Host. We enjoy publishing roundups and recommendations when the mood takes us. Here are some topics and genres you might fancy a deep dive into.
And now that you've got your best podcast app sorted out, what are the:
best headphones for listening to podcasts?
We've talked here about listening apps. But what are the:
best podcast-making apps?
And if you're interested in launching your own podcast, here's our handy step-by-step guide on:
how to start a podcast